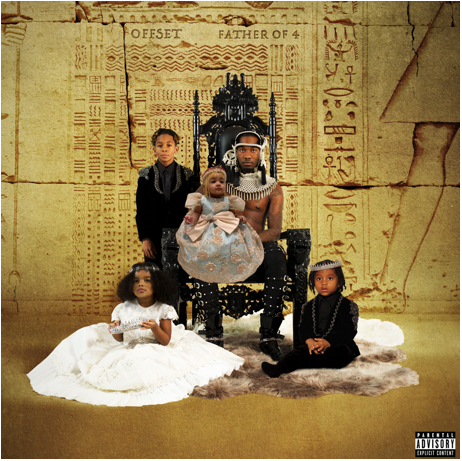 Offset
Solo Album
''Father of 4''
Offset (born Kiari Kendrell Cephus) has just released his masterpiece debut solo album, Father of 4.  Offset allows his vulnerability about what it means to him to be a father, about his relationships and vices.  He isn't afraid to show the truth and emotions of his past and present life in this album unlike any work he's done before, giving readers an reflective look at the reality of his life and times.
The albums first single "Red Room" sets the tone for this masterpiece, as the song and its visuals take you on a journey through some of his most formative and also troubling moments of his adolescence to adulthood. 
Father of 4 was produced by a number of musicians, including Metro Boomin and Southside. The album was released under both the Motown and Quality Control Music labels. 
It features a number of artists, including J. Cole, Gucci Mane, Travis Scott and 21 Savage. One of the tracks, North Star, was unexpectedly co-written by CeeLo Greenand English synth-pop band, Duran Duran.
WATCH: The music video for Offset's debut solo single, 'Red Room'
The video features images from Offset's life, including scenes of violence, a car crash, and evocative scenes like a group of Black Panthers facing the police.
"This album means the world to me," wrote Offset in a tweet. "I took my time with the project. Take your time listening, [there are] very special stories within the songs." 
He discusses his new album, and he describes it as being highly personal — so much so that it actually brought him to tears.
"I cried to myself while I was doing this album 'cause I was talking about my story and my kids," he revealed. "When I did a song, I started getting memories of my grandma, my struggles, my partner that was killed, the thoughts I had while I was incarcerated, and my kids' faces were there in my head. I love my kids, this is who I do it for."
The Red Room rapper continued to share gratitude for his children and revealed he hopes to make them proud.
"Fatherhood was missing in my life," he added, "and sometimes I have to be missing for work, but it all comes back to the little ones. I'm setting them up for the future."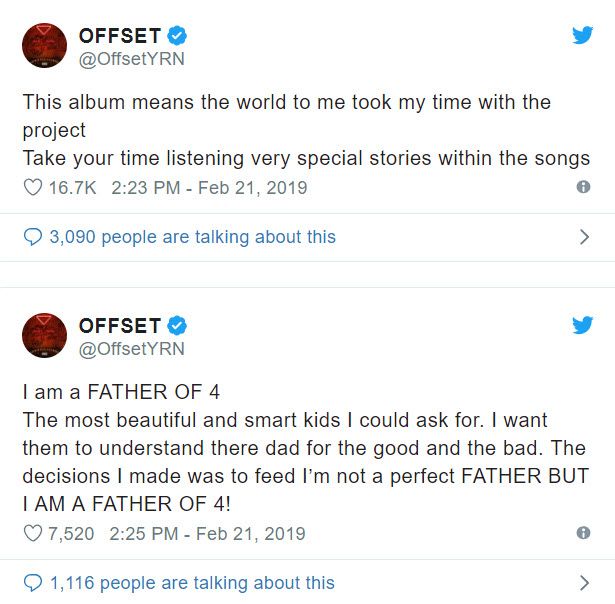 Offset proceeded to retweet a mass amount of fan tweets which praised the long-awaited record. 
As promised, the record was delivered and is currently dominating the iTunes chart, however, as of this writing, there's been no word on the documentary.
Ahead of Father of 4's release, the hip-hop power couple decided to share a couple of cute posts to social media as a little teaser. 
Offset first posted a behind-the-scenes look at the album art photoshoot, which featured all of his children. He was shown spending time with his children as the camera crew tried to get Kulture's attention for the picture.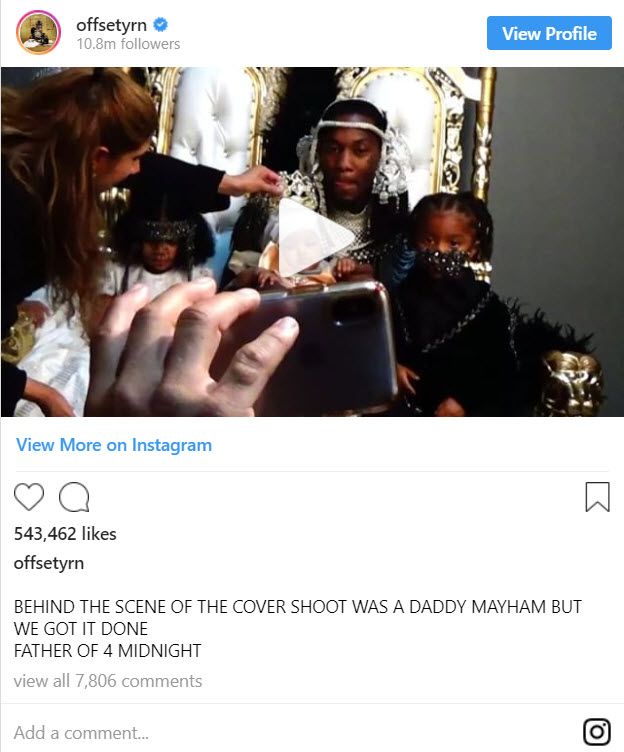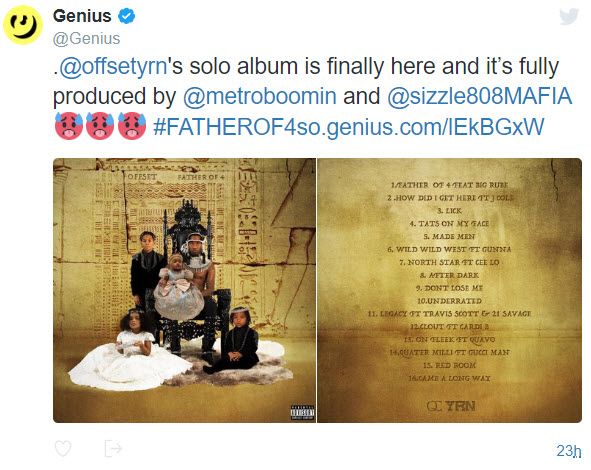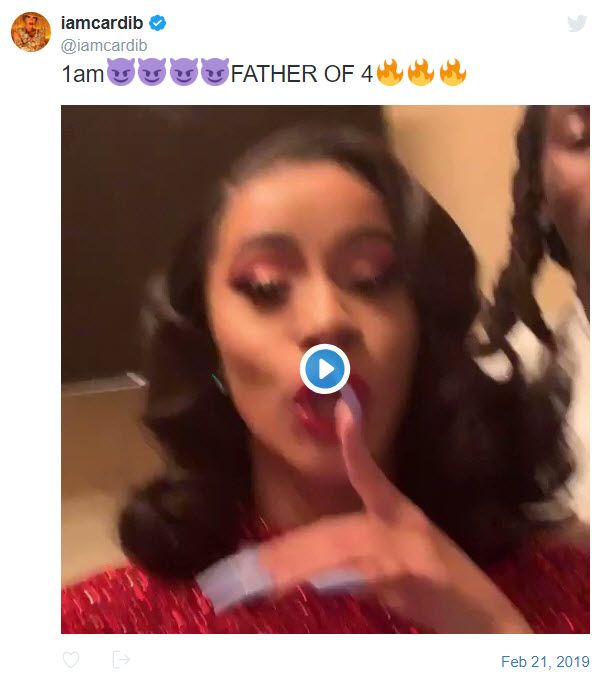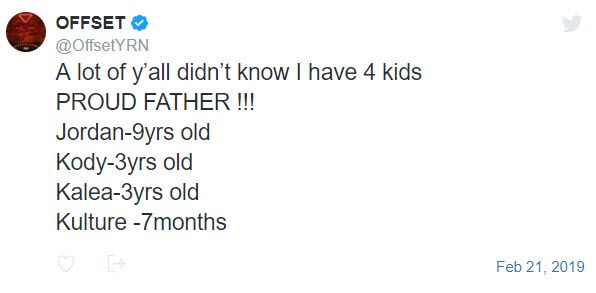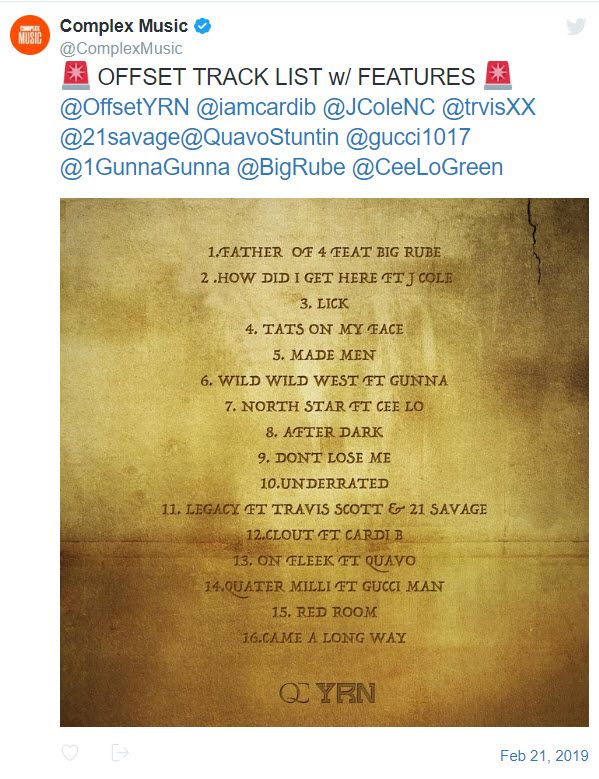 https://twitter.com/motown/status/1098827861417316352
Father of 4 full track list: 
"Father of 4" ft. Big Rube 
"How Did I Get Here" ft. J. Cole 
"Lick" 
"Tats On My Face" 
"Made Men" 
"Wild Wild West" ft. Gunna 
"North Star" ft. Cee-Lo 
"After Dark" 
"Don't Lose Me" 
"Underrated" 
"Legacy" ft. Travis Scott & 21 Savage 
"Clout" ft. Cardi B 
"On Fleek" ft. Quavo 
"Quarter Milli" ft. Gucci Mane 
"Red Room" 
"Came A Long Way"
This past year of 2018 was certainly the year of Migos made possible with the release of their sophomore album, Culture II, which debuted at No. 1 on the Billboard 200 Albums chart, and is now RIAA Certified 2x Platinum with over 5.5 billion global streams along with a sold out arena tour with Drake, memorable moments like performing on SNL and karaoking with James Corden for Carpool Karaoke.  The anticipation and press flurry around "Father of 4" seems to be an early indicator that 2019 will be that of Offset's.
Father of 4 is now available on all major streaming platforms. 
Migos 2019 summer tour dates 
** All shows with Cardi B are bolded ** 
April 19 — Providence, R.I. @ Dunkin Donuts Center 
June 8 — Manchester, England @ Heaton Park (Parklife Festival 2019) 
June 9 — Manchester, England @ Heaton Park (Parklife Festival 2019) 
June 22 — Los Angeles, Calif. @ Staples Center 
June 28 — Lommel, Belgium @ Industriezone Balendijk-kristalpark 
July 5-7 — London, England @ Finsbury Park (Wireless Festival 2019)