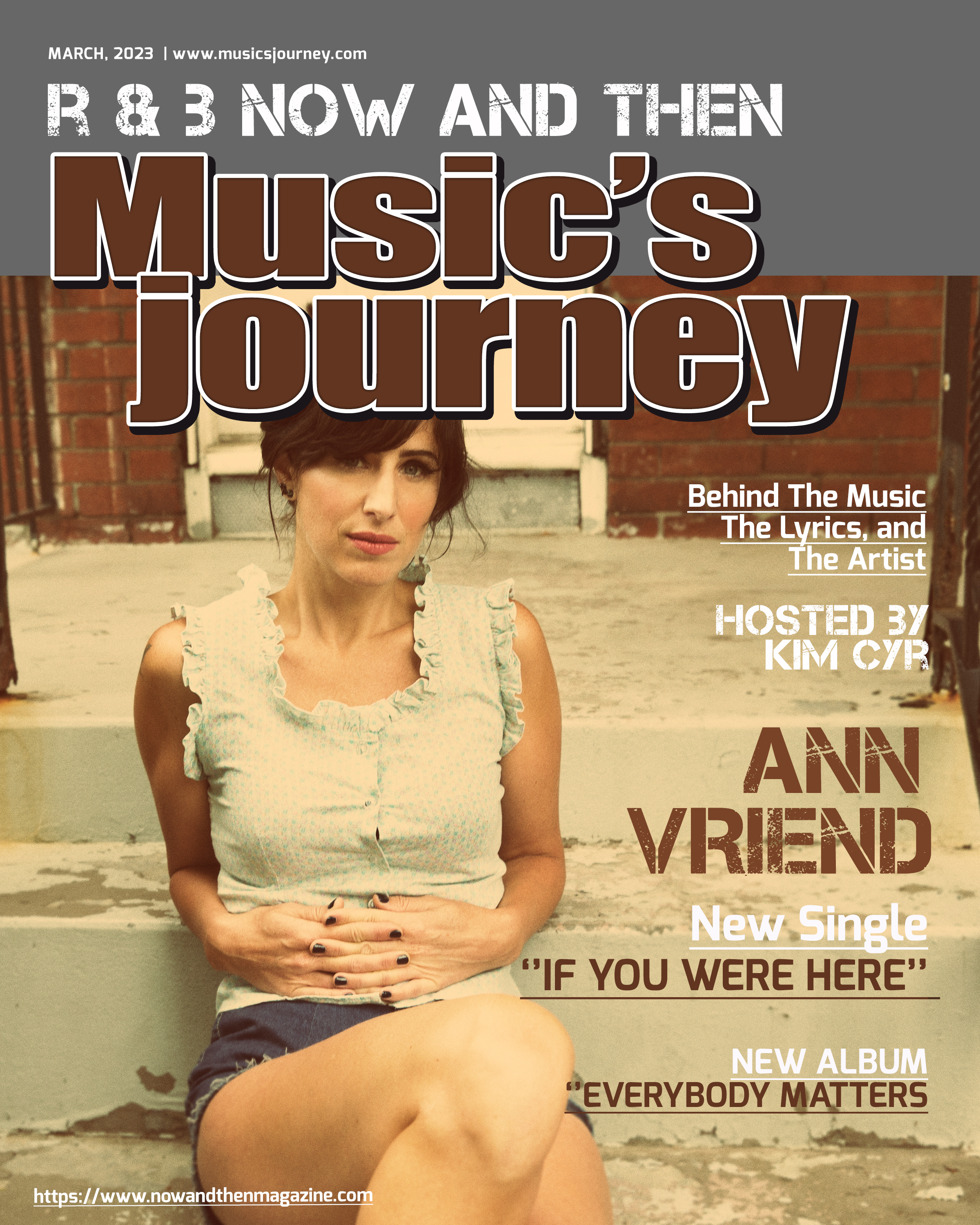 w/ R & B Singer/Songwriter/ Producer 
Hosted by Kim Cyr
Presented by NOW and THEN Magazine
https://www.nowandthenmagazine.com
Music's Journey INTERVIEW #201 w/R & B Singer/Songwriter Ann Vriend's Latest Single and Video ''If You Were Here''
New Single
''If You Were Here''
feat. Jory Kinjo
Music's Journey INTERVIEW #201
Music's Journey Interview #204 w/ R & B Singer/Songwriter Ann Vriend New Single and Video ''If You Were Here''
Canadian artist AV (Ann Vriend) is an internationally recognized singer-songwriter, musician, and producer, whose effortless blend of Blues, Roots, and Soul has recently landed her a nomination in the Keyboardist of the Year category at the 2023 Maple Blues Awards at Toronto's Harbourfront Centre in January. Her latest album, "Everybody Matters", has sold thousands of units worldwide to date, ranked #28 on Alberta's CKUA Radio Network's Top 100 Albums of 2022, and reached #20 on the Earshot National Chart. 
AV performed at the event that took place at Toronto's Harbourfront Centre Theatre on Monday, January 30th, 2023.   AV has twice been the recipient of the Cobalt Music Prize at the Maple Blues Awards, an annual event celebrating Blues music across the country and honouring outstanding achievements in the field.
With radio play around the world and on commercial radio in Germany, currently sitting at #2 on VHR's "International Hits", AV's soulful, socially focused project is continuing to have an impact across the globe. The two-time "Cobalt Music Prize" winner at the Maple Blues Awards has also taken home the "R&B/Soul Recording of the Year" Award at the Edmonton Music Awards and has played some of the world's most coveted music festivals, including SXSW and Reeperbhan, along with having her music featured in Elle Magazine, CBC Radio, CTV, and Global News.
As AV prepared to take the stage at the 2023 Maple Blues Awards in Toronto at the end of January, she had just released a brand new video for "If You Were Here" from "Everybody Matters" - a soulful and haunting ballad that features AV's powerful, longing vocals alongside the rich and rough-edged voice and bass playing of well-known Calgary artist Jory Kinjo. Kinjo has toured with B.B. King and a long stream of other legendary Blues artists, as well as many well-known Ska and Reggae groups. 
Music's Journey INTERVIEW #204 w/ R & B Singer/Songwriter Ann Vriend New Single and Video ''If You Were Here''
AV - Wish You Were Here Official Music Video
About "If You Were Here":
"If You Were Here", is a lonely, haunting, Blues duet based on a wordless chorus sung in harmony about longing, wandering, and what keeps people in relationships. Originally released in 2012, the song was co-written with Canadian singer-songwriter Matt Epp while at a Folk Alliance conference in Memphis. The tune was initially penned in dedication to Jeff Buckley, who drowned in the arm of the Mississippi River AV and Epp could view from the conference hotel. The stand out, somber harmonies for the track were crafted in the hotel stairwell, where the natural reverb and constant stream of musicians chiming in as they went past was the initial musical inspiration for the song's vocal hook; a long stream of people wandering in hope of finding something more.
From AV: "My first tour since the pandemic was in Western Europe, and many audience members told me it was their first outing and concert in more than 2 years. You could see the toll that being apart from other people had taken, but also a new-found appreciation and joy of being together socially again. Many refugees were in the audience, being billeted with families who'd taken them in due to the war in the Ukraine. Many of the refugees were teenagers and young adults, away from their parents and families, and though they were grateful for the hospitality, the stress of the war and being apart from people they loved was very evident. People really seemed to connect then to this haunting duet about being apart.  
For me the song mirrored what I felt myself; after such a long hiatus of not touring and performing with the people who have become close friends, and not seeing so many people on the road, many of whom also have become close. But also it resonated back home; as I live in a neighborhood in Edmonton that has a high population of displaced people:  recent refugees from war torn or dangerous countries world-wide, as well as Indigenous people who have been moved time and time again since colonialism began.  There are many shelters in my neighborhood of many varieties, so daily I see a flow of people wandering past my window, many with all their belongings in bags or in shopping carts, and it's especially hard for folks in the winter.
So, for all these reasons I wanted to sing this song again right now, because though it is a song about loneliness and separation and longing it is also a duet-- and it is about human connection that I hope transcends past barriers, politics, and passports and reminds us of our commonality and humanity." - AV
Here is a part of my interview with singer-songwriter Ann Vriend.
KC: What were your influences musically in your life that impacted the kind of songwriter you wanted to be?
AV: Hard to say in retrospect because I was just a kid but probably a major contributing factor that I was read to a lot from a very young age, by especially my dad, probably got an ear for storytelling and language through that. And also I started music lessons quite young, and chord progressions and melodies have always come fairly easily to me— of course songwriting is storytelling put to music, so it kind of combines that.  There was never really a conscious decision to become a songwriter— I was just always doing it.  But listening to what other songwriters were doing— I would try to see if I could write in their style, so that inadvertently affected my own songwriting style, I am sure.
KC: Do you remember a song that you heard that stands out in your mind that made you want to write and pursue music as your career?
AV: There isn't a certain song.  But I did see a band at a club in Edmonton at a "battle of the bands" contest, and I LOVED the band that was the winning band— a funk band— and I found out that they were attending this music school in town, and I told my roommate that night that I needed to go to a music school where I could meet and play with people like that.  So the next day I lined up an audition and said that if I got in I would drop out of university— the audition went horribly but something I got in anyway, and at that school— Grant MacEwan College (now a university) was really a major critical changing point in my life. I had to face a lot about myself in learning how to be a performer, and of course, learned a LOT about music.  But by the end of the 2-year program, there was no turning back— I had the bug and I did meet a ton of musicians, many of whom I work with to this day.
KC: When you started this journey in music, everyone has a set idea of what they thought success is to them.  What was that idea for you at the beginning of your career and has the idea of success changed for you today?
AV: Oh man that is a great question.  I think, like many if not most people, at first I had this idea in my mind at first that it is this glamorous life of fame and adoration because of course that's what we see in the media and magazines.  When you actually get into it and start paying your dues at the bottom you rapidly learn it is not like that for the vast majority of musicians lol. Which disillusions a lot of people. This is why the ones who stick with it I think have to define success differently than that.  A friend of mine who's an AMAZING musician once posted something when she won one of her many (deserved) awards that mentioned "external gratification."  And that term really made me think.  I realized unless I was happy MYSELF about what I was producing— in the studio and on stage— I would always be seeking things from other people and that that is such an insecure, terrifying space to live in because of course no one has control over that— or at least I don't.  So since then, I've just been trying to really be proud of what I do, regardless of what other people have to say about it— and weirdly that has resulted in things going better than when I actually was trying to obtain accolades or approval or money or things like that.  So— I'm sticking with that approach :)
KC: With your parents encouraging you to have a voice, caring about your surroundings, your communities around you…tell us about drawing on those inspirations for writing and how the gospel and soul styles of African American culture and 70's folk/pop that stuck with you as the kind of music you wanted to be… 
AV: Well musically I think the emotions and rhythms of that music put together with some amazingly strong singers can't really be topped.  So that's the first thing.  But also of course the injustices and struggles that are told in soul and RnB are ones that people all over can relate to more or fewer degrees— definitely, my own neighborhood has a lot of struggles that are similar and so my love of the music and listening to social commentaries like Superbly by Curtis Mayfield and Marvin Gaye, Aretha, Stevie Wonder, Nina Simone— basically pretty much all soul artists — it just seemed to go together.  70s folk/pop artists from the colonial side were also kind of coming to terms with their own materialist culture and starting to question things like the Vietnam war and other things like that— beginning to realize some of the propaganda they had been fed.  So— growing up on that music made it seem normal to be a writer and thinker who questioned the status quo, I guess.
KC:  This album is almost completely self-written. The album features you and only three other musicians that appear in this project. Tell us about deciding to do a project completely stripped down …utilizing less to create more approach…with only keyboards, vocals, and drums.
AV:  In 2019 I toured for 7 weeks in Europe with that instrumentation, minus drums— mostly for economical reasons—  and people would ask at the merch table if there was anything to buy that sounded like what they exactly had just heard. And at the time I had to say that no, sadly I didn't.  So when I got back from the tour I decided to make something for those fans, and stay disciplined with the sonic palette that I could use; to stick to only what you listed, and play all the bass lines on the keys, for example. 
KC:  What was it like working alongside esteemed engineer and producer Chris Birkett on this album? 
AV:  Chris is a gentle and very talented musician who knows a lot about engineering and is great to produce vocals with, too.  He is young at heart and it was fun getting to know him to make this album.  And man he has a lot of stories and has worked with quite a few heavy hitters.
KC:  The songs speak to the real, raw life issues that people face every day.  What does this album mean to you and giving these issues a voice with your platform as an artist?
AV:  Well in the real world things can be harsh, especially in my neighborhood, and the album is inspired from there— people who have not received a great hand if you liken life to a card game.  In living there for the last 15 years I have had a lot to think about, including my social and economic position in relation to that, and the long way our society has to go before there is proper justice and human rights for even the very unlucky in our society— including those who have come from other places, or broken homes.  in the words of Dr. Martin Luther King Jr, "No one is free until everyone is free."
KC: What has been the most amazing story about one of the songs on this album that a fan has shared that really moved you?
AV:  There have been quite a few— but I guess what sort of sticks with me isn't really about a fan, but more about the immediate context of the album, and the album cover, which depicts a chair with a purple and gold blanket draped over it, hung in such a way that the chair looks like a throne.  It's a chair outside under a very graffitied bridge and is a photograph shot by photographer Pieter de Vos, who is a local photographer from Edmonton, who did a series on homes in the Edmonton river valley of houseless people and how they decorated them to make them feel like a home. 
When the first batch of my CDs was delivered to my doorstep some of the boxes were stolen before I could take them inside, so I went around the neighborhood to look for them, showing people the album cover and offering a cash reward no questions asked to anyone who could find the stolen ones.  It was tough because they had been stolen by someone in a gang, so though everyone said they'd seen the CDs not a single person said they knew who had them, though most I asked were homeless and in need of money.  One of the people I showed the album cover to was a young woman who I recognized from a year earlier, where I had seen her living in a tent next to a bike trail I was on, during the height of the pandemic.  She had asked me if she could go to the hospital to visit her mom.
This time she was sitting with some other young women, across the street from the supervised injection site, about a block from my house.  While I was talking to them, they were casually injecting themselves in various parts of their bodies without seemingly even noticing.  The young woman I recognized was very taken aback by the album cover because she said: "Oh, that was MY place!"   She was very surprised to see it and recognized it immediately.  So— it was her throne, her chair, her blanket, her home, under that bridge in the river valley.  "How long did you live there?" I asked.  And she said, "About a year." And I said, "Even in the winter?", as it gets below minus 30 degrees Celsius here some nights.  "Yes," she said.  She said she liked it because it was pretty safe, and no one bothered her there. 
It was a strange way to have met the person whose home decorating style caught the eye of the photographer whose photo spoke so loudly to me when I was looking for the album artwork. (Later I did get all the CDs back— that's a story for another day). 
The whole point of the photography series, and my album, is to remind us all of the individual importance and worth of each person— so it should not have surprised me that yes, this throne was attached to a real person in my neighborhood, whom I'd met already once, who is someone's daughter, and just like everyone, they matter.  I hope our society stops viewing humans as disposable and dispensable because no one wants to feel that way.  Not you, not me, not anyone.  It is a reflection on our society if that is still happening, more than it is on those who are treated that way,
 I gave the woman the copy of the album that I had in my hand and said thank you for inspiring this photographer.  She didn't know what to say to that.  I don't think people in her position get thanked a whole lot.  But it was the first copy of the album that anyone got, which seemed appropriate.  I have no idea where it is now, but if she still has it I hope it's in a place she continues to decorate, that is warmer and that has the dignity any person with any illness deserves.
KC:  Do you have a favorite or a song that was really important to you to release on the EVERYBODY MATTERS?
AV:  Well, I guess that's like asking someone to choose between their children haha.  I am currently really promoting the song and video for "If You Were Here", and I'm really happy with how especially the remix for it turned out and excited to get some huge radio play for it in Germany leading up to the tour that we're doing in Europe currently. 
Burning Questions Portion of the Show
KC:  If you could suggest only one of your songs for someone to listen to that describes the artist you are today, what song would that be and why?
AV:  Any of the songs on the new album really— but since "If You Were Here" is the single we're promoting— a duet with Jory Kinjo, who is playing bass and singing backup vocals on the tour I'm on— then I suggest people start there :)
KC:  Favorite storytelling song of all time?
AV:  Oh geez.  There is an Americana song called "The Flood" by Canadian singer-songwriter Jack Marks that is one of the best in that genre, I think.
KC:  Favorite international artist on the radio today?
AV:  Oh boy.  I'm a fan of Anderson Paak. Bruno Mars.  Digging the new Miley Cyrus song.  Also listening to a lot of hits on Latin radio.
KC:  What is one song that brought out the emotions that moved you the most that you wished that you had written?
AV:  Oh man— there are quite a few.  So, so many.  I can't list them in one interview :)
KC:  Favorite live stage performance of any artist past or present?
AV:  I think Michael Jackson in London is pretty hard to beat.  Stevie Wonder at Aretha's funeral.  Stevie was in Europe also, when he was super young.  Miriam Makeba In Zimbabwe singing the South African National anthem at a Paul Simon concert, while in exile from South Africa.  Prince at the Superbowl.  Aretha in the Netherlands.  I of course haven't seen everything there is to see so it's hard to know what I've missed. 
To hear the full interview and music with Ann Vriend, go to www.musicsjourney.com or click on the link below.
Music's Journey INTERVIEW #204 w/R & B Singer/Songwriter Ann Vriend Latest Single and Video ''If You Were Here"
Biography:
Canadian artist AV (Ann Vriend) is known most for her virtuosic, soaringly powerful vocals, and not far behind that for her multi-award-winning abilities as a songwriter -- and she ain't too bad at the piano, either. She has been delivering her undeniably unique brand of old-school, inner-city soul to audiences around Europe, Oceana, Asia, and North America throughout her under-the-radar but a consistently award-winning, critically acclaimed career. 
Growing up in a household that encouraged critical thinking and challenged the status quo, AV has always written songs about confusion, searching, and questioning -- of herself, and the culture around her. The outcome is what she half seriously, half-jokingly calls "existentialist gospel": drawing musically from the emotionally intense and rhythmic gospel and soul styles of African American culture, as well as from her parents' vinyl '70s folk/pop collection. 
It is with a huge, respectful nod to her influences that AV addresses the social issues that face her and her community of her somewhat notorious inner-city Edmonton neighborhood of McCauley;  in which there is a high concentration of people suffering from extreme forms of trauma and abuse; often resulting in addiction, mental illness, stigmatization, neglect, and further abuse.  AV's own self-examination in response to this is the subject matter of her newest album and its title track, "Everybody Matters."
AV and the Inner City
Music's Journey INTERVIEW #204 w/ R & B Singer/Songwriter Ann Vriend New Single and Video ''If You Were Here''
Follow Ann Vriend
Spotify