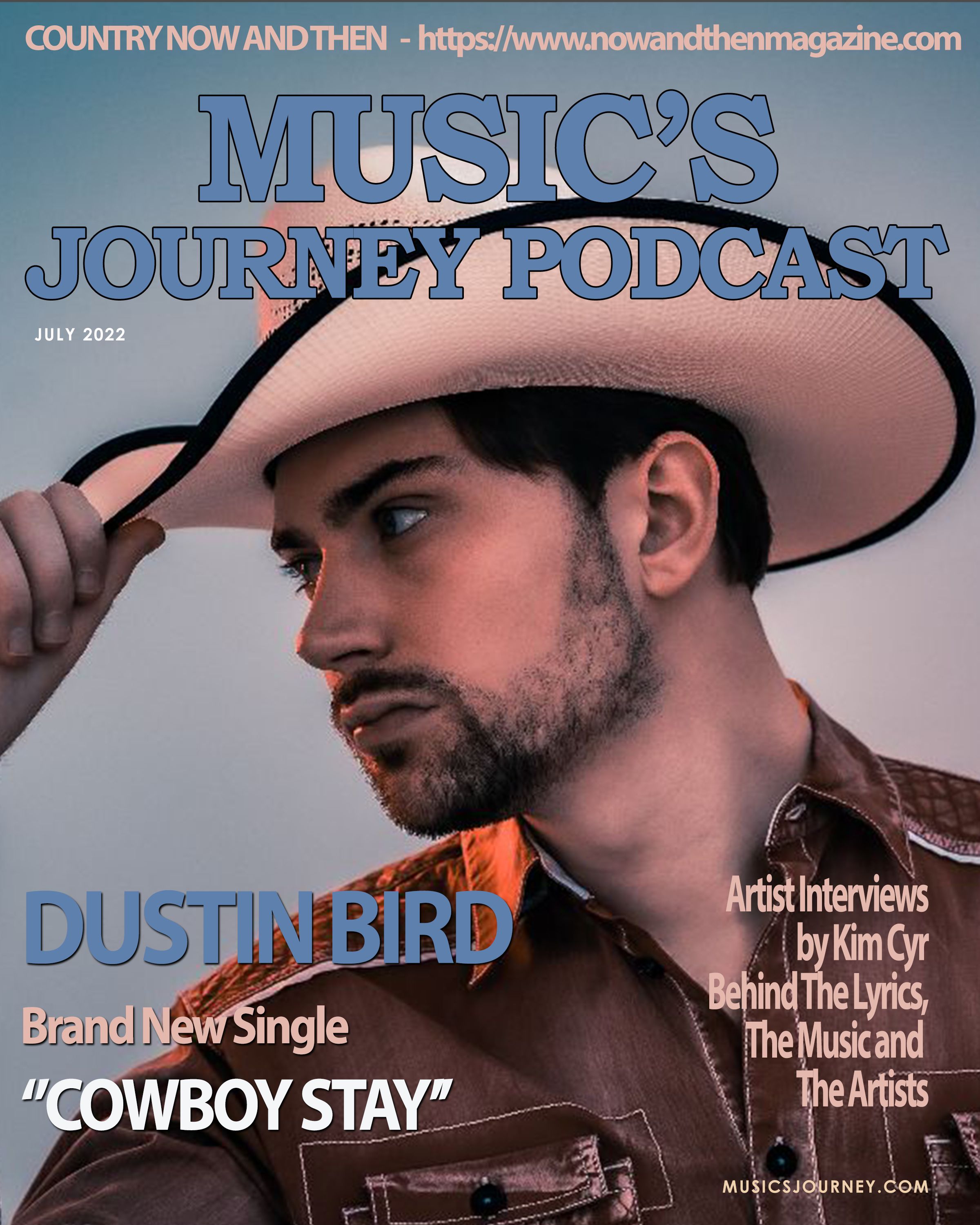 Music's Journey Podcast 
w/ Country's Rising Star Dustin Bird 
Hosted by Radio Host Kim Cyr 
Presented by NOW and THEN Magazine 
https://www.nowandthenmagazine.com 
Music's Journey Podcast INTERVIEW #186 w/ Country Rising Star Dustin Bird Returns With His New Powerful Ballad ''Cowboy Stay''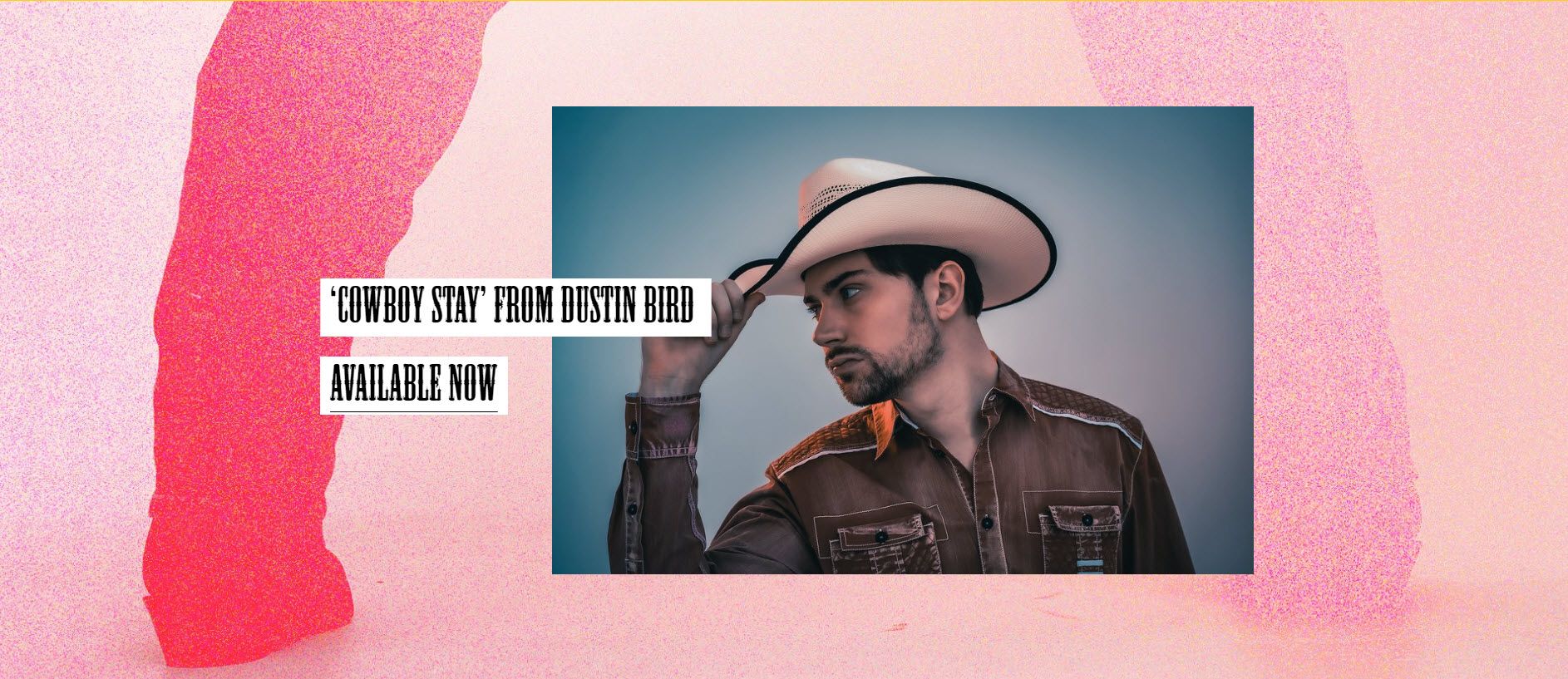 Dustin Bird 
New Single 
''Cowboy Stay'' 
Music's Journey Podcast INTERVIEW #186 w/ Country Rising Star Dustin Bird Returns With His New Powerful Ballad ''Cowboy Stay'' 
With over 2.2 million streams to his name, rising artist, songwriter, and producer Dustin Bird is pushing the boundaries of the country genre with his unique style and evocative storytelling. Today, he proves why he is one to watch with the release of his new single "Cowboy Stay," available everywhere via Open Road Recordings. 
"Cowboy Stay" continues the storyline of his 2021 single "Get Go" (which earned him a 2022 Indies Award nomination for Country Artist of the Year), where Dustin proclaims his love for a partner he has yet to meet. In "Cowboy Stay" the lovers have united with a bond so strong that even a wild cowboy will hang up his hat and settle down.  
"Cowboy Stay tells the story as old as love itself. The wild type, a little rough around the edges, finding that someone who (for the first time) causes a willingness to radically change their perspective and embrace all that love has to offer," Dustin shares.  
"For me, this song solidifies the realization that love, in its fullness, has the ability to shape every part of my life. It describes the moment when you realize you've found someone whose love is so amazing that you're willing to change that which was the core of your identity because you suddenly realize it has the potential to be so much more. The love to make even a cowboy stay!"  
Dustin's latest collection of new music follows his debut album Unscripted which landed in the iTunes Top 10 upon its 2021 release. With a unique sound that takes the best from the classics and infuses forward-thinking songwriting and production, Dustin Bird brings a fresh face to country music and continues to push boundaries within the genre. Along with his notable Canadian country radio play (Top 40 single in Australia with "Every Little Town" + the video was added in rotation on CMT Australia), he has garnered an impressive 2.2 million streams to date, along with incredible support from DSP partners, finding his music featured on key playlists including Amazon Music's Breakthrough Country, Spotify's Live Country, New Music Nashville, RADAR Canada, Apple Music's Today's Country, New in Country, Canada's Country, Little Bit Country, Country Lovin', Country Risers, Back Porch Country and YouTube Music's Country on the Rise. As a performer with a natural love for entertaining an audience, Dustin Bird has played major festivals such as Boots and Hearts, Havelock Jamboree, Kempenfest, and more. His tour history also includes opening for major Canadian acts such as Tyler Shaw, Tim Hicks, Jess Moskaluke, and The Washboard Union, among others.  
With tour dates and more new music set for release later this summer, Dustin Bird isn't finished telling his story and pushing the boundaries of country music. Be sure to follow Dustin Bird across social platforms for the latest content, or visit www.dustinbirdmusic.com.  
I had the chance to sit down with him to talk about his new single, new upcoming music, and career.  To hear my interview, click on the link below.
Music's Journey Podcast INTERVIEW #186 w/ Country Rising Star Dustin Bird Returns With His New Powerful Ballad ''Cowboy Stay'' 
Dustin Bird - Cowboy Stay (Visualizer)
Dustin Bird - Get Go
Dustin Bird - Every Little Town (Live Off the Floor)
Music's Journey Podcast INTERVIEW #186 w/ Country Rising Star Dustin Bird Returns With His New Powerful Ballad ''Cowboy Stay'' 
Follow Dustin