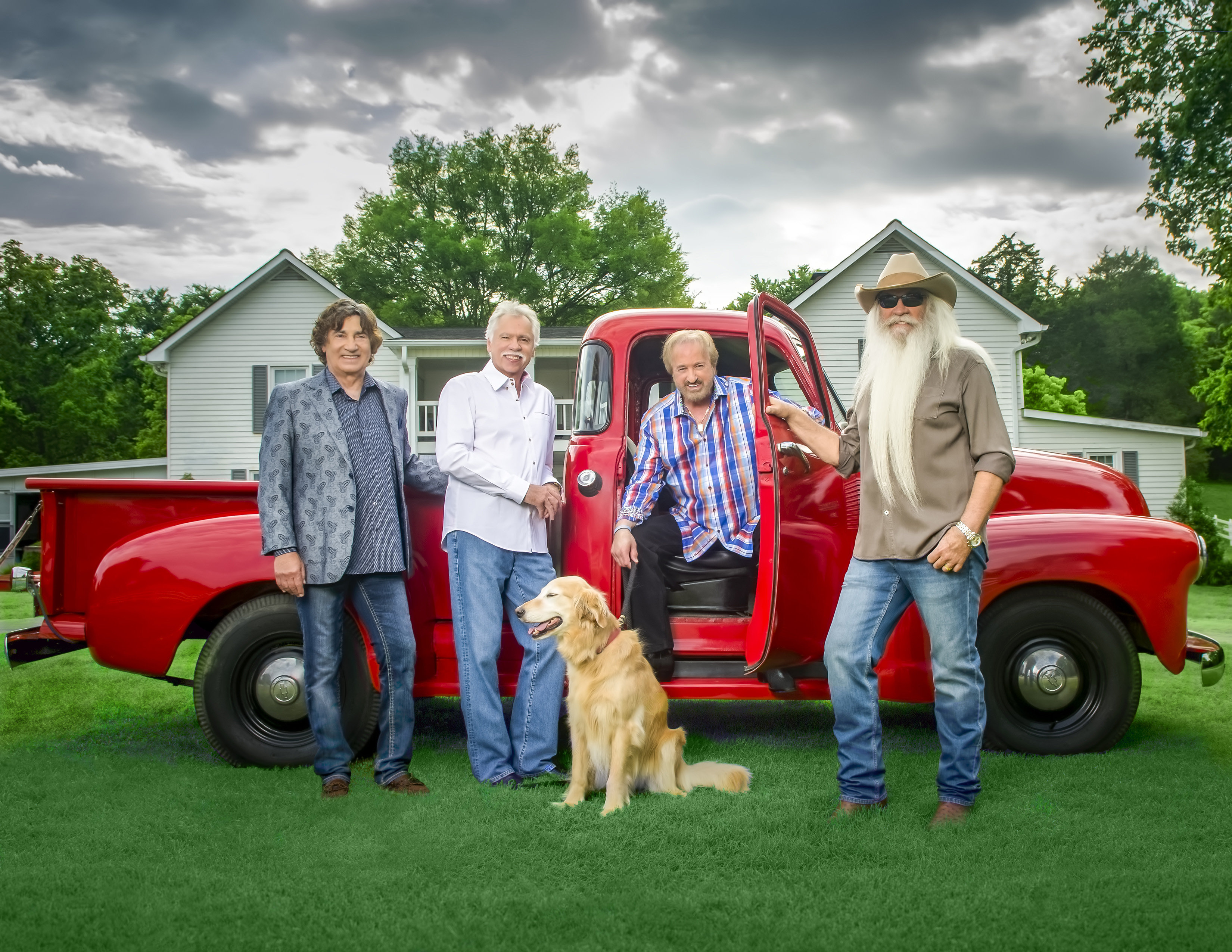 I had the chance to sit down with Richard Sterban, from the Oak Ridge Boys, to learn about the man behind the voice of the legendary Grammy Award winning band! To hear the interview, click here
There were so many moments that meant a great deal to me in this interview and the real life story about Richard Sterban and the incredible life he has lead in the music industry both NOW and THEN.  There is so much history and stories he had to share.  We scratched only a very small portion of his legendary life and I hope that after hearing this interview, that you will go out and buy Richard's book "'From Elvis to Elvira".
You can pick this book up at The Oak Ridge Boys concert wherever you attend, at the merchandise table. The book tells about Richard Sterban's early years in the Gospel Music Industry that led him to be a backup singer for 'Elvis Presley' and onto his time in The Oaks. The book was honest and full of fascinating  great stories. Sterban talks about his early relationship with fellow Oak as well- before they were both in the Oaks. 

I enjoyed the honesty in his discussion on Steve Sanders year's of the Oak Ridge Boys, which most books about the band seem to ignore. 
This was a great read and was glad I picked it up. Great tales about Elvis, The Oaks, and getting to know Sterban and his life.
This is a must read. Click here

NASHVILLE, Tenn. (March 9, 2017) – Country Music Hall of Fame members The Oak Ridge Boys kicked off their upcoming round of tour dates with a performance at the Florida Strawberry Festival in Plant City, FL on March 9. This year will see the legendary band crisscross the country in addition to playing a date at the Club Regent Casino in Winnipeg, Manitoba Canada. 
Since the start of their highly decorated career, The Oak Ridge Boys have achieved five GRAMMY® Awards, and multiple CMA, ACM and Dove Awards for their cross-over brand of pop, country and gospel music that spans multiple generations. 
Made up of members Duane Allen, Joe Bonsall, William Lee Golden and Richard Sterban, The Oak Ridge Boys are members of the Grand Ole Opry and achieved arguably country music's highest honor in October 2015 when they were inducted into the Country Music Hall Of Fame. 
The Oak Ridge Boys have given many command performances throughout their legendary career, from performing for King Gustaf of Sweden, to Her Royal Highness Princess Caroline of Monaco, to Her Royal Highness Princess Anne of Great Britain and five U.S. presidents: Jimmy Carter, Ronald Reagan, George H.W. Bush, Bill Clinton and George W. Bush. 
The Oak Ridge Boys On Tour 

March 09 - Florida Strawberry Festival - Plant City, Fla. 
March 11 - American Music Theater - Lancaster, Pa. 
March 12 - Sellersville Theater 1894 - Sellersville, Pa. 
March 17 - Wagon Wheel Center for the Arts - Warsaw, Ind. 
March 18 - Midland Theatre - Newark, Ohio 
March 19 - Weinberg Center for the Arts - Frederick, Md. 
March 23 - Apache Casino Hotel - Lawton, Okla. 
March 24 - Choctaw Grand Theatre - Durant, Okla. 
March 25 - Anthem at Hard Rock Hotel & Casino - Sioux City, Iowa 
March 26 - Kauffman Center for Performing Arts - Kansas City, Mo. 
March 31 - Newberry Opera House - Newberry, S.C. 
April 01 - Alabama Theatre - North Myrtle Beach, S.C. 
April 07 - Peppermill Concert Hall West - Wendover, Nev. 
April 09 - Country Thunder - Florence, Ariz. 
April 14 - The Redneck Country Club - Stafford, Texas 
April 15 - Paragon Casino - Marksville La. 
April 21 - The Mansion Theatre - Branson, Mo. 
April 22 - The Mansion Theatre - Branson, Mo. 
April 28 - Hoosier Park Racing & Casino - Anderson, Ind. 
April 29 - Bearcreek Memories Dinner Theatre - Celina, Ohio 
May 05 - Crossroads Arena - Corinth, Miss. 
May 06 - Elijah Clark State Park - Lincolnton, Ga. 
May 18 - Greenwich Odeum - East Greenwich, R.I. 
May 19 - Paramount Hudson Valley Theater - Peeksville, N.Y. 
May 20 - Tupelo Music Hall - Derry, N.H. 
May 21 - The Newton Theatre - Newton, N.J. 
June 02 - Hartville Kitchen - Hartville, Ohio 
June 14 - Club Regent Casino - Winnipeg, MB CANADA 
June 16 - Downtown Deadwood - Deadwood, S.D. 
June 22 - Chippewa Valley - Country Festival - Cadott, Wis. 
June 24 - Renfro Valley - Renfro Valley, Ky. 
July 04 - City of Palmetto 4th - Sutton Park -Palmetto, Fla. 
July 14 - Hodag Country Festival - Rhinelander, Wisc. 
Aug. 02 - Ulster County Fair - New Paltz, N.Y 
Aug. 05 - Mabee Center - Oral Roberts University - Tulsa, Okla. 
Aug. 11 - Anderson Music Hall - Hiawassee, Ga. 
Aug. 12 - Mill Town Music Hall - Bremen, Ga. 
Aug. 16 - Upper Peninsula State Fair - Escanaba, Mich. 
Aug. 17 - Dodge County Fair - Beaver Dam, Wisc. 
Aug. 20 - Kentucky State Fair-Cardinal Stadium - Louisville, Ky. 
Aug. 21 - Wilson County Fair - Lebanon, Tenn. 
Aug. 24 - Bureau County Fair - Princeton, Ill. 
Sept. 15 - Adventure Road Entertainment Stage – Oklahoma State Fair - Oklahoma City, Okla. 
Sept. 16 - Falcon Stadium - Colorado Springs, Colo. 
Sept. 23 - Country Tonite - Pigeon Forge, Tenn. 
For more information, visit www.oakridgeboys.com 
About The Oak Ridge Boys 

The Oak Ridge Boys, who have sold over 41 million units worldwide, are synonymous with "America, apple pie, baseball, pop, rock, gospel and country music." In addition to their awards and accolades in the country and pop music fields, they have garnered five GRAMMY® Awards and 11 GMA DOVE Awards as well as the Mainstream Artist of the Year Award at the ICM Awards. The group—Joe Bonsall, Duane Allen, William Lee Golden, and Richard Sterban—have earned prestigious membership in the Country Music Hall of Fame (2015 Inductees) and Grand Ole Opry, and are known worldwide as one of recording history's most extraordinary musical successes. In 2007, they have received the "Cliffie Stone Pioneer of the Year" award from the ACMs. They have charted single after single and album after album, celebrating two double-platinum albums and more than 30 Top 10 hits, including No. 1 chart-toppers "Elvira," "Bobbie Sue," "Thank God For Kids," "American Made," "Y'All Come Back Saloon," among dozens more. For more information and to view upcoming tour dates for The Oak Ridge Boys, please visit www.oakridgeboys.com.

Facebook: https://www.facebook.com/oakridgeboys/
Twitter: https://twitter.com/oakridgeboys
Apple: https://itunes.apple.com/us/artist/the-oak-ridge-boys/id1153608?ign-mpt=uo%3D4

"American Made"

"Bobby Sue"
Thank you for listening and sharing these moments with Richard Sterban and the Oak Ridge Boys.  Check out other interviews of your favorite legends!
Kim Cyr