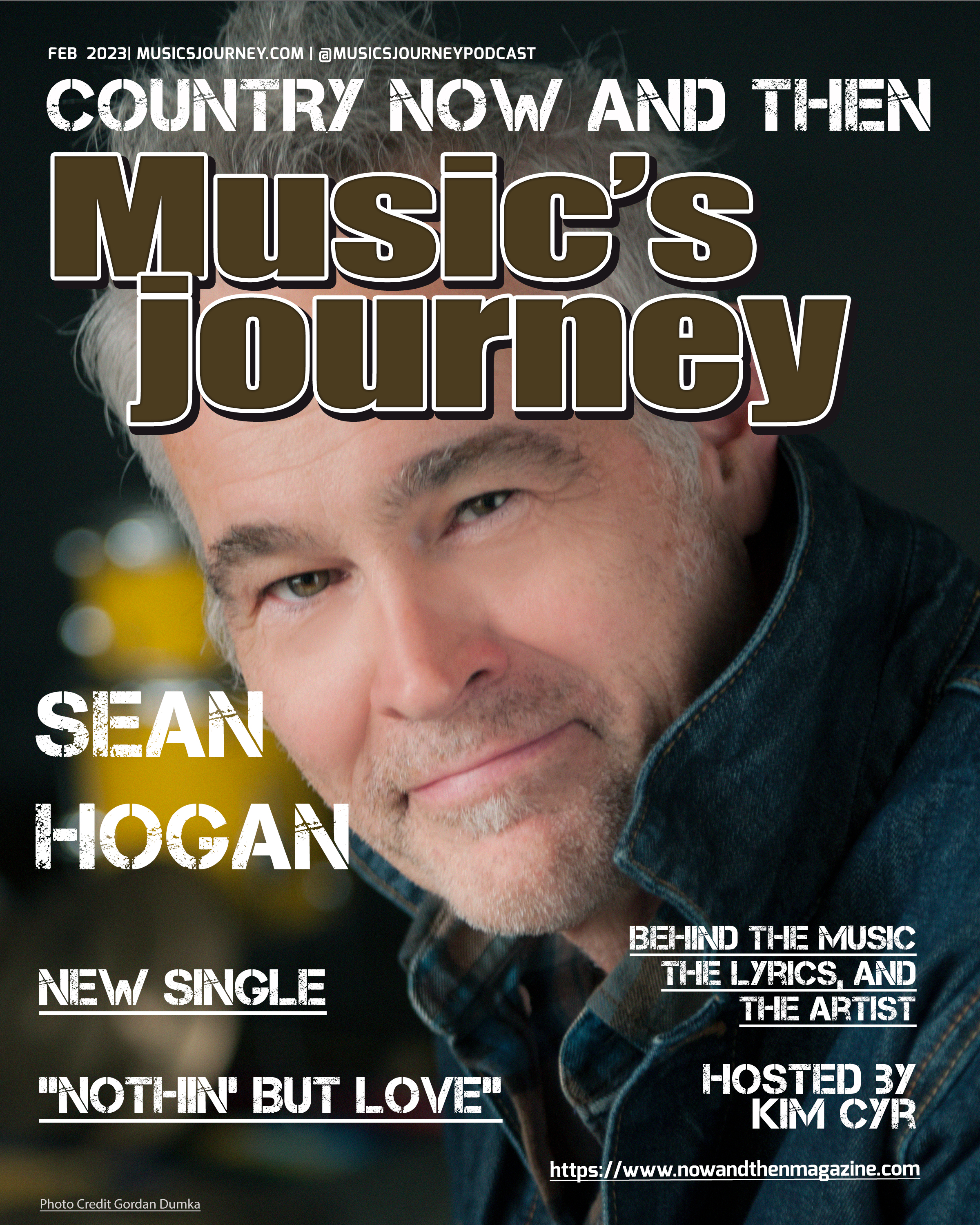 w/ Multi-CCMA Award Winning Country Artist 
Hosted by Kim Cyr
Presented by NOW and THEN Magazine
https://www.nowandthenmagazine.com
Music's Journey Podcast INTERVIEW #201 w/ Multi- CCMA Award Winning Artist Sean Hogan Releases His New Single ''Nothin' But Love''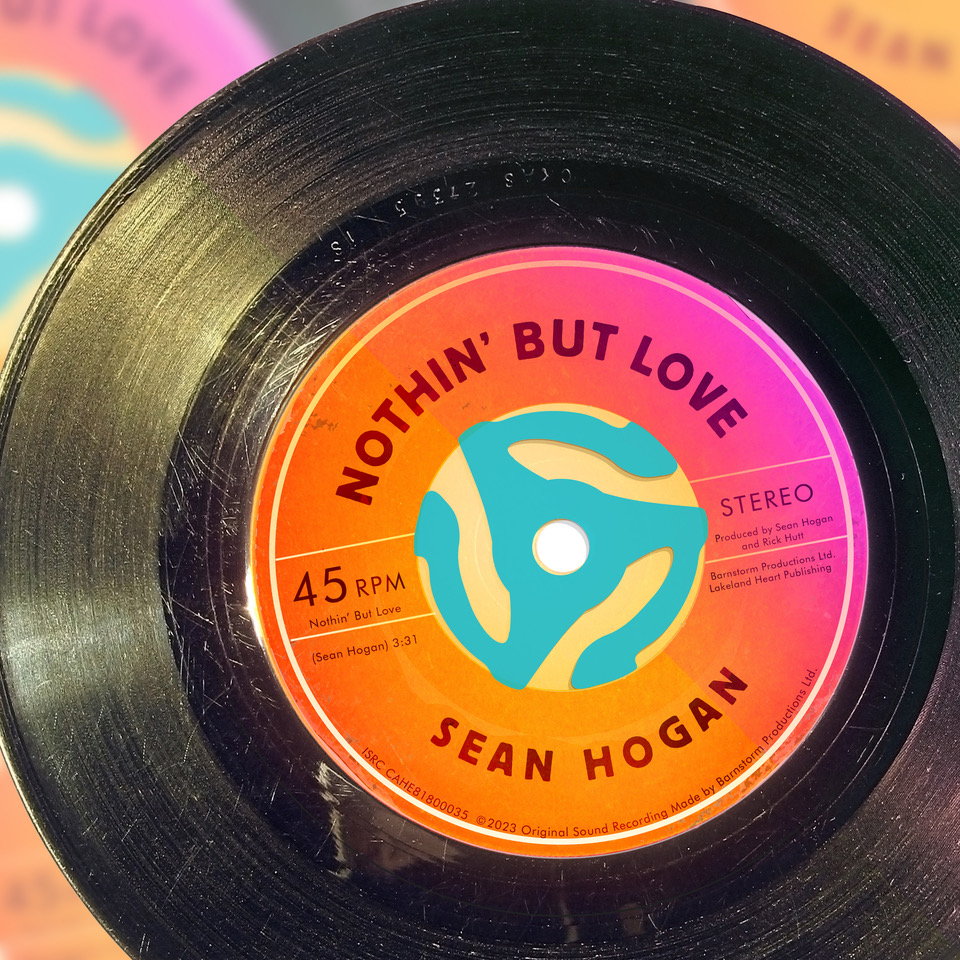 New Single
''Nothin' But Love''
Music's Journey Podcast INTERVIEW #201 w/ Multi- CCMA Award Winning Artist Sean Hogan Releases His New Single ''Nothin' But Love'' 
Sean Hogan's debut album released in 1996 brought us his unique authentic blend of alt-country and modern rustic pop that immediately caught the attention of Country radio and music fans across Canada, leading to his first Canadian Country Music Association Award for Independent Male Artist of the Year in 1997.
In the following years,  Sean Hogan released hit single after hit single (Slow Turning, Sure Fire Love, Dream Vacation, Angeline, I'd Rather Have You, Centred, Catalina Sunrise, A Cowboy's Heart, and Suck It Up to name a few) that became staples of Country music radio.  
Eighteen Sean Hogan music videos aired on Country Music Television. His first two U.S. album releases, 2003's Ruled By Mercury and 2008's Conspiracy Radio, climbed the Americana music charts and were well-received by radio south of the border. In between those releases, he recorded his fifth Canadian album, The Southern Sessions, putting him back on Canadian country radio with the hit singles What Would You Have Me Believe and Suck It Up.
''Sean Hogan has just released his new single ''Nothin' But Love'' and it is a whole lot of fun,'' says Kim Cyr, Editor in Chief for NOW and THEN Magazine, radio host, and host of the International Music's Journey Podcast.
''' Hogan has been writing and releasing great music for over 27 yrs now and he isn't slowing down any time soon. Hogan has had great success on both sides of the border as a songwriter and singer.  I had the chance to talk with Hogan about what success looked like to a young drummer starting out who had an amazing voice and dream in this music business and what success meant to him now.   Hogan has faced life's challenges with heart and inspiration.  We talk about his journey with cancer and facing that time in his life when the fear of never singing and performing again was a real possibility.  Hogan shares his story and his determination to fight to keep his dreams as a husband, father, brother, and singer alive.  The meaning in life shifts and the music along with it.''
KC: When did know that you wanted to pursue music as a career?
Sean: ''Likely from about the age of 15, I felt like I only wanted to do music with my life.'' 
KC:  Do you remember the first concert you ever went to and the first record you ever bought and listened to from front to back?
Sean:  ''The first concert that wasn't orchestral that I went to, I believe was KISS at the Maple Leaf Gardens, in 1979. It was summer and we dressed up as Peter Criss.  The first record that I bought and listened to from top to bottom was Billy Joel's 52nd Street.''
KC:  You were a very serious drummer as a kid and went to Fanshawe College to study music engineering, after that, you studied music theory and jazz, with vocals as a minor.  Who is your favourite drummer of all time?
Sean:  ''My favourite drummer of all time is probably Stewart Copeland of the Police followed by Neil Pean, of Rush, and Alex Van Halen of Van Halen.''
KC:  Songwriting is such a big part of your life.  What is your writing process and where do you get your inspiration from as a songwriter?
Sean:  ''Songwriting is an applied effort, but it helps when your train your mind to be aware of patch phrases and feelings that stir up descriptive words to how you feel about something and can put that feeling in context with some concrete imagery.  Often just writing thoughts and feelings can be scratching at the grey matter but then when you least expect it, something else comes up and you write about that instead but because you were staying active with energy in the motion of songwriting and reflecting on ideas, when the moment comes up that finds you captivated you're compelled to write, and because you've been writing in general even about something completely unrelated you end up writing something pretty cool out of the blue, or it feels like it comes from somewhere else.  Then at other times, you're crafting an idea over time but it gets better with each new session honing in on the key message and form for that song idea.''
KC:  Do you have a favourite songwriter and a song that really meant something to you that moved you to want to become a songwriter?  
Sean:  ''I can't pick a favourite songwriter.  I mean I might once have said Sting or John Hiatt, or Van Morrison, Steve Earle, or Billy Joel, or Lyle Lovett but there are just too many great writers and it doesn't seem fair to choose just one, let alone easy to do.''
KC:  When you look at what you thought success meant to you when you first started this journey in music and with all your life experience with years in the music industry, has your view of what success looks like today changed?
Sean:  ''Some of it has.  I never had a goal to win a Juno or Grammy ever really just enjoy doing what I do and paying the bills by doing it.  It seemed like the best way but along the way, I have had some great award opportunities come my way that I have invariably garnered though you can't plan that stuff.  It's hard enough to try and plan a career.  It kind of takes a life of its own and you do different things with your talent depending on what's determined at that moment to be most useful.  I like that though.  Variety is not boring and it's not routinely done because that's what the boss wants you to do.  There is authority and I value that a great deal. There is never a shortage of work though as your own boss, you can be harder and expect more of yourself I think and engage in less conventional ways to achieve high results when opportunity allows for a bit of lucrative fortuitousness that can arise in the music industry if you are working at career objectives with some skill talent and I think a large amount of optimism.'' 
KC: When we are dealing with events in our lives, listening to a song can change the meaning and tone of what we are experiencing and change our life.  Has there been a song that has impacted you like that?
Sean:  ''I'm not sure any songs that I have written changed my meaning of tone in my life, no.  I think songs sometimes in my career, the song has come to me as a forbearance almost or harbinger of events to come, as if my subconscious was writing about something to come around to occur later in my life, a way before my conscious mind knew it was happening or going to happen, and hence I wrote about it, kinda like portending what was around the corner for me.''
KC:  What was the time like for going to the states and the success you had there as a Canadian country artist?
Sean:  ''I went to states a lot between 1998 and 2008, it was educational and I enjoyed most of the trips but it most often felt pretty insular there like you could visit your life but you're not from here so if you don't mind feeling like we already have enough of the people we need here then come on in, I never felt like it was home but it almost did at one point in about 2007 but by 2009 it didn't seem to make sense to move there.  I attended many industry functions and made friends in the business and wrote with some great writers but as someone who has had a lot of success with my own self-written, I didn't feel that co-writing to me was more important or even as important as writing my own ideas on my won. Again though I did write some great co-written songs there. If you look at the writers I like most they are singular singer/songwriters they don't co-write so much at all.''
KC:  What can fans expect to see for 2023?
Sean:  ''New music and more online presence.  I'd tell ya more but then where is the surprise in that!  Good things and more good things.''
Nathan Cunningham will be releasing ''Tired of Leavin'' as his next single in March which was a song Sean Hogan had released and was a top 20 hit for him in 1999.
Check out my interview with Sean which is full of stories and music that you are going to love.  To hear my interview with Sean Hogan, go to www.musicsjourney.com or click on the link below.
Music's Journey Podcast INTERVIEW #201 w/ Multi- CCMA Award Winning Artist Sean Hogan Releases His New Single ''Nothin' But Love'' 
Nothin' But Love
HUATULCO - Official Music Video
Tired of Leavin
Music's Journey Podcast INTERVIEW #201 w/ Multi- CCMA Award Winning Artist Sean Hogan Releases His New Single ''Nothin' But Love'' 
Follow Sean Hogan