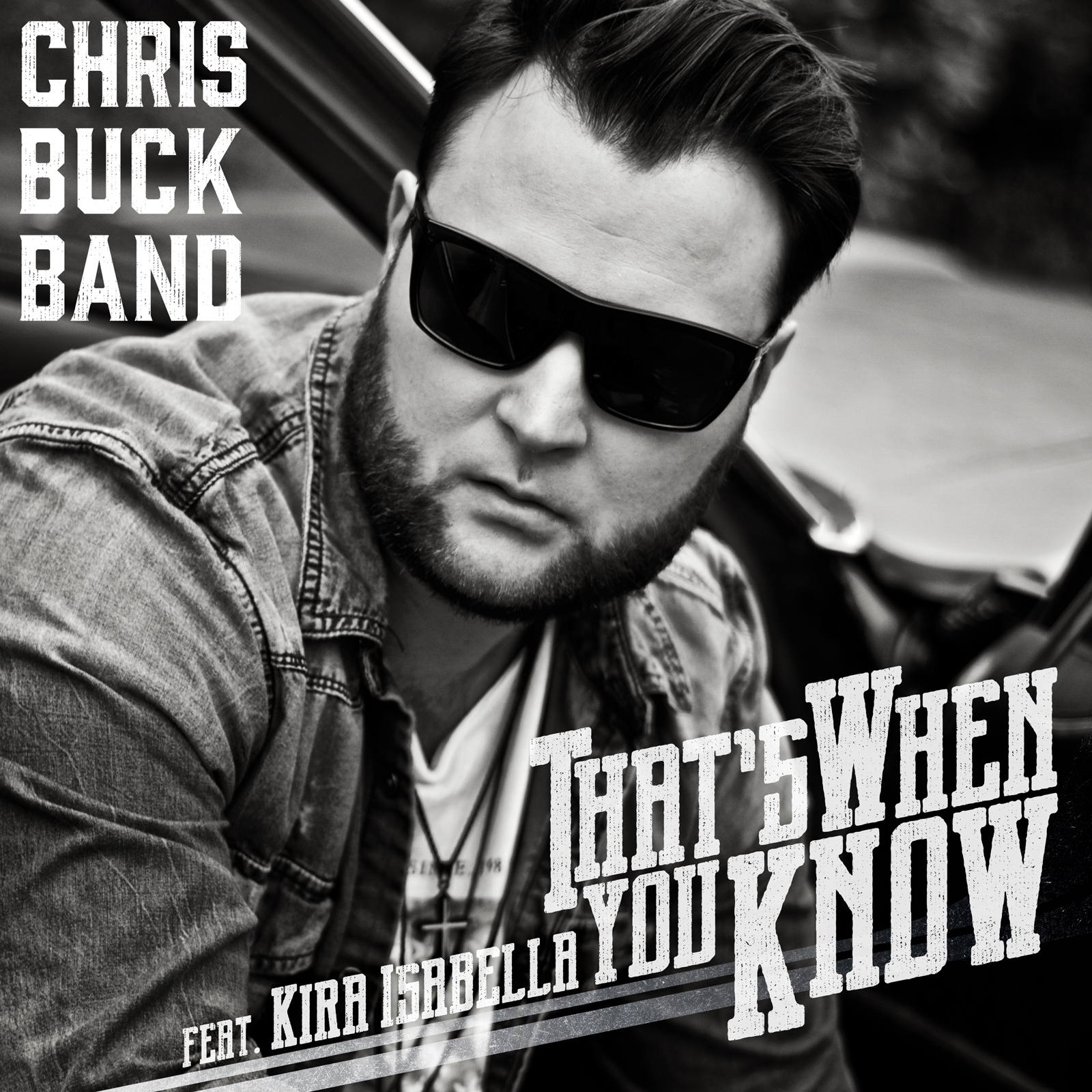 Chris Buck Band  
'That's When You Know' feat. Kira Isabella  
Interview with Chris Buck Band and Kira Isabella w/Kim Cyr Country NOW and THEN Magazine, click here 
Known as the hardest working band in Canada (they played OVER 150 shows last year ALONE!), The CHRIS BUCK BAND are four-time BCCMA Award Winners – including 'Group/Duo of the Year' in 2015.  
Chris Buck Band, a reggae country rock band from Vancouver, BC is a 5 member band including Chris Buck (lead vocals, rhythm), John Higgins (bass, vocals), Seamus O'Neill of Faber Drive (drums), Jordan Pritchett of Faber Drive (lead guitar, vocals), and Kadooh Sos (vocals, guitar).  
After already having three Top 40 charting singles under their belts, the band is back with this stunning new 'duet' ballad (co-written by CHRIS and featuring KIRA ISABELLA as his vocal partner), that could very well end up becoming the 'WEDDING SONG' OF THE SUMMER.  
CHRIS BUCK joined KIRA ISABELLA on the OLD DOMINION Ontario tour dates to perform their new single, and The CHRIS BUCK BAND will cross the country with live tour dates this summer – from the Fido Ski and Snowboard Festival in Whistler BC, Country at the Creek in Saskatchewan, to Manitoulin Country Fest in Ontario… along with supporting acts such as BRETT KISSEL and TIM HICKS and amazing appearances in Calgary, Saskatoon and Toronto, yet to be announced (plus more tour dates to be added!!).  
The band's self-titled, debut album was be released April 21!  
Please make sure to download this FANTASTIC new single NOW…  
MORE DETAILS:  
WEBSITE: http://chrisbuckband.com/ 
FACEBOOK:https://www.facebook.com/chris.buck.90813 /  
TWITTER:https://twitter.com/ChrisBuckBand / 
YOUTUBE: https://youtube.com/chrisbuckband  
INSTAGRAM: https://www.instagram.com/chrisbuckband/
Kira Isabella Information:

Website: http://kiraisabella.ca/
Facebook: https://www.facebook.com/kiraisabellamusic
Twitter: https://twitter.com/kira_isabella
Instagram: https://twitter.com/kira_isabella
YouTube: https://www.youtube.com/user/KiraIsabellaMusic