David James Brand New Video "What If I Don't"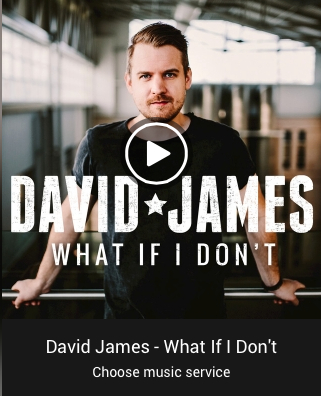 With his debut performance at Boots and Hearts, a new EP, and two 2016 Canadian Country Music Association® (CCMA®) Award™ nominations in the Rising Star and Recording Package of the Year (for album Songs About A Girl) categories, David has truly settled in as a seasoned artist.  
His debut 6 song EP Songs About A Girl (release date: March 11, 2016) was produced in collaboration with music industry's esteemed Darren Savard (Dallas Smith) and Carly Savard (One More Girl).  Three years in the making, every note has been meticulously crafted to evoke the deepest and complex emotions amidst the listeners. Says James about the album, "These songs carry aspects of the human experience we all share – love, passion, perseverance, and really laying it all on the line for those you care about." 
A 2014 CCMA Discovery Program Finalist, in 2015 he won his first Manitoba Country Music Award (MCMA) in the Music Video of the Year category for his first single off of the EP, "What We Weren't Looking For". The single is a melodic love song exploring the intoxicating surprise of an unexpected romance.  The song was also featured on the NOW County 10 complication. His single "Lonely Girl," written by the talented Ben Tennis (Jason Aldean, Parmalee), Brad Rempel (of High Valley), and AJ Goodvin hit the radio waves on March 8, 2016.  An artist with a diverse repertoire, in contrast to his previous release David describes his single ("Lonely Girl") as upbeat and especially fun to play live.  He shares, "the message behind the song is that even at our lowest lows, everyone has so much to offer and deserves to be loved."  
Known for his charming sense of humour, like many artists, music and songwriting has always been in his soul. He jokes his career path was clearly defined, "when at age 14, following my impassioned performance of Aerosmith's 'I Don't Wanna Miss A Thing', I came in almost dead last and lost my junior high school Canadian Idol.  I knew then that music must be my destiny!!" Signed to award-winning Canadian country music label MDM Recordings Inc., David describes his sound as melodic pop-rock influenced country.  
I had the chance to sit down with David and talk about his brand new single, "What If I Don't" and felt an instant likability, a gentle charm in his personality.  His love for his music is so heart felt and the passion that comes through him as we spoke is exactly what he delivers in the kind of hopeless romantic feeling one takes away from his music.  It is so sincere and his dedication to his craft goes straight to the heart strings of someone's sole with his lyrics.   
James has an undeniable ambition for his career now and his thinking long-term for what lays ahead for this talented singer/songwriter.  He is incredibly humble about his surroundings working with seasoned vets like Chad Brownlee, and Jess Moskaluke.    
"It feels like one big family when we all get together and talk about our careers.  "Everyone has been so open and willing to share ideas and help one another,' says James.  "There is a great comfort and ease that I get when someone like Chad Brownlee sits down to just chat and answer any of my questions that I might have about my music." "Chad is such a nice guy honestly, says James."  "He is so humble and cares so much about all of us on the roster and its great to hear his opinion on things." "When Chad takes the stage he never once misses a note."  "He is incredible," said James.  "I am really lucky to be working with any one of these incredible artists let alone all of them," says James.   
David James has just released his brand new single and video for the single "What If I Don't" and once again, this song is echoing into the moments in people's own personal lives which is the recipe for another hit for this hard working country artist.   
Take a peek inside the heart of David James with my interview from last week, Feb 21st, click here 
Check out the new video "What If I Don't"