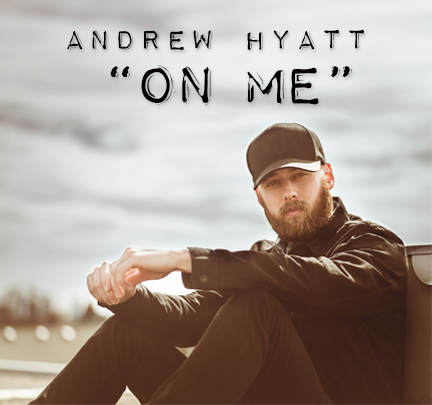 Country NOW and THEN's Kim Cyr Interviews Andrew Hyatt, click here
ANDREW HYATT 
"On Me" 
''Iron and Ashes'' will be one of the top downloaded album's of the summer, says Kim Cyr from NOW and THEN Magazine.
''I had the pleasure of sitting down and interviewing Canadian country artist ''Andrew Hyatt'' and what a pleasure it was.  I got to listen to his brand new album 'Iron and Ashes' and if you haven't had a chance to download this album, you might want to take a listen.  This album has it all from beginning to end.  It's brilliant.  I couldn't believe how complete it was in it's entirety!   It has everything from toe tapping summer songs to the ballads that will be downloaded and played again and again.''
''Andrew is the real deal and this album proves that.  For such a young artist, he has the soul and writing capability of someone who has been in the music industry for a very long time.  I really love this album, I truly do.''
''There is such a deep pool of talent in Canadian music now and we can give any country a run for their money in any genre.  Country music especially...the artists we have, both male and female, are incredible.  In Canadian country music, we have such strong singer/songwriters on the radio today and Andrew is one of them.  He has the understanding about what it takes to make it in this business and how to stay grounded throughout his own personal journey.  You have to respect someone like that.  He is just one of those rare artist's that you won't forget.''
''You need to download this album today, you won't be sorry you did...say's Cyr.''
Livin Your Dreams by Andrew Hyatt
"I don't take a moment of making music for granted," shares Andrew Hyatt. "And, I can't wait to give you this new record with #allthefeels."  
With already over a Million streams on Spotify, this artist with 'Nickel bones and a Nashville soul' is ready to release the Canadian single of the summer.  
The new single, "On Me", is a sing-along-in-the-truck, crank-up-the-radio, sway-on-the-dock kind of summer jam that is ready to hit the airwaves. 
And timing couldn't be better, as Andrew sets out for his biggest summer yet. 
From playing Ontario's massive Boots and Hearts festival, to the East Coasts legendary Cavendish Beach Music Festival, Andrew will be giving his fans what they want - Andrew Hyatt live! 
On top of it all, today, also marks the release of Andrews debut full-length album "Iron and Ashes", produced by Matt Rovey (Dean Brody), Dave Thompson (Autumn Hill), and Derek Hoffman (The Elwins) and recorded in Nashville and Toronto. Hyatt is proud to let listeners know, that he wrote and/or co-wrote 11 of the twelve tracks. Hailing from Sudbury, ON, Andrew spent years working as an ironworker at a nickel mine before deciding to pursue his true passion with music, and the result is an album filled with thoughtful, contemplative lyricism, peppered with country rock riffs and smoky vocals.  
No stranger to country radio, "On Me" follows fan favourites like, "Livin The Dream", "MGR (Me and A Girl and A Radio),  
"Love Drunk" and "That's How I'm Living" 
Please enjoy the Andrew Hyatt track you've been waiting for, "On Me" 
Don't be afraid to sway and sing along! 
"You've got your hands on me, eyes on me, I don't mind you spillin' that drink on me.   
Next one's on me, hell the nights on me, yea I'm all about, all about you.  
The way you're moving in a little closer, layin your head on my shoulder, looks good on me…. 
So if I fall for you, thats on me." 
                                                               Andrew Hyatt - I Got To Love You (Live From The Bahamas)
You can follow Andrew Hyatt at:
Website:  http://www.andrewhyattmusic.com/
Facebook: https://www.facebook.com/AndrewHyattMusic
Twitter: https://twitter.com/AndrewHyattBand
Youtube: https://www.youtube.com/user/andrewhyattband