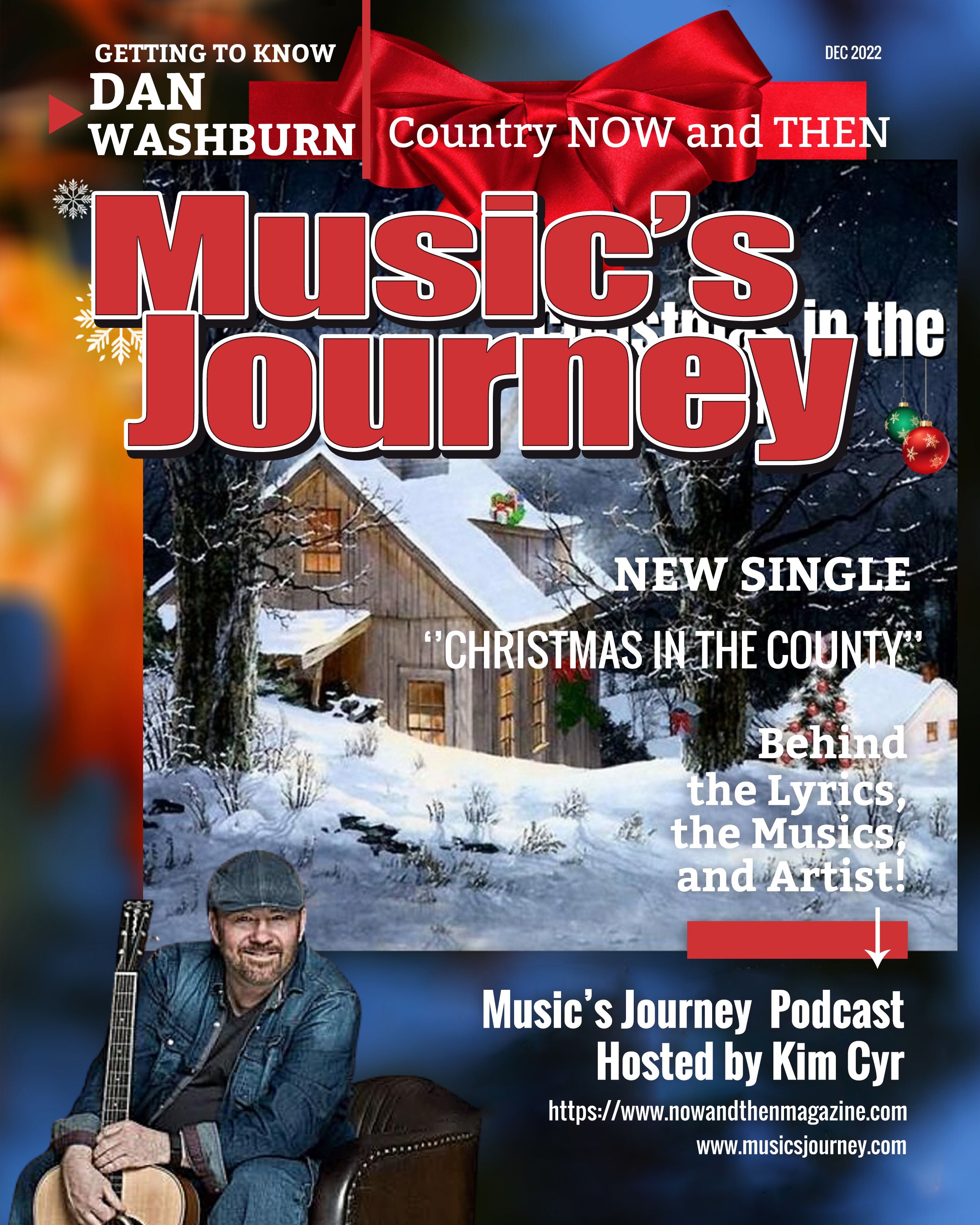 Music's Journey Podcast 
w/ Country Singer/Songwriter/Producer 
Hosted by Kim Cyr 
Presented by NOW and THEN Magazine 
https://www.nowandthenmagazine.com 
Music's Journey Podcast #192 w/ Canadian Country Singer/Songwriter/Producer Dan Washburn New Christmas Single ''Christmas In The Country''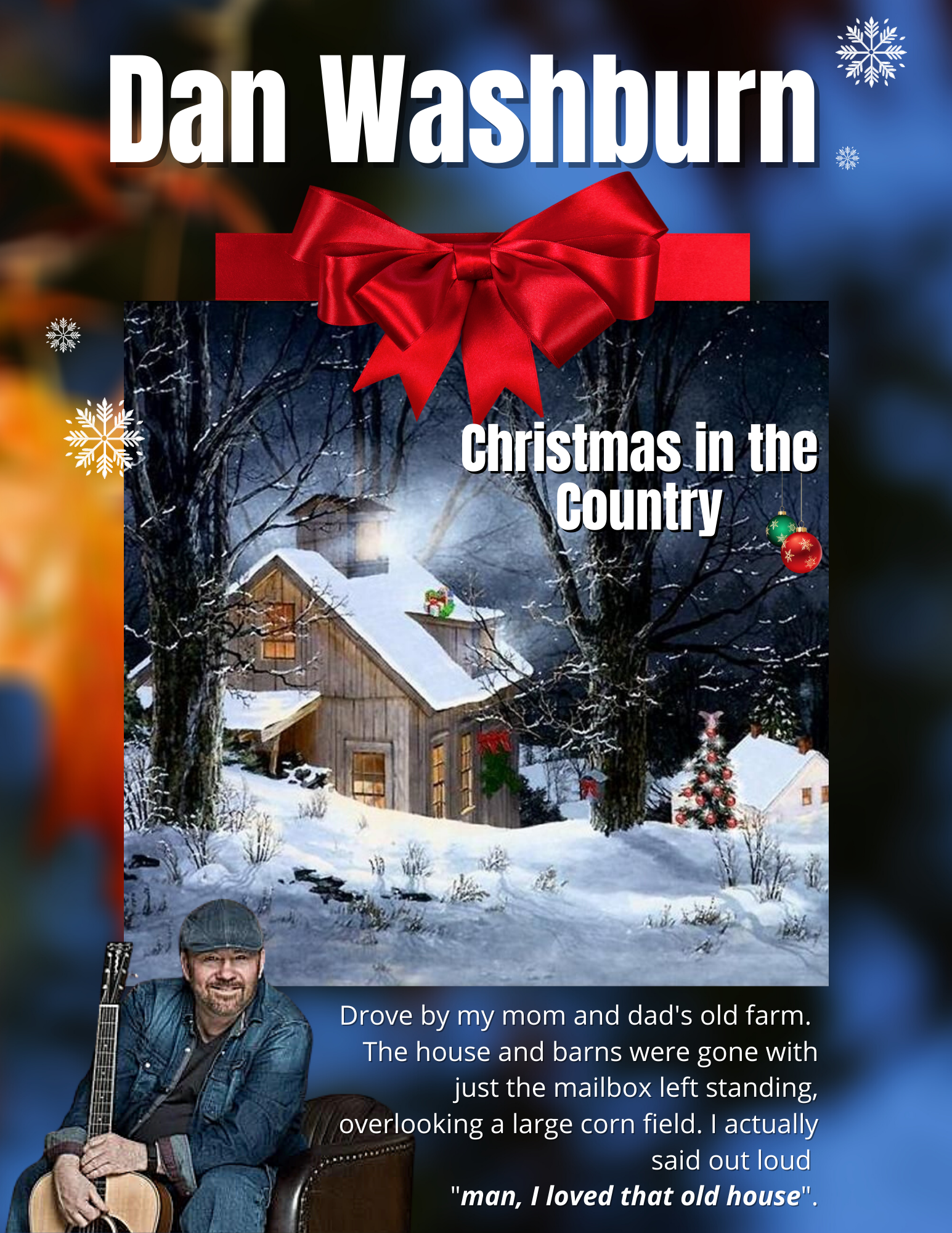 Dan Washburn 
New Single 
Music's Journey Podcast #192 w/ Canadian Country Singer/Songwriter/Producer Dan Washburn New Christmas Single ''Christmas In The Country'' 
''I took a backway home last year and drove by my mom and dad's old farm. The house and barns were gone with just the mailbox left standing, overlooking a large cornfield. I actually said out loud "man, I loved that old house". The line stayed with me and on my next trip to Nashville, after telling friends Sam & Tempy, we wrote Christmas in the Country.''  
Dan started playing guitar at the age of seven, beginning with lap steel, and by the time he was ten he was playing acoustic and wrote his first song for his mom; "Someone Like You".  His dad integrated him into the band he was playing bass for and by the time he was 13, Dan was the bass player and harmony singer for a local weekend band. His credits include over 200 albums as a singer/songwriter, producer, and bassist.  
Dan was bandleader for the late Colleen Peterson for several years. He has toured with George Fox, Terry Sheridan, Colleen Peterson, and South Mountain. He has guested as a singer/bassist for many gospel shows both live and on television.  
Dan has shared the stage on shows with Emmy-Lou Harris, Pirates of the Mississippi, Waylon Jennings, Toby Keith, Marty Stuart, and Martina McBride to name a few.  
Dan had great success releasing 5 singles to radio before being asked to audition for award-winning band South Mountain. Dan became their lead singer/bassist and spokesperson in Canada, signed to Stony Plain Records, and distributed worldwide by Warner Brothers.  
The band toured Canada and Europe extensively and was in high demand. They had a successful album "Where There's A Will" offering four chart successes and several Canadian Country Music Association nominations.  
Dan has hosted two television shows for Cogeco Canada; highlighting Canadian up & coming talent. He is a much sought after, writer and producer splitting his time between Nashville and home, Stirling, ON Canada.  
''I had the pleasure of sitting down for a chat with the one and only Dan Washburn,'' says Kim Cyr, Editor in Chief for NOW and THEN Magazine, radio host, and host of the International Music's Journey Podcast.  ''Dan's music has been played all around the world, on television and in films.  His talent as a singer/songwriter and producer is astounding.  I had so much fun chatting with Dan about how much the music industry landscape has changed over the years.  We talked about his recent projects in the UK and Ireland, his new Christmas single, and brand new music on the way for 2023.'' 
Check out my interview with Dan Washburn by clicking on the link below.
Music's Journey Podcast #192 w/ Canadian Country Singer/Songwriter/Producer Dan Washburn New Christmas Single ''Christmas In The Country'' 
Christmas In The Country (Official Video) | Dan Washburn | Country Music
Music's Journey Podcast #192 w/ Canadian Country Singer/Songwriter/Producer Dan Washburn New Christmas Single ''Christmas In The Country'' 
Follow Dan Washburn