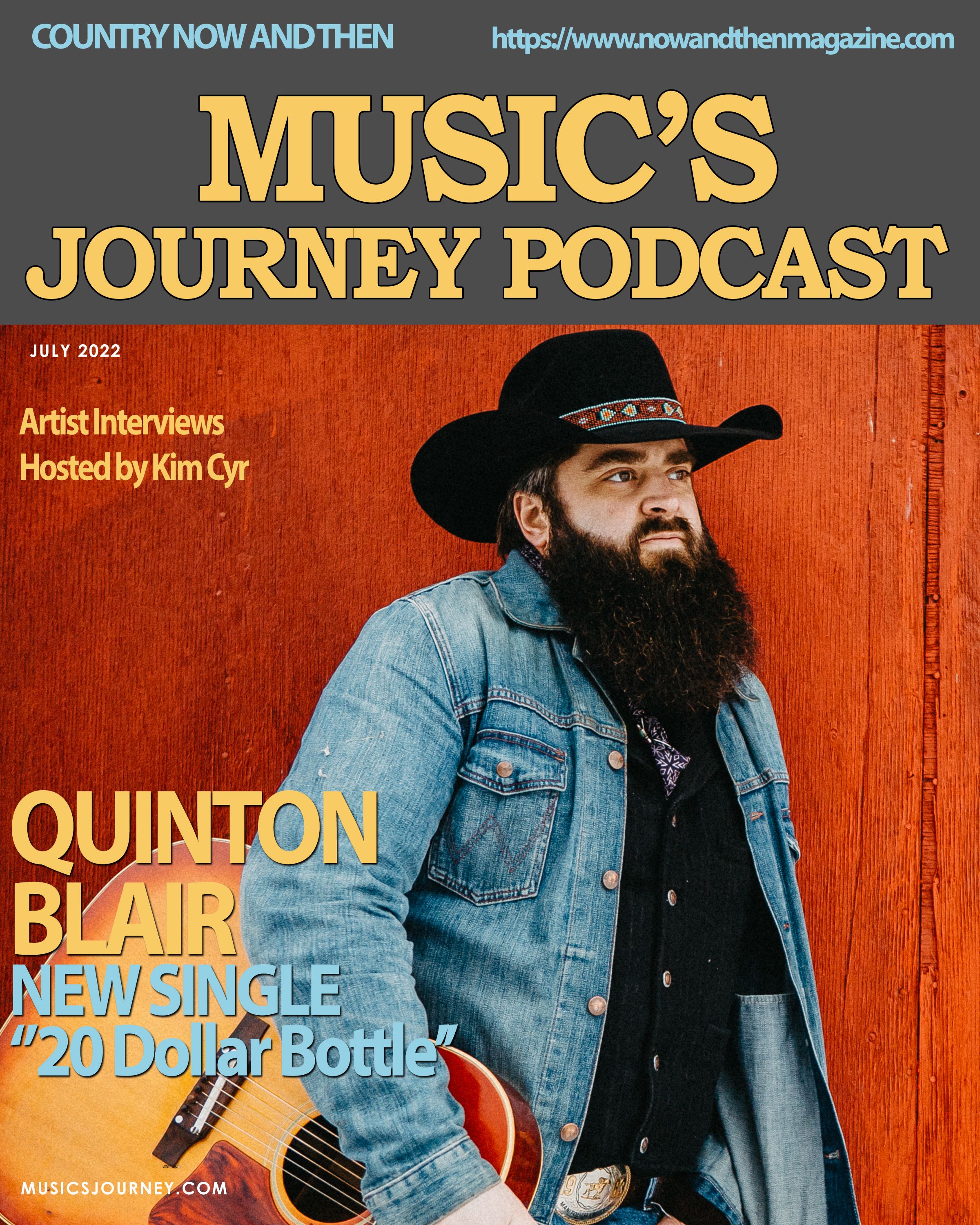 Music's Journey Podcast 
W/ Country Artist Quinton Blair 
Hosted by Kim Cyr 
Presented by NOW and THEN Magazine 
https://www.nowandthenmagazine.com 
Music's Journey Podcast INTERVIEW #180 w/ Country Artist Quinton Blair New Single ''20 Dollar Bottle''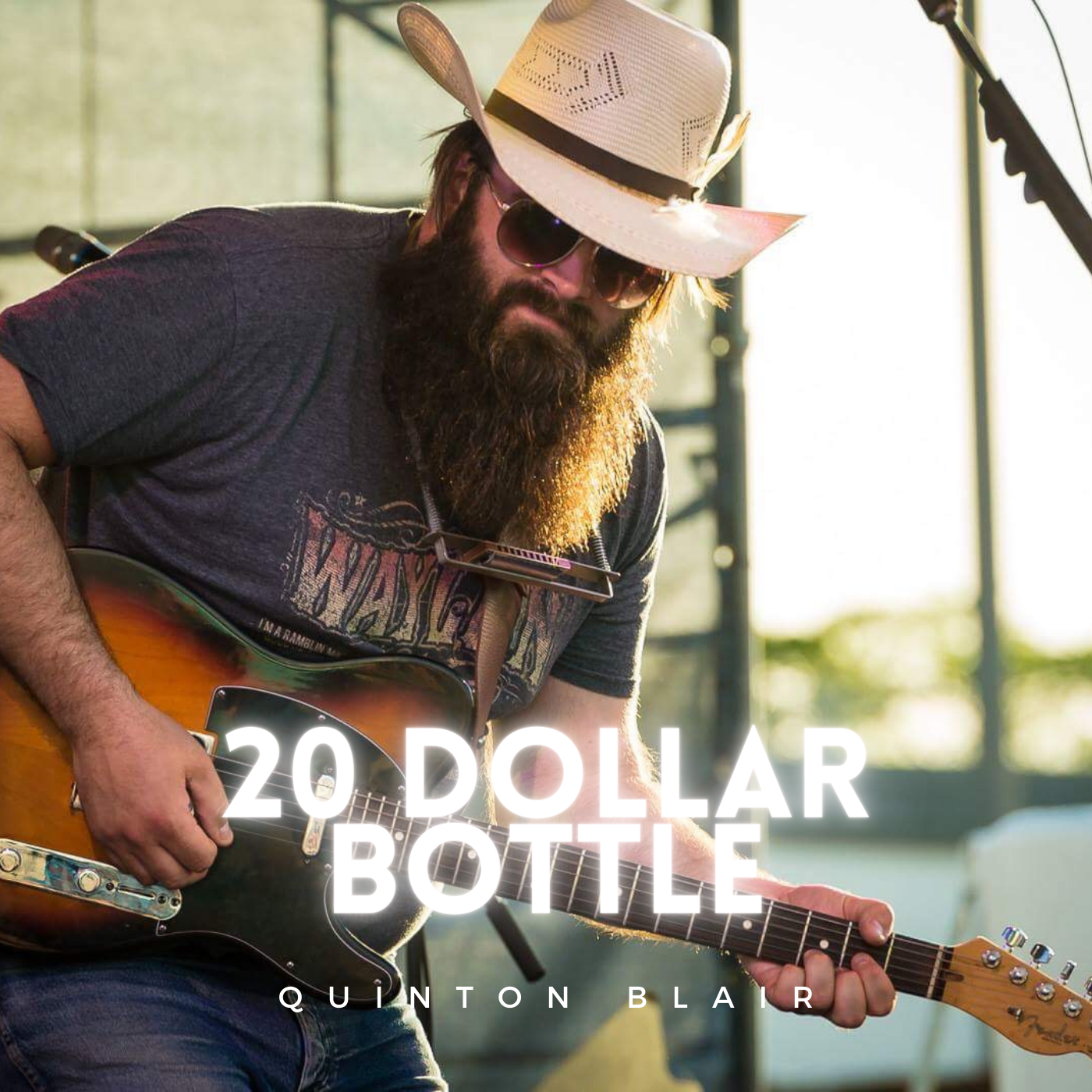 Quinton Blair 
New Single 
''20 Dollar Bottle'' 
Music's Journey Podcast INTERVIEW #180 w/ Country Artist Quinton Blair New Single ''20 Dollar Bottle'' 
Quinton Blair has released his new single ''20 Dollar Bottle'' that he co-wrote with country star Jason Blaine.  The song was produced by Sharp 9 Music, producer Pete Lesperance. 
An uptempo barn burner of a track displaying exceptional musicianship and a good ole boy having a good ole time.  The song was penned by Quinton and Jason Blaine, at Blaine's Nashville home.  20 Dollar Bottle is an upbeat story of small-town Friday nights, moonshine, love, and country gold.  The high-intensity track runs like a freight train down a hill featuring some of the countries top drawer musicians masterfully woven together by producer Pete Lesperance.  From the heavy hook that drives the song, to the swelling fiddle, and tele chase solos, this song is fun, and keeps the listener engaged from the first downbeat. 
Quote about the song: This barn burner of a tune kicks like a mule, puts a hitch in your hobble, it's a whole lotta trouble in a twenty dollar bottle.
Honest as a day spent on a Manitoba tractor, and driven like the drifting Prairie snow, 4-time Manitoba Country Music Association award winner, Quinton Blair is a road-running, tale-spinning, songwriter.  Silky and smooth like a diesel engine, his beard glistening in the setting sun.  Its rodeo mud in his teeth and horses in his blood.  
Born with a natural Prairie sensibility, his farming roots running deep in the Pembina Valley and Parkland regions, Quinton is undeniably authentic.  He sticks firmly to writing what he knows, and his songs speak to the rural listener with stories of heartbreak, of family, and of farming.  As a lifelong outdoors enthusiast, he writes with a strong sense of place and imagery.  A student of the great western storyteller Louis L'Amour, Quinton paints with words.  
Sharing the stage with countless Canadian and American country acts, Blair has performed his brand of troubadour, storytelling country that carries heavy undertones both of 70's outlaw country and 90's dancehall country with fans all over North America.  
Wrangling horses is in his blood and has been a part of the Blair family for generations.  Blair and his partner Vanessa operate two rural Manitoba properties in Landmark and MacGregor.  Here they raise horses, sheep, fainting goats, and chickens along with their combined 4 children.  His maturity and sense of family are so effortlessly communicated in both story and song.  
Despite all of the unknown, and industry shuffling, the Covid-19 lockdowns have provided him a chance to rethink his musical journey and clarify his goals.  This has allowed him to marry his passion for horses, the Manitoba wilderness, and his heartfelt songwriting, all the while building a national team to bring his music to a broader audience. 
To hear my chat with Quinton Blair and hear his amazing stories and music, click on the link below.
Music's Journey Podcast INTERVIEW #180 w/ Country Artist Quinton Blair New Single ''20 Dollar Bottle'' 
20 Dollar Bottle
Quinton Blair's Safe At Home Barn Dance in Winkler, MB
Music's Journey Podcast INTERVIEW #180 w/ Country Artist Quinton Blair New Single ''20 Dollar Bottle'' 
Follow Quinton Blair