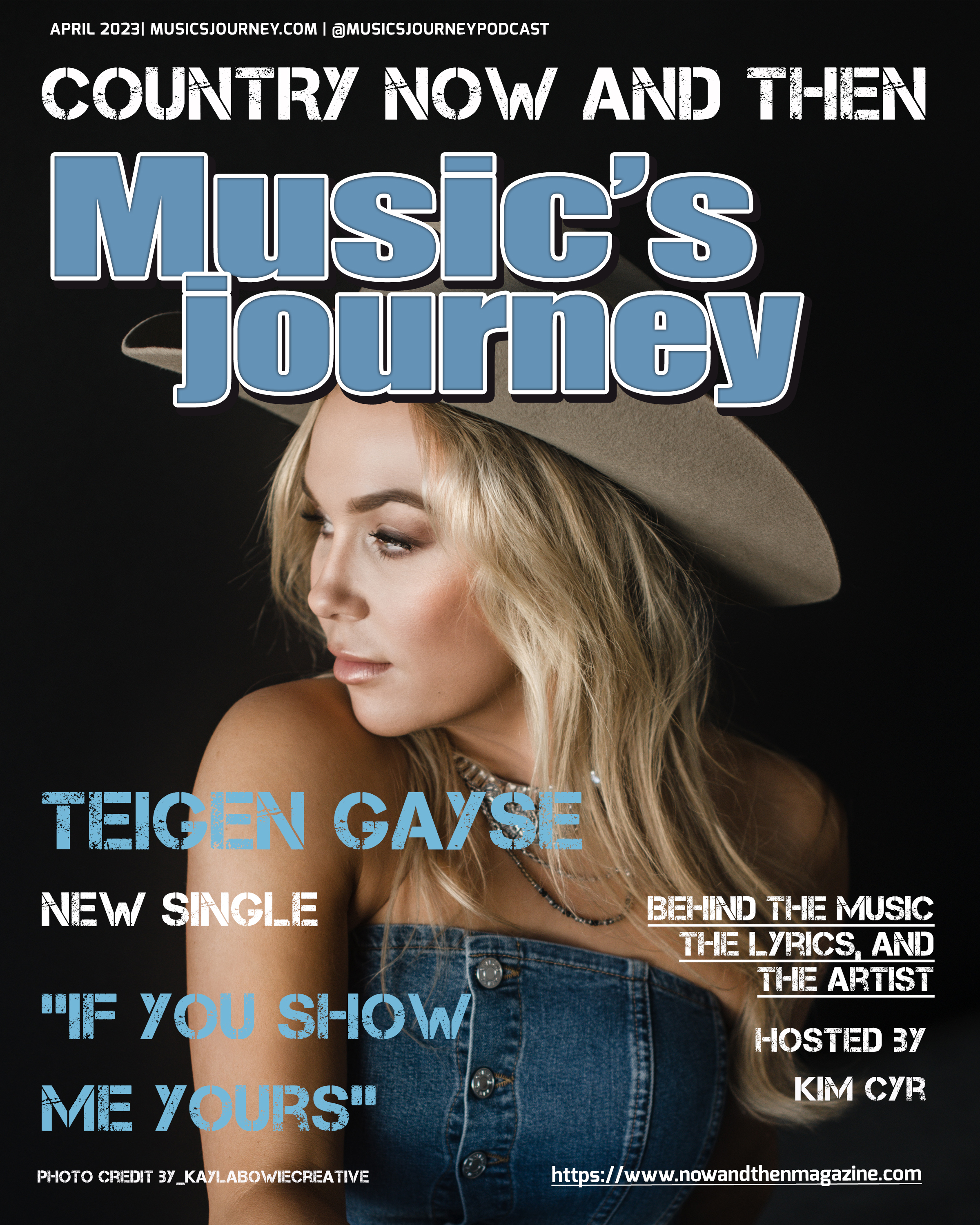 Music's Journey Podcast
w/ Country Artist Teigen Gayse
Hosted by Kim Cyr
Presented by NOW and THEN Magazine
https://www.nowandthenmagazine.com
Music's Journey INTERVIEW #210 w/ Country Artist Teigen Gayse Reaching New Depths With Her Latest Single Country Ballad ''If You Show Me Yours''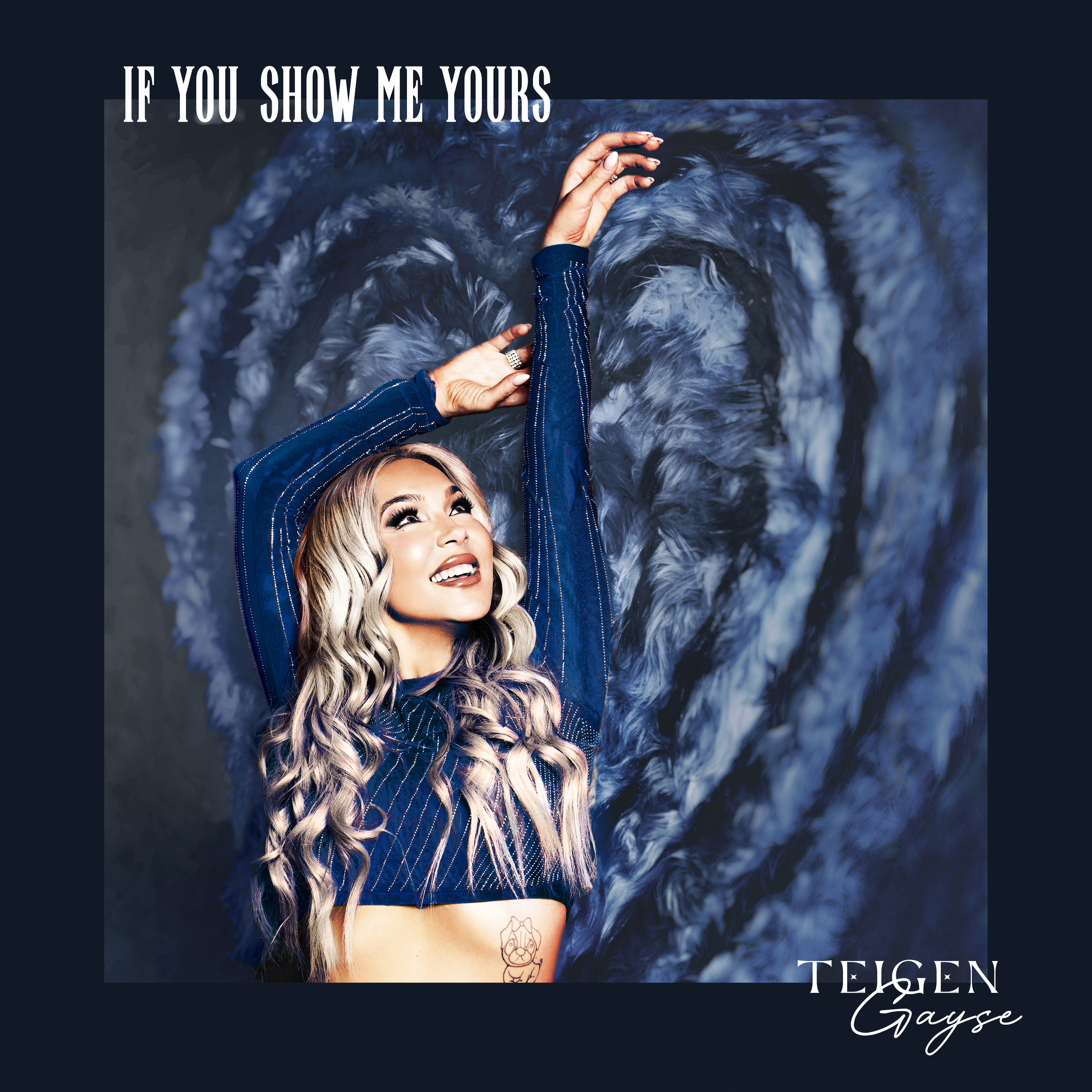 Latest Single
Music's Journey INTERVIEW #210 w/ Country Artist Teigen Gayse Reaching New Depths With Her Latest Single Country Ballad ''If You Show Me Yours'' 
Recently announced as a semi-finalist in the SiriusXM Top of the Country Competition, breakout Metis country artist Teigen Gayse steps into her biggest year yet with the release of her brand new single ''If You Show Me Yours.'' Co-written and produced by Chad Kroeger, the crooning country ballad displays a new depth to Teigen as both a songwriter and performer.  The emotion of the track radiates from her vocals, with Teigen's distinctive tone and lawless vibrato penetrating the heart of listeners.  
''I wrote this song with Chad Kroeger and Simon Clow, and it's one of my favourites to date,'' Teigen shares.  ''It was so fun to create this song with them and bring out this level of vulnerability.
After we finished writing, Chad and Chris Baseford ended up producing it.  They are both so talented and it's honestly one of the best experiences I've ever had.  I hope you love the song as much as I do!''
''Teigen Gayse is on fire with her latest single "If You Show Me Yours", says Kim Cyr, Editor in Chief, NOW and THEN Magazine, radio host, and host of the International Music's Journey Show. Teigen digs deep to connect with her own heartbreak on a track filled with emotion around the fears of love and loss. The song captures the raw struggle between the desire for true love and the risks that inevitably come when you gamble with your heart.  Teigen delivers powerful vocals that tell the real story perfectly.  She has shown why her star continues to climb with every new single she releases.  I am a huge fan.  We are going to be seeing much more from this young artist.''
''Teigen talks about how overwhelming it was at the thought of going into a write with the legendary rock star, Chad Kroeger.  We talk about her upcoming performances at Boots and Hearts, Cavendish Beach Music Festival, an upcoming new album, and a new music video coming soon.  There are some great teasers in this interview that you don't want to miss!  You will love this one.''  Check it out at www.musicsjourney.com or click on the link below.
Music's Journey INTERVIEW #210 w/ Country Artist Teigen Gayse Reaching New Depths With Her Latest Single Country Ballad ''If You Show Me Yours''
Teigen Gayse - If You Show Me Yours
With millions of catalog streams to date and over 40 million Tik Tok views, Teigen is proving her staying power as an independent artist.  Her recent Top 50 single ''I Don't Need A Boy'' won Break Out Artist for Acadia Broadcasting and has accumulated over 750,000 streams, with an impressive 36 million views on Tik Tok.  Teigen began leading the pack of artists to watch with her single ''Messed Up'' which surpassed 700K streams on its own, while her 2021 single ''I Don't Wanna Fall In Love Anymore'' has almost 3 million Tik Tok views.  It took home the honour of Trending Track from Stingray Radio, hitting #43 on the Billboard Country Music charts, and amassing over 350,000 streams.  Follow-up single ''Blame The Wine'' reached #48 on the Billboard charts.
Growing up in Kelowna, BC, Teigen Gayse was an Olympic-bound figure skater when she picked up her first guitar at the age of 13.  It wasn't long before she discovered songwriting as her true passion, which led to several trips to Nashville and pursuing a degree in audio engineering.  Her undeniable talent has landed her in writing rooms with several industry veterans, such as Chad Kroeger, Gord Samson, Jeff Trott, Dylan Guthro, Baker Grissom, Phil Barton, Patricia Conroy, David Thompson, Kadooh, and Buddy Owen.
The time is now for Teigen Gayse, as she hits stages across the country this festival season, including Boots & Hearts and Cavendish Beach Music Festival.  She will also be joining Gord Bamford for select dates of his Canadian Dirt tour in June.
Teigen Gayse - I Don't Need A Boy - Official Music Video
Music's Journey INTERVIEW #210 w/ Country Artist Teigen Gayse Reaching New Depths With Her Latest Single Country Ballad ''If You Show Me Yours'' 
Follow Teigen Gayse
Website/Facebook/Twitter/Instagram/YouTube/TikTok/Spotify/Apple