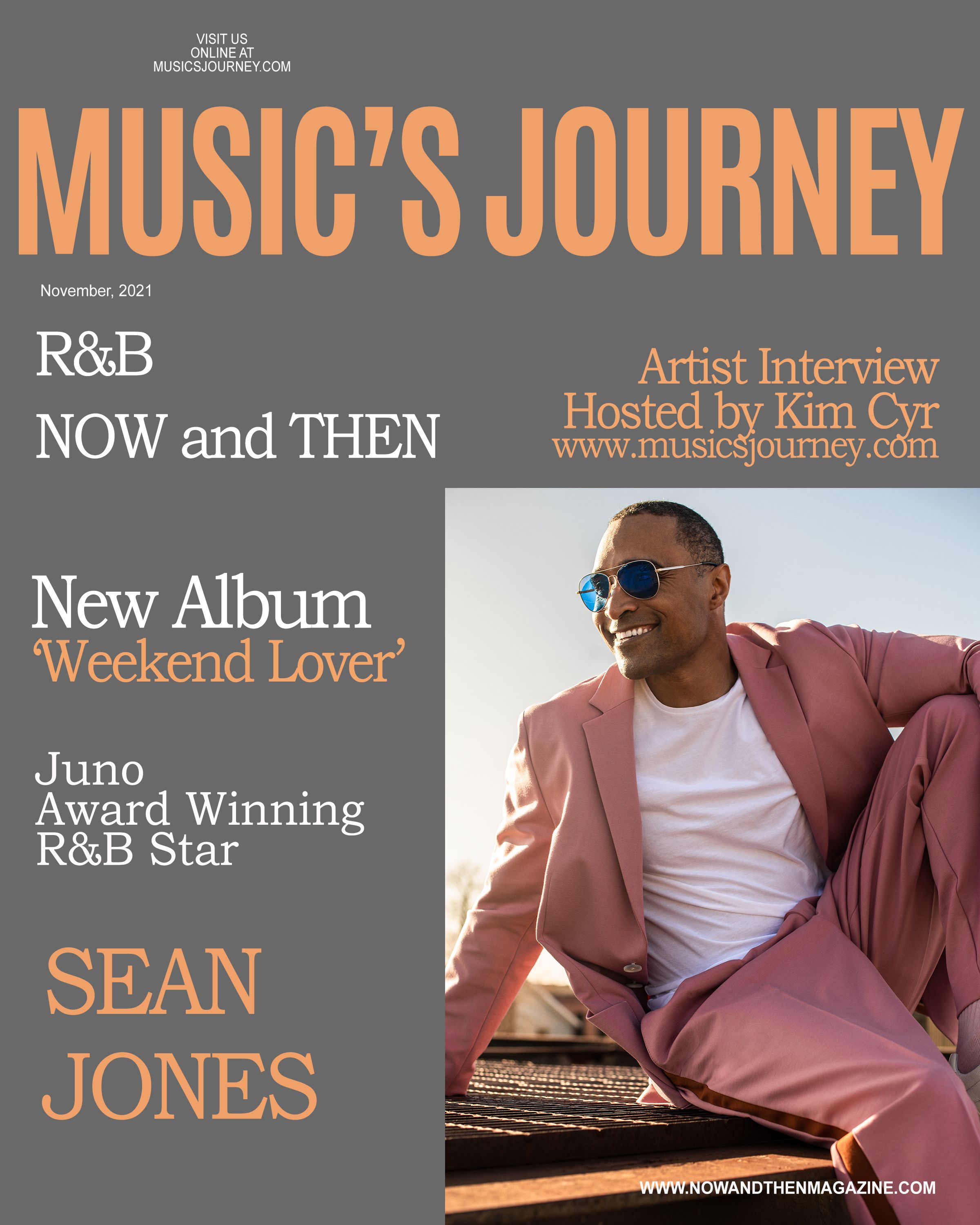 Music's Journey Podcast 
w/ Juno Award Winning R&B Singer/Songwriter 
Hosted by Kim Cyr 
https://www.nowandthenmagazine.com 
Music's Journey Podcast INTERVIEW w/ JUNO Award-Winning R&B Singer/Songwriter Sean Jones Releases New Album "Weekend Lover"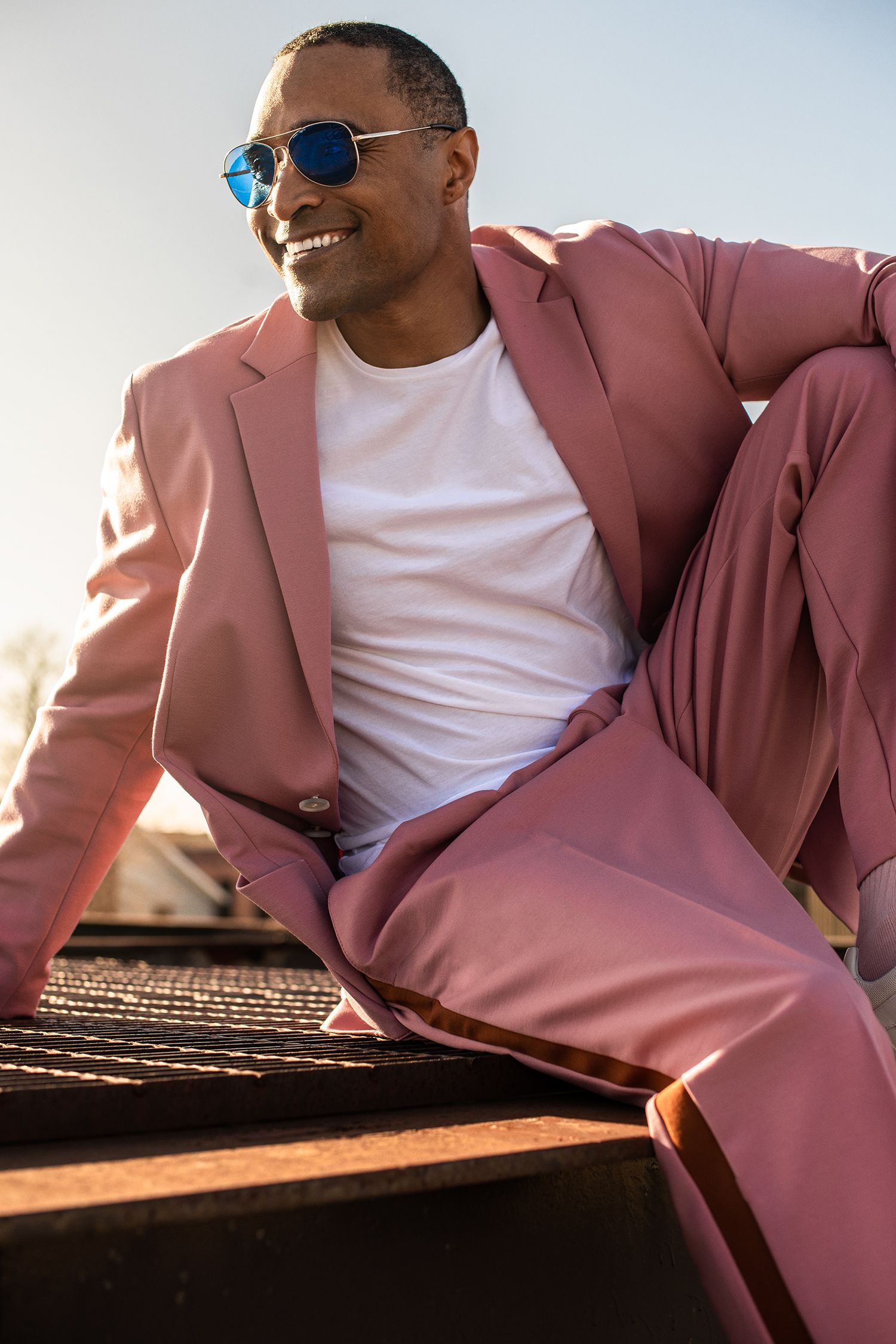 Sean Jones 
New Album 
''Weekend Lover'' 
Music's Journey Podcast INTERVIEW w/ JUNO Award-Winning R&B Singer/Songwriter Sean Jones Releases New Album "Weekend Lover" 
TORONTO, ON – JUNO award-winning R&B singer-songwriter Sean Jones is back with a brand-new album titled Weekend Lover. The album features a set of songs that are reminiscent of 90's R&B and will be released November 5 via all streaming platforms.  
Produced by Murray Daigle (Keshia Chante, Serena Ryder, BRDGS), the album has something for everyone with its mix of fast and mid-tempo tracks and just the right amount of awesome slow jams added to the mix. Love Will, a bass-heavy mixture of classic house and 90's R&B, written by Jones, Daigle, and Adrian X, was the first release from the album and speaks to the theme of love in a real and honest way.  
"I am so excited about this record. This album is a coming home of sorts for me. While I have truly enjoyed creating and performing music in multiple genres over the years, 90's R&B has always been my first love. This record is just an extension of my heart. There is no filler. Every song is special and unique in its own way. And the tunes will undoubtedly take you back in time. Murray and I made sure to add in just enough modern-day elements to keep this fresh and in line with the sound of music today. I am super proud of this body of work. If you are a lover of 90's R&B I can most certainly guarantee that you will not be disappointed."  
Opening with the album's title track, listeners are immediately transported to a nostalgic scene of young lust and seduction. "Weekend Lover" is a throwback anthem that sets the album's tone, bringing it back to Sean's roller-skating days. "Drink" is an infectious earworm and this entrancing track flutters through the materialistic wonders of life, and lands on the remaining fact that staying grounded in what is really important - the human connection - is the key to living a meaningful life.  
Weekend Lover has been in the works for quite some time, a fact that is especially evident with "Hooked", the song marking the halfway point of the album, featuring a rhythmic guitar progression that was written by Sean back in 2010. It took just over a decade for Sean to find the right melody and lyrics to accompany the track, preciseness that is indicative of the singer-songwriter's dedication to his craft.  
In 2015, Sean became the first artist to secure a solo summer residency at the historic Casa Loma in downtown Toronto. The Monday night revue titled Soul in The City gave Jones and his nine-piece band, The Righteous Echo, the chance to showcase his original songs as well as their take on popular old-school R&B and soul hits. The show would also give emerging artists a stage to share their talents.  
The night's overwhelming success led to WestJet, Canada's second-largest airline, handpicking Sean to create a musical experience for the passengers aboard their flights. For the project titled, The WestJet Boarding Sessions, Jones recorded new versions of classic Canadian hits such as These Eyes by The Guess Who, The Weight by The Band, and Angel by Sarah McLachlan and flew across Canada to interview some of these cherished musical icons.  
"Growing up, my parents played all the classics, Temptations, Marvin Gaye, Otis Redding, The Supremes... the list goes on and on. I loved all of it then and to this day. However, the music of the late '80s and '90s is what sparked my interest in performing. There was something about the musical energy of that time. The R&B/Pop songs were infectious and well written. I was truly missing that vibe and started writing songs in that vein. It's taken a couple of years to finish, but I'm excited to start sharing it with everyone."  
Sean continues his long-time working relationship with manager Laura van Leest of Bellefair Artists and will spend the better part of 2022 promoting the new album, performing select shows across Canada, and continuing to grow his acting resume with Hero Artists.  
Sean Jones - Weekend Lover Track Listing  
Weekend Lover  
1. Rub  
2. Drink  
3. She Is  
4. Body To Love  
5. Love Come Down  
6. My Love  
7. Hooked  
8. Black Diamond  
9. Puttin In Work  
10. All Fall Down (feat. Storry)  
11. Sweet Wine  
12. Make Love  
13. Love Will  
14. I Do 
Music's Journey Podcast INTERVIEW w/ JUNO Award-Winning R&B Singer/Songwriter Sean Jones Releases New Album "Weekend Lover" 
SEAN JONES - WEEKEND LOVER (OFFICIAL VIDEO) 
Sean Jones - Love Will 
WestJet Boarding Sessions Ep. 1: Sean Jones
WestJet Boarding Sessions with Sean Jones
ABOUT SEAN JONES  
Sean Jones is a JUNO award-winning R&B singer/songwriter determined to bring a fresh and contemporary vibe to the classic soul sound that has inspired him in the past. His 200+ live renditions of soulful ballads, funky R&B workouts, and original material have consistently left audiences breathless. Sean has enjoyed a distinguished career that has seen him perform on the shores of Monaco, in the islands of Hawaii, at London's historic Trafalgar Square, at New York's Carnegie Hall, and The Rainbow Room at Rockefeller Centre. Most recently, Sean has had the honour of opening for Ellen DeGeneres at Rogers Arena in Vancouver, BC, and Scotiabank Arena in Toronto, ON. 
Music's Journey Podcast INTERVIEW w/ JUNO Award-Winning R&B Singer/Songwriter Sean Jones Releases New Album "Weekend Lover" 
Follow Sean Jones