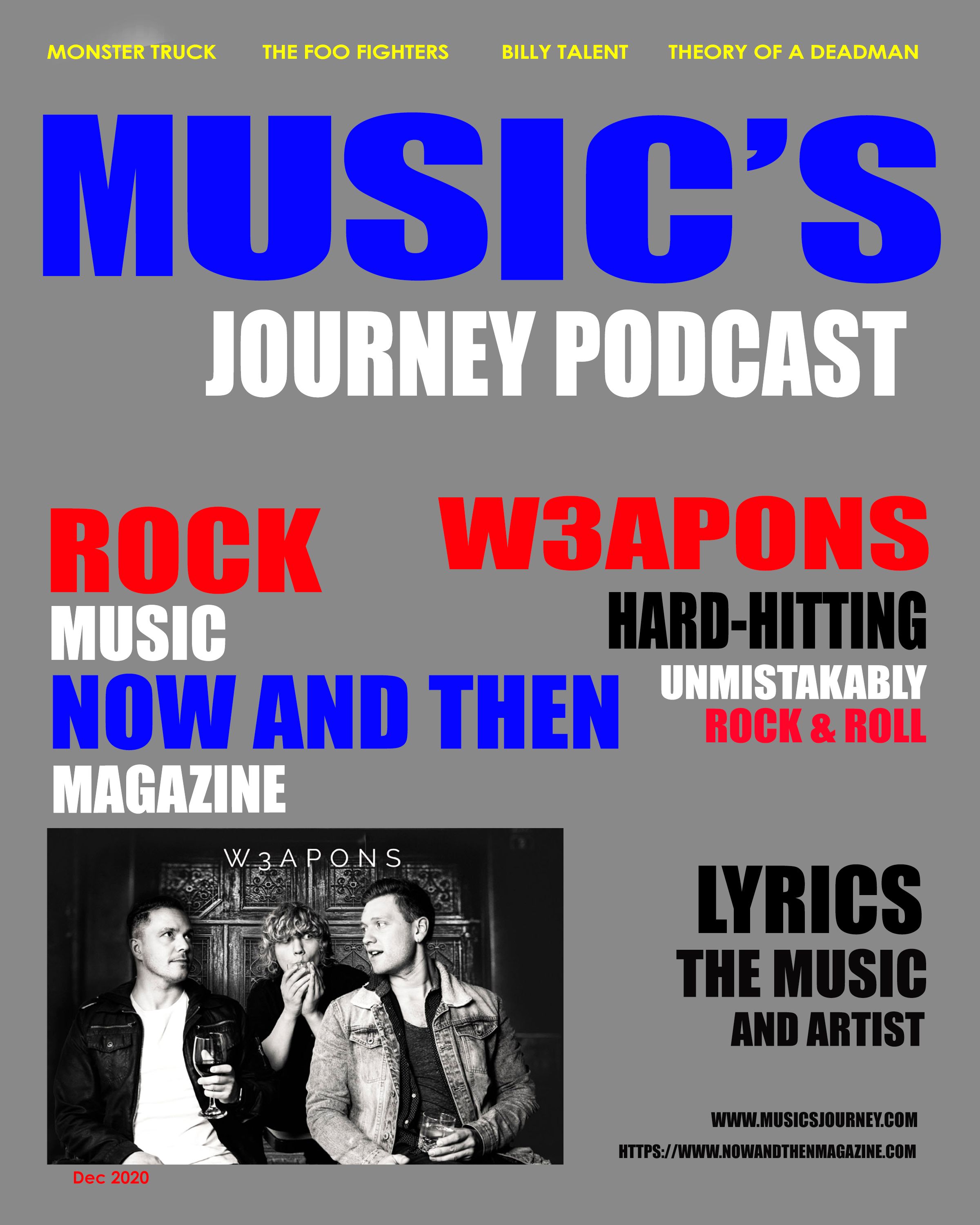 w/ Canadian Rock Band ''W3APONS'' 
Hosted by Kim Cyr 
Presented by NOW and THEN Magazine 
https://www.nowandthenmagazine.com 
Music's Journey Podcast INTERVIEW w/ Canadian Rock Band ''W3APONS'' Click Here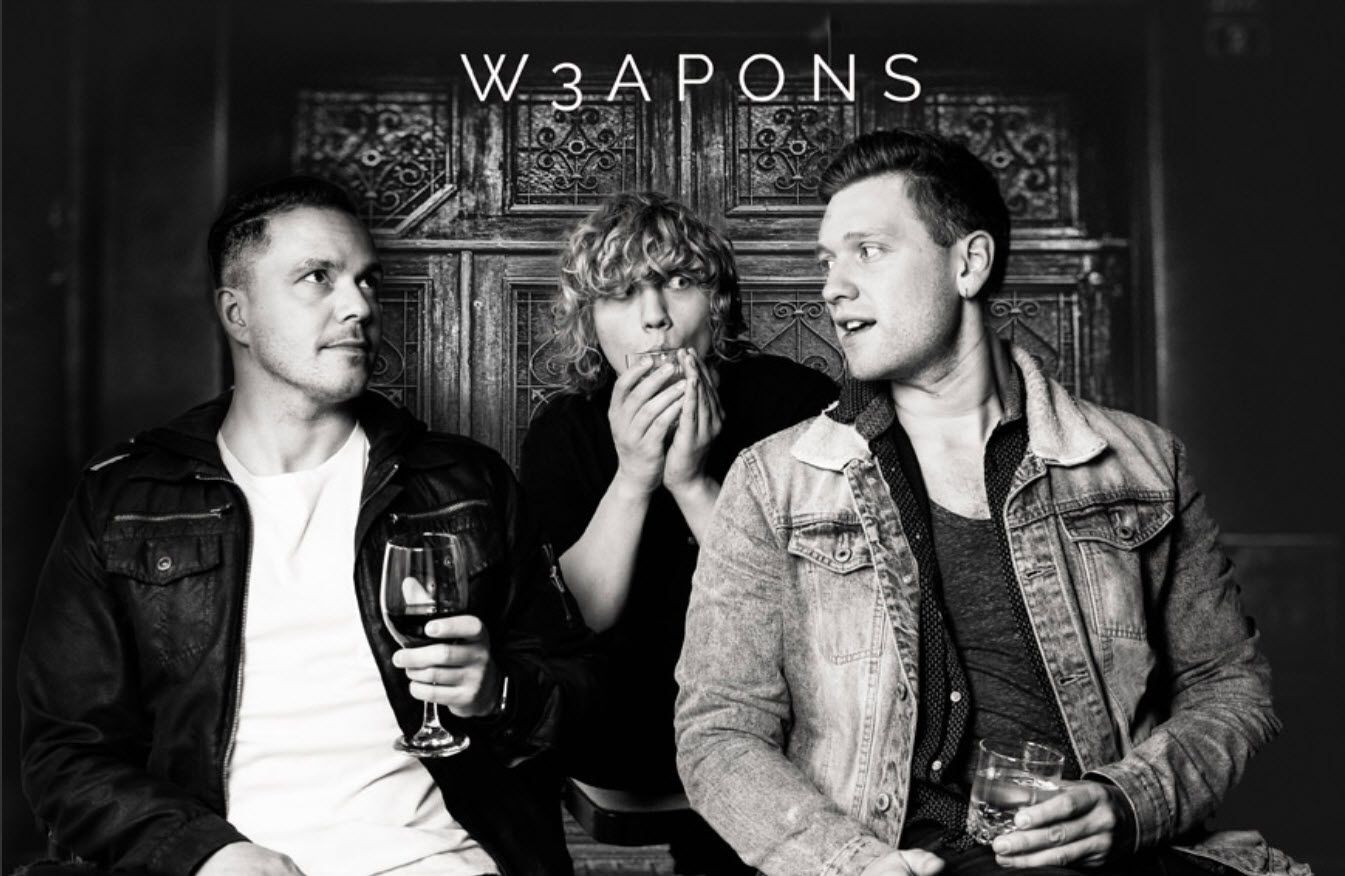 ''W3APONS'' 
New Single 
'Broken Promises' 
Saskatoon-based rock trio, W3APONS has been very busy since their debut single, ''Off the Top of My Heart'', produced by The Trew's John-Angus MacDonald.    
The band's debut single "Off the Top of My Heart" reached #11 on the Canadian Active Rock Charts completely independently in 2019 and has received over 700,000 plays on Spotify. In 2020, the band's single "Bye Baby Gone" went Top 10 on the Canadian Active Rock Charts, peaking at #8. 
Drummer/vocalist Tallus Scott, bassist/vocalist Myk Ulan-Hohol, and guitarist/ vocalist Jordan Welbourne are the elements in the perfect storm that is W3APONS - Energetic, Hard-hitting, and unmistakably Rock & Roll. 
W3APONS has shared the stage with The Trews, Monster Truck, The Lazys, and The Wild! The band was also hand-picked by Theory of a Deadman (AKA THEORY) joining them for all 21 Canadian dates of their Say Nothing World Tour in January/February 2020.
''Saskatoon rock'n roll independent trio W3APONS serve up a certified hard-hitting, killer rock jam that delivers the real deal with the heavy guitar riffs bringing that classic rock music with a modern sound that will put this band to the top of the charts'', says Kim Cyr Editor in Chief NOW and THEN Magazine.   The trio has really found their sweet spot that will be filling the festivals with fans singing every word.  You can hear just how hard this band has been working to develop their craft and harmonies.  I love every bit of their new music.  I was a big fan before and it is really cool to see just how far they have come in such a short period of time.    This is just the start of what will surely be fan favorites with their full body of work yet to come. The band co-wrote this 'Broken Promises' with JUNO Award winner Clayton Bellamy from The Road Hammers and John-Angus and Colin MacDonald from The Trews. W3APONS will be working with John-Angus MacDonald to produce more songs and maybe a full album''.  For a ton of laughs and stories about Jordan, Tallus, and Myk, listen to the full interview HERE.   
W3APONS ''Off the Top of My Heart'' Official Video
W3APONS ''She Was The One'' Official Video
W3APONS - Bye Baby Gone (Official Audio)
W3APONS - Broken Promises (Official Audio)
Music's Journey Podcast INTERVIEW w/ Canadian Rock Band ''W3APONS'' Click Here 
Be sure to check out their socials to find out when they play next and check out their single, below! 
Follow W3APONS