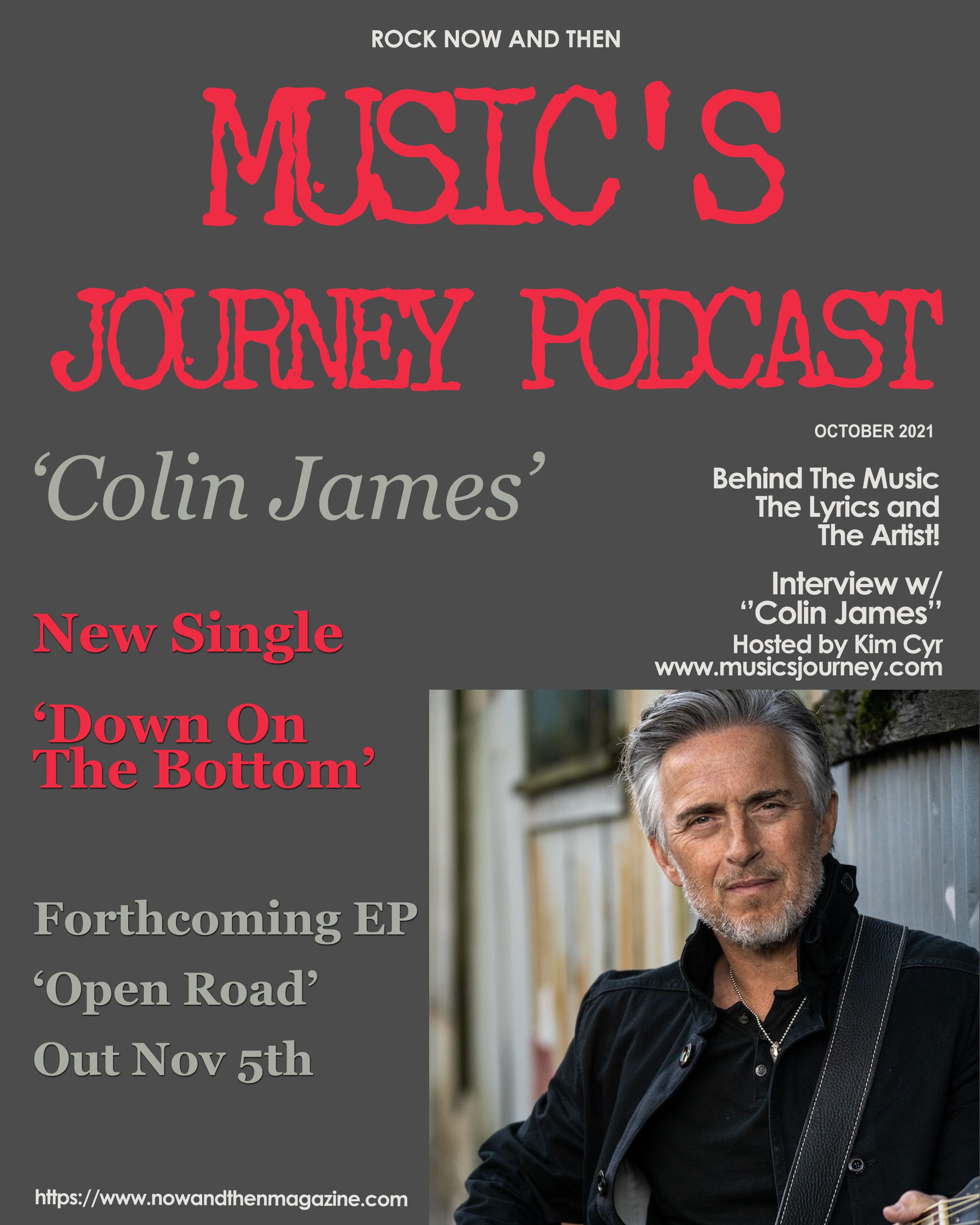 Music's Journey Podcast  
w/ Canada's Hall of Famer Blues Rocker 
''Colin James'' 
Hosted by Kim Cyr 
Presented by NOW and THEN Magazine 
https://www.nowandthenmagazine.com 
Music's Journey Podcast INTERVIEW w/ Canada's Multi Juno Award Winning Blues Rocker ''Colin James'' New 20th Studio Album Open Road Listen HERE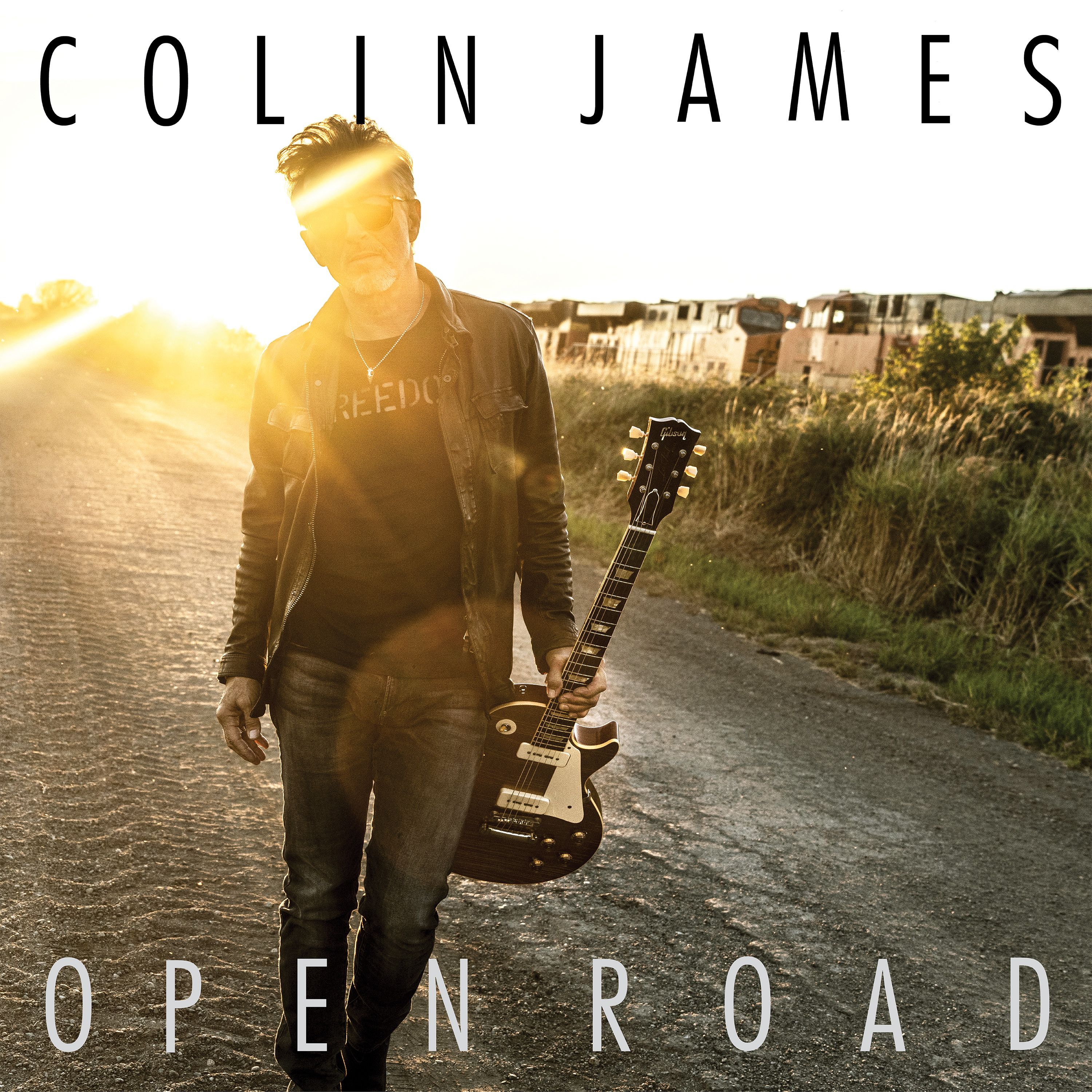 Open Road, Via Stony Plain Records Available Now
New Single 
 Music's Journey Podcast INTERVIEW w/ Canada's Multi Juno Award Winning Blues Rocker ''Colin James'' New 20th Studio Album Open Road Listen HERE 
Multiple Juno award-winner Colin James is one of the best blues rockers in the music industry and he is at the top of his game with his brand new album Open Road.   
Colin James' music career spans over 30 years and includes 19 studio albums, 7 Juno Awards, 27 Maple Blues Awards, and multi-platinum record sales. Inducted into the Canadian Music Industry Hall of Fame in 2014, Colin James is a beloved guitarist, singer, songwriter, consistently selling out shows internationally.  
From the rolling prairies of Saskatchewan to the Open Road of a storied career, multi-award-winning, chart-topping, and multi-platinum-selling guitarist Colin James released his 20th studio album on November 5th via Stony Plain Records. Open Road was mixed at the iconic Abbey Road Studios in London. Colin supports the new album, which is being released on both CD and vinyl LP formats, with substantial touring in Canada and the US, including a spot on the Big Blues Bender multi-day music extravaganza in Las Vegas that took place in September. 
That's abundantly clear on the album's title track, a song co-written by James and Northey that sets the tone for the album for traveling the highways and byways that are part and parcel of a touring musician's life. But while the track seems custom-crafted to reflect the road life of traveling musicians, it's a song anyone can find their own lives and experiences reflected in; all summed up in the lyrics, "every life is an open road." "It's definitely got a sense of movement," James says, "which, I think, is compounded by our lack of ability to travel over the last year and a half." 
For James, Open Road is the third in a trilogy of records, a natural follow up to the 2018 JUNO Award-winning Miles To Go, an album that garnered worldwide attention as it debuted on the Billboard Blues Chart, the iTunes Blues Chart, and added six new Maple Blues Awards to Colin's running total of 27.
"Those two records, in a way they're almost straight blues, and through them, we found a new audience, especially in America. They also had a fair number of covers; some of them reimagined versions of songs I've known since I was 12 or 13 years old. So, on Open Road I wanted to try and stay true to that kind of blues, but also to show some growth."
Open Road mines the past and present for inspiration in equal measure. It's also a record that finds James looking forward with determination. After 19 months and a change of Covid, everyone feels more than a bit down and done. But while James isn't immune to that feeling, the variety of blues he presents on Open Road – rather than dwelling on struggle – is meant to lift people's spirits, encourage them to shake off the shadows, and move forward in a way that's fiercely hopeful.
Directed by Cole Northey, "Down On The Bottom" video opens with Colin James driving a Classic Black '66 Mustang convertible down a dirt country road as the crack of drums and searing guitar roll in. With soaring vocals, James rocks this cover (Bob Dylan, Jim James) with a sweet, sanctified feel that preaches a loner's gospel and an arrangement that keeps James' vocal talent front and center. His guitar tones are crisp and beautiful, embellishing the spaces around his voice creating magic. James displays a master's touch here and has created one of the finest roots music videos of 2021. The song was produced by Colin James and Dave Meszaros. 
 Music's Journey Podcast INTERVIEW w/ Canada's Multi Juno Award Winning Blues Rocker ''Colin James'' New 20th Studio Album Open Road Listen HERE 
Colin James - Down On The Bottom (Official Video)
Colin James - Open Road (Official Lyric Video)
Following this summer's first track release, "Down On The Bottom," the Canadian Music Industry Hall of Famer has revealed the release's latest single in the title track "Open Road" — available now.  
In delivering 20-plus albums across 30-plus years, a look back over Colin James' career reveals a timeline rich in highlights, kicking off when he subbed in for a no-show opening act at a Stevie Ray Vaughan concert in his hometown of Regina. He's been following the path Vaughan set out for him that night when Stevie Ray told him, "I'm opening doors for you –walk through them."  
His 1988 self-titled debut, featuring two self-penned hits, "Voodoo Thing" and "Five Long Years," was the fastest-selling album in Canadian history, winning him his first of now-seven JUNOs, and an opening spot on tour with Keith Richards.  
In addition to his own studio offerings, Colin James has worked with some of the world's most revered artists across his multi-decade career — including Bonnie Raitt, Albert Collins, Pops Staples, Robert Cray, Albert King, Keith Richards, Lenny Kravitz, ZZ Top, Mavis Staples, Luther Allison, Roomful of Blues, Bobby King and Terry Evans, John Hammond Jr., The Chieftains, Carlos Santana, Little Feat, Johnny Hallyday, Jeff Healey, and Buddy Guy.
And beyond his own recording and touring to massive sold-out crowds, he is a prolific songwriter, with his music recorded by the likes of Maria Muldaur, Lucinda Williams, and Johnny Hallyday. He is also credited with launching the swing revival in Canada, thanks to his wildly popular Little Big Band.
Colin James Tour Dates 
November 8, 2021 – Qualicom Civic Centre – Qualicom Beach, BC 
November 9, 2021 – Tidemark Theatre – Campbell River, BC 
November 10, 2021 – Evergreen Theatre – Powell River, BC 
November 13, 2021 – Cleland Theatre – Penticton, BC 
November 14, 2021 – Performing Arts Centre – Vernon, BC 
November 15, 2021 – Key City Theatre – Cranbrook, BC 
November 17, 2021 – Festival Place – Sherwood Park, AB 
November 18, 2021 – Festival Place – Sherwood Park, AB 
November 20, 2021 – Vic Juba Theatre – Lloydminster, AB 
November 21, 2021 – Lougheed PAC – Cargill Theatre Camrose, AB 
November 23, 2021 – Blues At The Bow – Bow Island, AB 
November 24, 2021 – Blues At The Bow – Bow Island, AB
Music's Journey Podcast INTERVIEW w/ Canada's Multi Juno Award Winning Blues Rocker ''Colin James'' New 20th Studio Album Open Road Listen HERE  
Follow Colin James