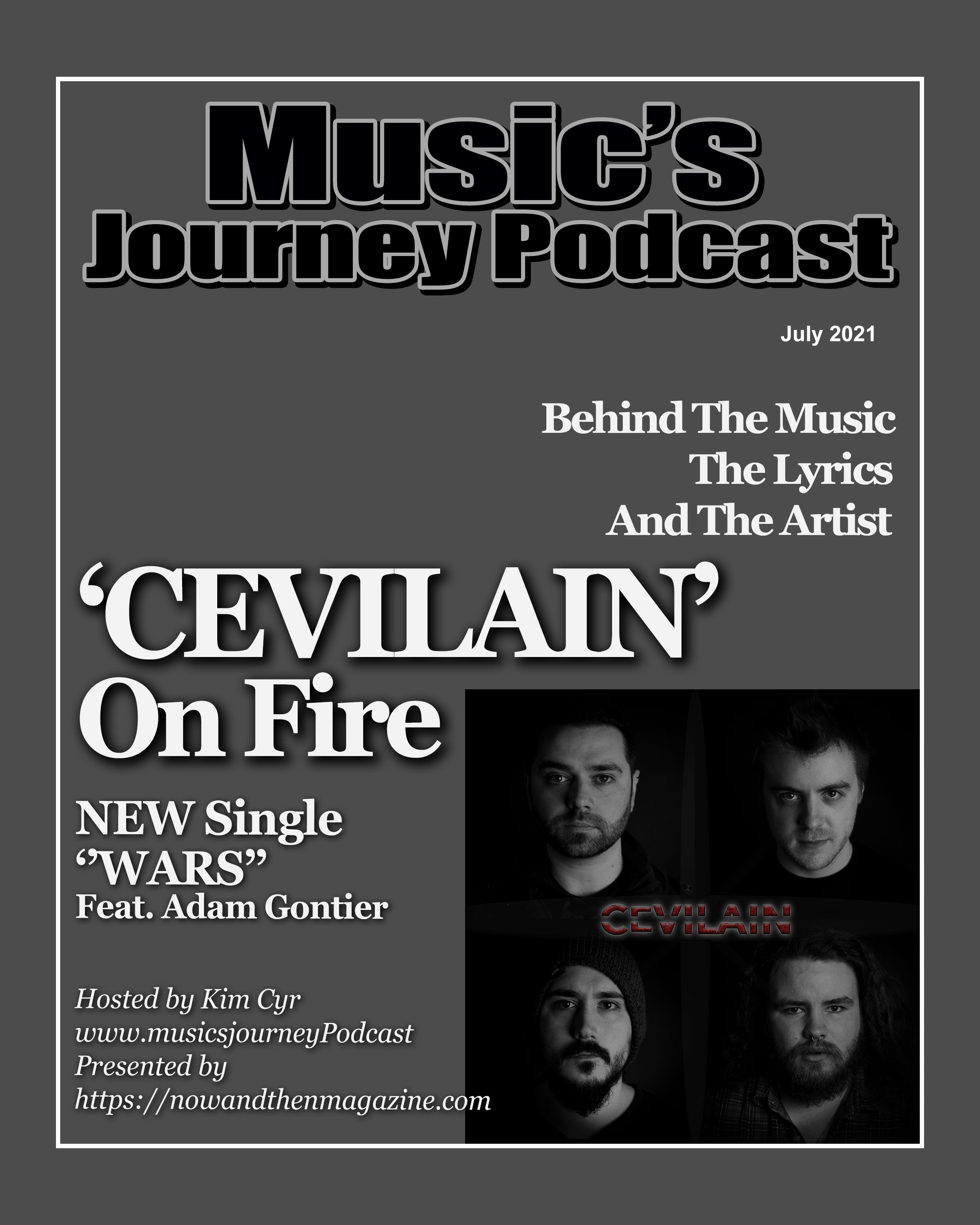 Music's Journey Podcast 
INTERVIEW 
w/ Powerhouse Rock Band 'CEVILAIN' 
Hosted by Kim Cyr 
Presented by NOW and THEN Magazine 
www.musicsjourney.com 
https://www.nowandthenmagazine.com 
Music's Journey Podcast INTERVIEW w/ Canadian Powerhouse Hard Rock Band CEVILAIN, LISTEN HERE!!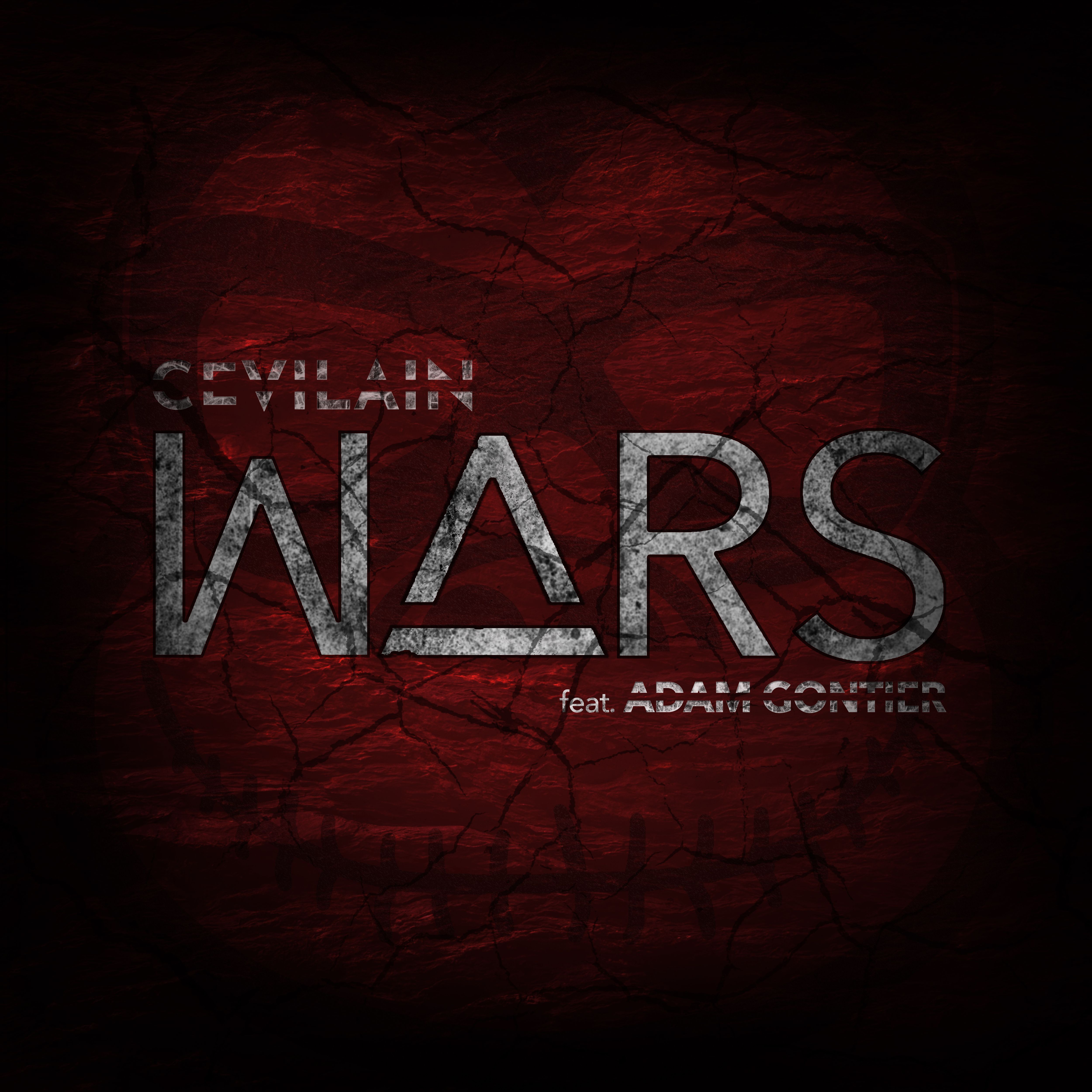 New Single 
WARS - Feat. Adam Gontier
Crossing Boarders!
Music's Journey Podcast INTERVIEW w/ Canadian Powerhouse Hard Rock Band CEVILAIN, LISTEN HERE!!
Much like a storm, CEVILAIN has swept onto the scene and left a poignant and lasting impression. Inspired by titans of the genre - Breaking Benjamin, Chevelle, and Thrice - CEVILAIN channels their creative energies into captivating tracks whose impact is only surpassed by their energetic live performances and their ability to engage their audience. Members Cliff Menzies (Vocals/Guitar), Joel Lefebvre (Lead Guitar), Eddy Fox (Bass) and Andrew Parmelee (Drums) give every ounce of themselves night in and night out… 
The latest single 'WARS' the second track off CEVILAIN's forthcoming full-length album VERSUS, due out in December, is killer feat. special guest vocal by Adam Gontier, frontman of Saint Asonia (formerly of Three Days Grace) making a haunting addition to the already monolithic track.  Consistently heavy and unforgivingly melodic, if "WARS" and "Cure" (the first single released) are any indication of what's to come with VERSUS, we are in for hell of a ride.   
''CEVILAIN has become one of my favorite Canadian hard Rock bands today and they have my full respect and appreciation for their music that will be standing the test of time with their hard hitting lyrics like their new single WARS,'' says Kim Cyr, Editor in Chief of NOW and THEN Magazine and host of the International Music's Journey Podcast.  ''As independent artists, CEVILAIN is a very impressive band.  They grind out every show by giving the performances that we all crave and expect from all legendary hard Rock bands that have been on the world stage for years.  Here's is the deal, CEVILAIN is a fairly new band and they are earning that same respect from every fan (especially me) one at a time because they live and breathe what music is meant to do.  It's not about the fame, it's the lyrics that matter, and the creative genius to write the music that brings us to our knees with the kick ass performances that show they are not afraid to deliver that punch in the gut to wake us all up.  I think CEVILAIN will be changing the face of hard Rock from the Canadian stage to the world stage.  It is so amazing to see this band come out swinging and delivering the lyrics that are complicated, current, and difficult with the world we live in right now.   At a time that has been so explosive, hard and painful for people worldwide for so many different reasons, CEVILAIN has taken on some of the most difficult issues of our time and giving their unique and powerful perspective in their music.  There is a methodical approach to everything this band does and that is delivering the music that will keep hard Rock alive for generations to come.   
''I had such a fantastic talk with Cliff Menzies and Eddy Fox of the band CEVILAIN, sharing the concept behind their forthcoming full-length album VERSUS,'' says Cyr.  ''I love the meaning behind VERSUS that takes important issues that have two different opinions or perspectives on a matter and finding a way to work together on the resolution peacefully.  The first single 'Cure' really showcased these points and how frustrating it is to watch our world be on opposing sides with little interest in working together to find a solution.  The emotive impact of the visual story behind the video 'Cure' is so powerful and hits the exact point of frustration we all feel watching the world events unfold.  The creative process is amazing and to hear how Joel Lefebvre put this video together so quickly, is just incredible.  There are so many stories behind the lyrics of this new album that are just so impressive. .  It is amazing to see that CEVILAIN cares enough to use their platform in such an important way by writing lyrics for their new music to drive home the values and the concept of peace and how we can obtain it as a whole.  We can work together in all walks of life no matter what our views or positions might be.   The images related in the videos are haunting and we need to take a serious look at our own views and see every aspect of what we are doing to each other.''   
''Cliff Menzies shares what it was like working with Adam Gontier and where the original concept of the idea for WARS came from.   It is very interesting and cool story that you are going to love!  To hear the full interview, click on the link below.
 Music's Journey Podcast INTERVIEW w/ Canadian Powerhouse Hard Rock Band CEVILAIN, LISTEN HERE!! 
​2021... looks to be an incredible follow up for CEVILAIN.  "WARS" has establish that CEVILAIN is ready for the world stage and they are doing just that!  
"WARS" has been hitting the US Airwaves with a force!  Don't forget, if you want WARS playing on your local radio station, request it!  
CEVILAIN - Wars feat. Adam Gontier (Official Lyric Video)
CEVILAIN - Cure (Visualizer)
Music's Journey Podcast INTERVIEW w/ Canadian Powerhouse Hard Rock Band CEVILAIN, LISTEN HERE!!
CEVILAIN's 2020 release: "On Death & Dying". The concept EP is based on the Kübler-Ross model, better known as the "Five Stages of Grief", with each full-track highlighting a stage (Denial, Anger, Bargaining, Depression, and Acceptance).   
The first single off the EP, "How It Ends", showcases CEVILAIN's ability to hammer home searing instrumentation with soaring melody and focused harmony. Released in October 2019, the single has become the bands most successful release to date –  streaming for over 300,000+ plays!   
The EP has found substantial success since its March release with multiple tracks being picked up at rock radio and receiving placement on establish Spotify & Apple playlists. All in all, the album has seen over 500,000+ streams!
CEVILAIN - Crisis (Official Video)
CEVILAIN - What Comes After (Official Lyric Video)
CEVILAIN - Midnight Sky (Miley Cyrus Cover)
Music's Journey Podcast INTERVIEW w/ Canadian Powerhouse Hard Rock Band CEVILAIN, LISTEN HERE!! 
Follow CEVILAIN