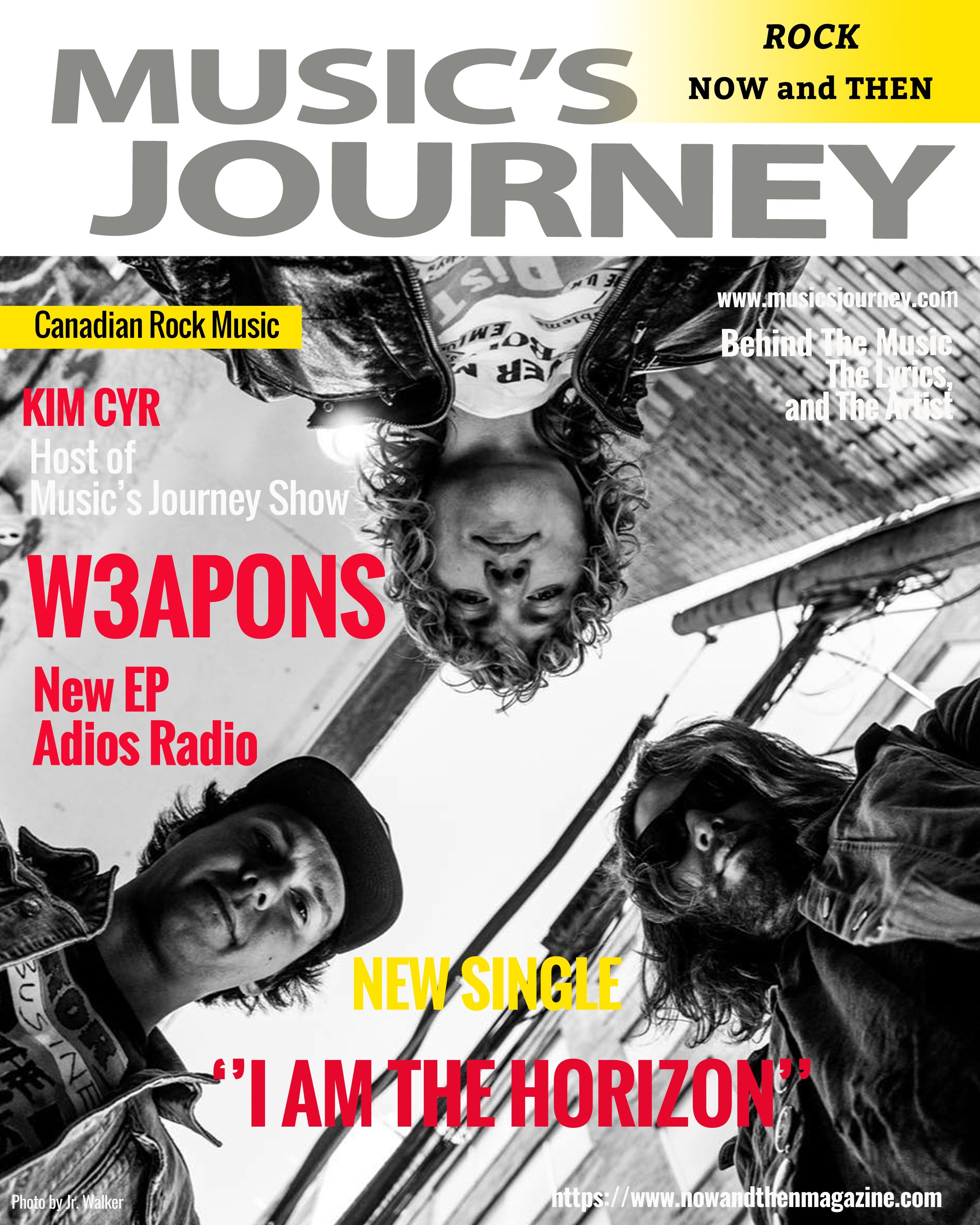 Photography by Jr. Walker 
w/ Award-Winning Rock Trio ''W3APONS'' 
Hosted by Kim Cyr 
Presented by NOW and THEN Magazine 
https://www.nowandthenmagazine.com 
Music's Journey Podcast INTERVIEW #128 w/ Canadian Rock Trio W3APONS ''I Am The Horizon''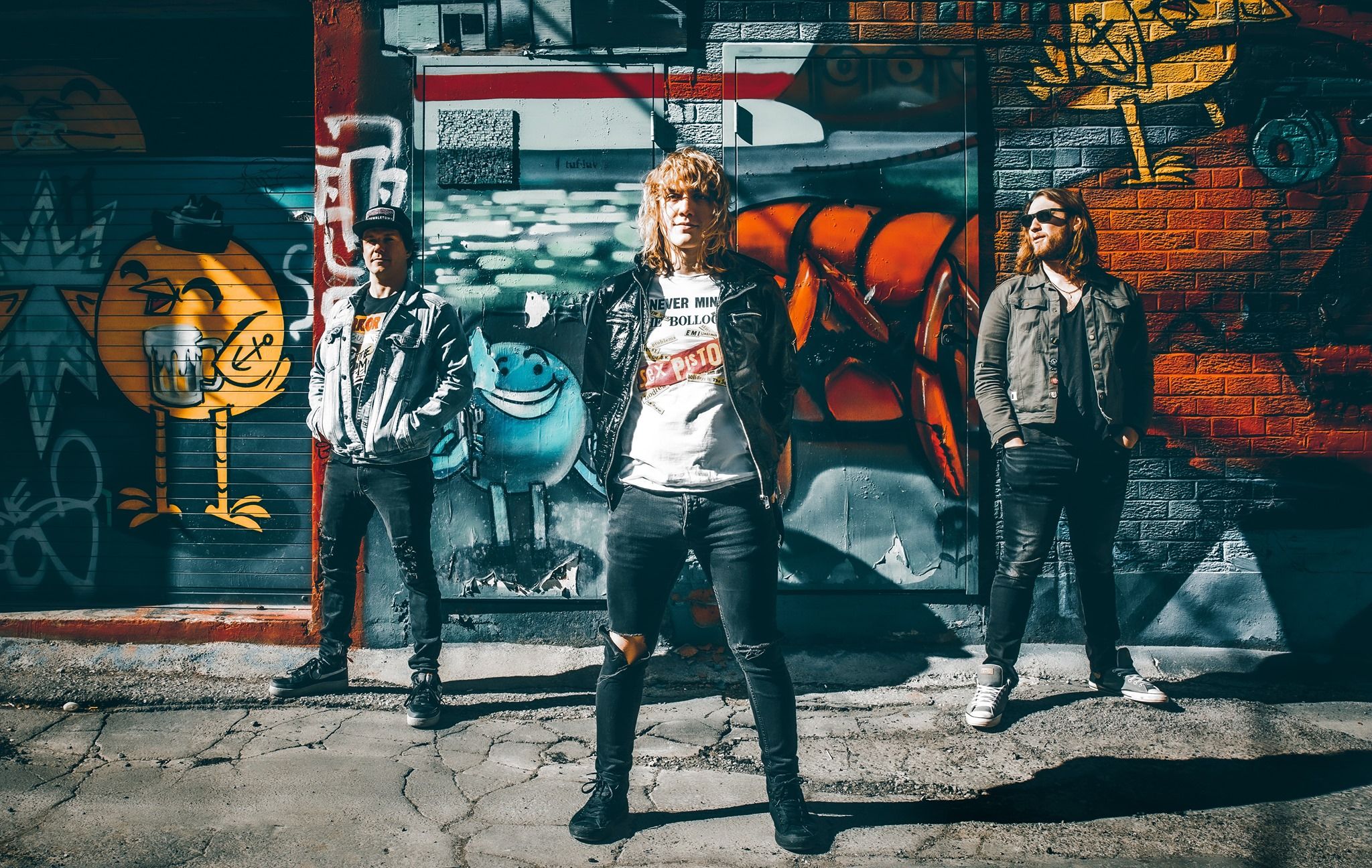 Photography by Jr. Walker
Latest Single 
''I Am The Horizon'' 
Music's Journey Podcast INTERVIEW #128 w/ Canadian Rock Trio W3APONS ''I AM THE HORIZON'' 
''Canadian Rock trio W3APONS are one of the best rock acts on Canadian radio today,'' says Kim Cyr, Editor in Chief for NOW and THEN Magazine, host of the International Music's Journey Podcast, and radio host/on-air personality on 91.3 FM.  
l Am The Horizon is the latest single from this rock trio from Saskatoon! The track is off their recent six-song EP, "Adios Radio", which dropped this past summer.  I Am the Horizon has reached a new peak of #17 on the Canadian Active Rock Chart this past week!   The band recently released their much-anticipated video for the new single which was produced by Prehistoric Productions.   
There are only great things on the horizon for this rock trio.  The guys are going out on tour with rock icons The Trews.   W3APONS has been working under the mentorship of John-Angus MacDonald from The Trews. John-Angus, in addition to collaborating with the band as a producer and songwriter, has also continually offered career and professional advice which has been invaluable to W3APONS success to date. 
W3APONS is currently working with booking agent Adam Kreeft of Good Company, whose clients have included The Glorious Sons, Protest the Hero, and Cleopatrick. 
The band has an incredible team working with them including Sharp 9 music for the promotion of their last three singles.  The trio has been working on recent writing projects for some great new music with Clayton Bellamy of The Road Hammers, John-Angus MacDonald, Colin MacDonald, and Dan Davidson.    I can't wait to hear what is coming next. 
To hear my interview with Myk Ulan-Hohol (bassist/vocalist), click on the link below.   
 Music's Journey Podcast INTERVIEW #128 w/ Canadian Rock Trio W3APONS ''I AM THE HORIZON'' 
W3APONS - I Am the Horizon (Official Video)
W3APONS is a Canadian Rock trio from Saskatoon, SK. The band's debut single "Off the Top of My Heart" reached #11 on the Canadian Active Rock Charts completely independently in 2019 and has received over 700,000 streams on Spotify. This pattern would continue for the band's next three releases, all of which independently went Top 30 in Canada, including their first Top 10 "Bye Baby Gone".  
W3APONS independent charting successes and relentless touring in 2019 resulted in them being handpicked by Theory of a Deadman to accompany Theory for all 21 Canadian dates of their Say Nothing 2020 World Tour.  
Drummer/vocalist Tallus Scott, bassist/vocalist Myk Ulan-Hohol, and guitarist/vocalist Jordan Welbourne are the elements in the perfect storm that is W3APONS - Energetic, Hard-hitting, and unmistakably Rock & Roll.  
W3APONS has shared the stage with Theory of a Deadman, The Trews, Monster Truck, Sweeney Todd, The Lazys, and The Wild. 
 Music's Journey Podcast INTERVIEW #128 w/ Canadian Rock Trio W3APONS ''I AM THE HORIZON'' 
Follow W3APONS