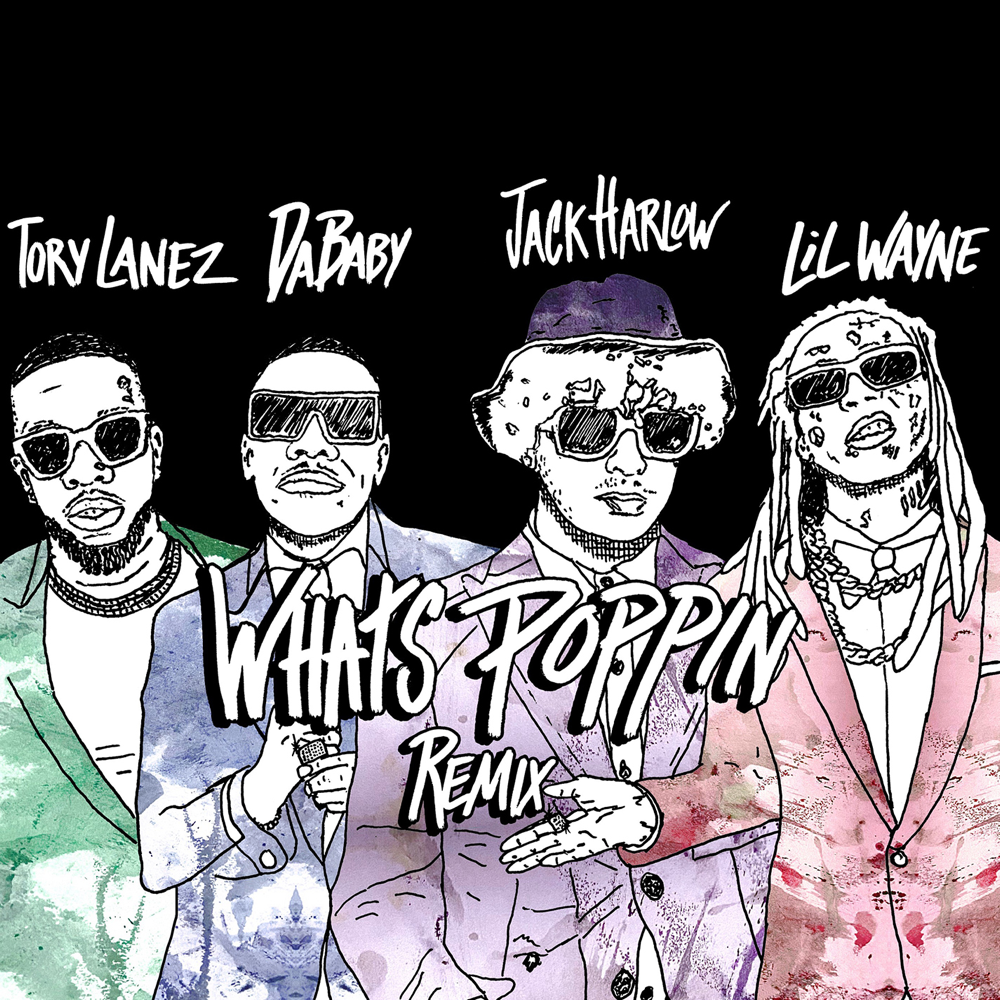 Jack Harlow 
"WHATS POPPIN" & "WHATS POPPIN (feat. DaBaby, Tory Lanez & Lil Wayne)" 
#1 at Rhythmic in the U.S. and is starting to cross over to CHR/Top 40! 
Rising Louisville, KY rapper JACK HARLOW kicks off 2020 with the fiery, Jetsonmade & Pooh Beatz-produced "WHATS POPPIN." The bouncy, urgent new song arrives today alongside an equally energetic companion video, directed by Cole Bennett, out now via Lyrical Lemonade. 
Watch the official video here! 
"WHATS POPPIN" follows a massive 2019 for Harlow who released his critically-acclaimed mixtape, Confetti, in September 2019. Heralded by its lead single, "THRU THE NIGHT," featuring fellow Louisville, KY native Bryson Tiller, the groundbreaking mixtape included fan-favorite songs which show Harlow's wide range of talent including, "HEAVY HITTER," "GHOST," "WARSAW (feat. 2forwOyNE)," "RIVER ROAD," "WALK IN THE PARK" to name a few. 
"Whats Poppin" dropped pre-pandemic on January 21, with a video produced by Lyrical Lemonade and directed by Cole Bennett. The song quickly exploded on TikTok, especially thanks to its Pooh Beatz and JetsonMade–made beat. The "Whats Poppin" Glo-Up trend starts with a montage of your younger photos, then cuts to the new, improved, glo'd-up you when the beat drops out, lip-syncing "What's poppin'?" like you're flirting at a bar. It could also be a revenge thing, with captions like, "To all the guys who rejected me …" What's poppin' now? The glo-up inspo was perfectly in line with our vision for the new year. But just like how we were supposed to be doing a Dua Lipa "full 180," suddenly the lyrics "I'ma spend this holiday locked in / My body got rid of them toxins" now mean something totally different. And with everyone literally locked inside, the TikToks just kept coming. Along with the glo-ups, the "If You Like" trend started, where guys list their attributes and qualifications then ask "What's poppin'?" There are "Whats Poppin" dances, "Whats Poppin" skits, and more all over the app. 
The song, off his EP Sweet Action, is a major breakout for Harlow, whose raps have earned him attention since he was in high school. There are over 400,000 TikToks set to the track, earning millions and millions of views and, frankly, I could just be talking about the one TikTok Charli D'Amelio made to it where she says "What's poppin'" to her dog. With its fame, the song has only gained more clout for the rapper, especially since getting co-signs from some of the biggest names in rap right now; at No. 2, it caught up to another TikTok favorite from this year, DaBaby's "Rockstar" featuring Roddy Ricch. As it takes over AirPods and airwaves, "Whats Poppin" could go past "SportsCenter, top ten" all the way to No. 1. 
''Tik Toks set to the track...'Whats Poppin' could go past top ten" all the way to No. 1'."' - NOW and THEN Magazine
"…poised for hip-hop nobility." – FORBES 
"…maverick rapper destined for legendary status." – The FADER 
"…a sickenly savvy product…" – ROLLING STONE 
"…Harlow shines front-and-center..." – BILLBOARD 
"…staking his claim in hip-hop." – XXL 
"…his boldest project to date." – COMPLEX 
ABOUT JACK HARLOW 
Hailed for his fresh style, unconventional sound, and rebellious spirit, Jack Harlow fell in love with music at an early age and never looked back. In 2016, he released his first mixtape, 18, earning instant attention, with the breakout track, "Ice Cream," becoming an instant fan favorite. Since then, Harlow has garnered more than 130 million total streams and counting, in part fueled by his acclaimed mixtape, Gazebo, released in November 2017 on his own Private Garden label. Harlow followed Gazebo with his first ever headline North American tour, followed by a string of select dates as support for Grammy-winning rock band Portugal. The Man. Harlow signed with Atlantic Records in 2018 via the DJ Drama and Don Cannon imprint, Generation Now, releasing the feel-good anthem "SUNDOWN" alongside an accompanying video, shortly after. "SUNDOWN" served as the lead single from his major-label debut mixtape, Loose, which spawned four more videos – "PICKYOURPHONEUP (feat. K. Camp)," "CODY BANKS," SYLVIA (feat. 2forwOyNE)" and "DRIP DROP (feat. Cyhi The Prynce)" – and later earned Harlow a 2019 BET Hip Hop Awards Nomination for "Best Mixtape." Following the project's release, Harlow hit the road on his 18-date "The Loose Tour." 
For all the up to date information on Jack Harlow, visit our publicity website here! 
Follow Jack Harlow Online 
www.jackharlow.us 
Facebook | Twitter | Instagram