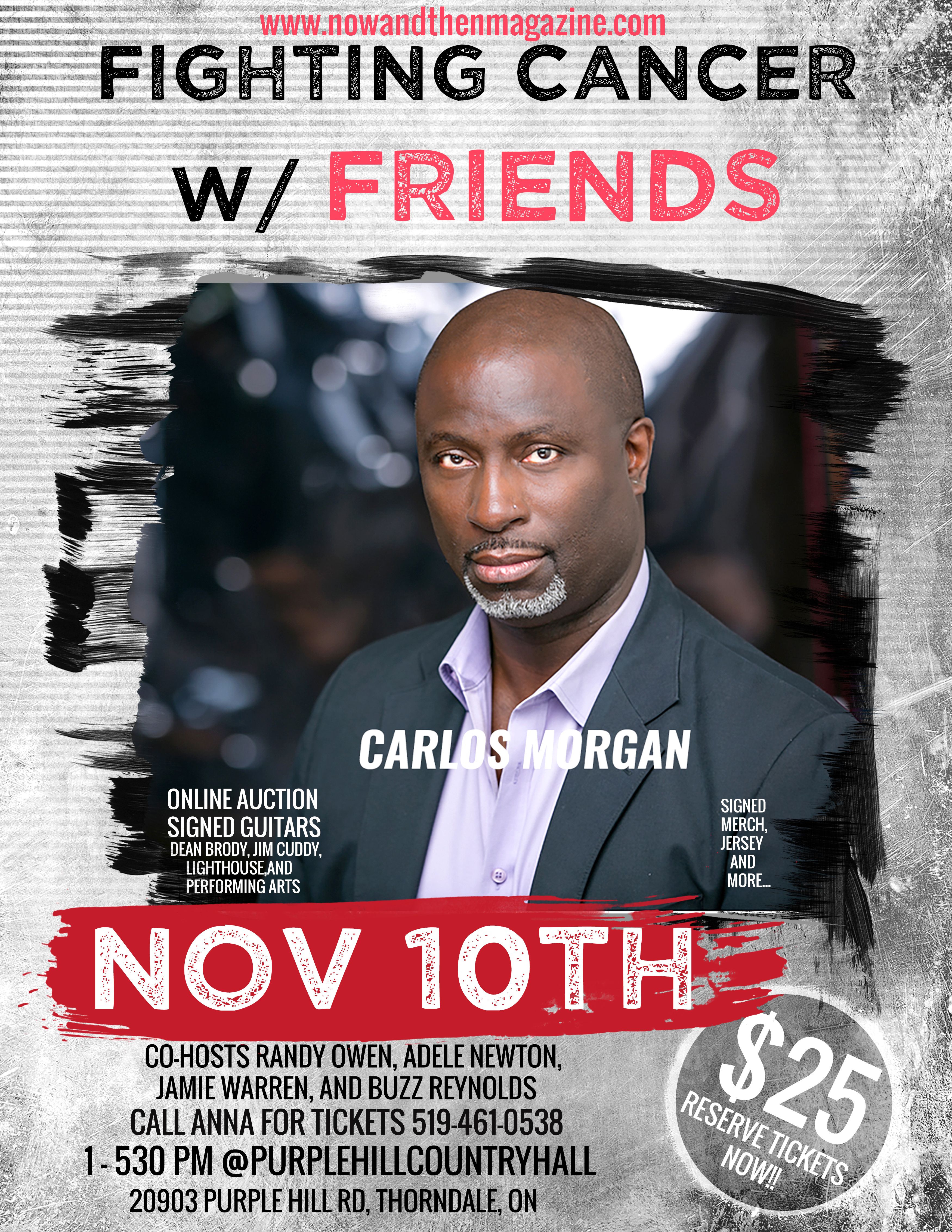 One of Canada's most special voices both inside the studio producing/singing and outside reaching so many with his heart and faith, ''Carlos Morgan'' has joined the fantastic list of artists who are performing at the benefit concert #FIGHTINGCANCERW/FRIENDS held at the Purple Hill Country Hall, 20903 Purple Hill Rd., Thorndale, ON.  Tickets are on sale for $25 at 519-461-0538.  
Multi Award-winning artist, 'Carlos Morgan' has a very special connection to this benefit and we couldn't be happier to have him come to share his soulful, moving voice that will connect and speak to everyone sitting in the audience, the words that this event is all about.  #Whatloveandfriendshipreallylookslike
Rhythm and blues artist Carlos Morgan's first audiences were from the Church of God of Prophecy in his native Canada. When he was a teen he moved on to perform with a number of R&B groups before going solo. His musical career has been one as a singer, songwriter, session artist, and even producer. After his first album was released in the '90s, he earned a number of awards, including a Canadian Urban Music Award for Best R&B Male Vocalist, a Juno Award for Best R&B/Soul Recording, and a MuchMusic Video Award for Best R&B Video. 
Carlos Morgan grew up listening to artists like Nat "King" Cole and Stevie Wonder. Morgan's taste for music was versatile, moving freely between gospel, jazz, pop, rock, and even classical. A couple of the early R&B groups he worked with were Blue Zone and Lypstick. 
In 1996, Morgan completed his debut album, Feelin' Alright. The recording was released under the D-Tone Records label -- a record label that Morgan formed with two friends. The independent album sold well, and music reviewers took notice; so did Universal Music Canada. Feelin' Alright was soon released again, this time under the Universal label. Some of the tracks on the debut are "Give It to Me," "Baby C'mon," "Whatcha Got," "Forever for You," and "April Flower." 
After a break from solo recording for a few years, Morgan entered the studio again in 2001 to work on a long-awaited sophomore offering titled We're Gonna Make It. ~ Charlotte Dillon
In 2001 & 2002 Morgan was inducted into the "Canadian Who's Who".  Individuals are inducted into the Who's Who publication based on their contribution to life in Canada.  "Those included are selected based on merit alone, judged on the contribution they have made to life in Canada." – Elizabeth Lumley, Editor.
Morgan released his album, "The Compilation", on his label, Solroc Music.   On the album, Morgan brings high energy R&B/Soul & Pop music with such songs as "Something 'Bout You", "Fascinated" and "Forever For You" (Soul Mix).  Known to be a balladeer, Morgan sings romantic songs like "Sweet As You Are" and "Just Jane".    Morgan is releasing his new album, "Where I've Been, Where I'm Going" Fall 2018. 
Soulful, sexy, and determined, Morgan draws the listener in. With "The Compilation" the culmination of years of having kept faith that all obstacles can be overcome and dreams are realized every day, Carlos Morgan will not only have you "Feelin' Alright", but will also show you "The Compilation" of good music as he shares his journey of "Where I've Been, Where I'm Going".
In 2013, The John Lennon "Gots 2 Luv U" Songwriting Contest.    In 2014, Morgan won the "Best R&B Male Act" and "Role Model" Winner @ The "2014 Black Canadian Awards" for his album, "The Compilation".  In 2015, Morgan received the Akademia Award f/ Best Song & Video for his single, "Just Jane". In 2016, Morgan won the Global Music Award f/ Best Male Vocalist for his single, "Sweet As You Are" and in 2017, Morgan was honored by the City of Toronto for his musical contributions.
New Single, "Have A Little Faith", Reaches TOP 10. 
Carlos Morgan's new single, "Have A Little Faith", has reached the TOP 10 on the "Euro Indie Music Charts". My song is No. 9.  More news to come about the single.
You can follow Carlos Morgan