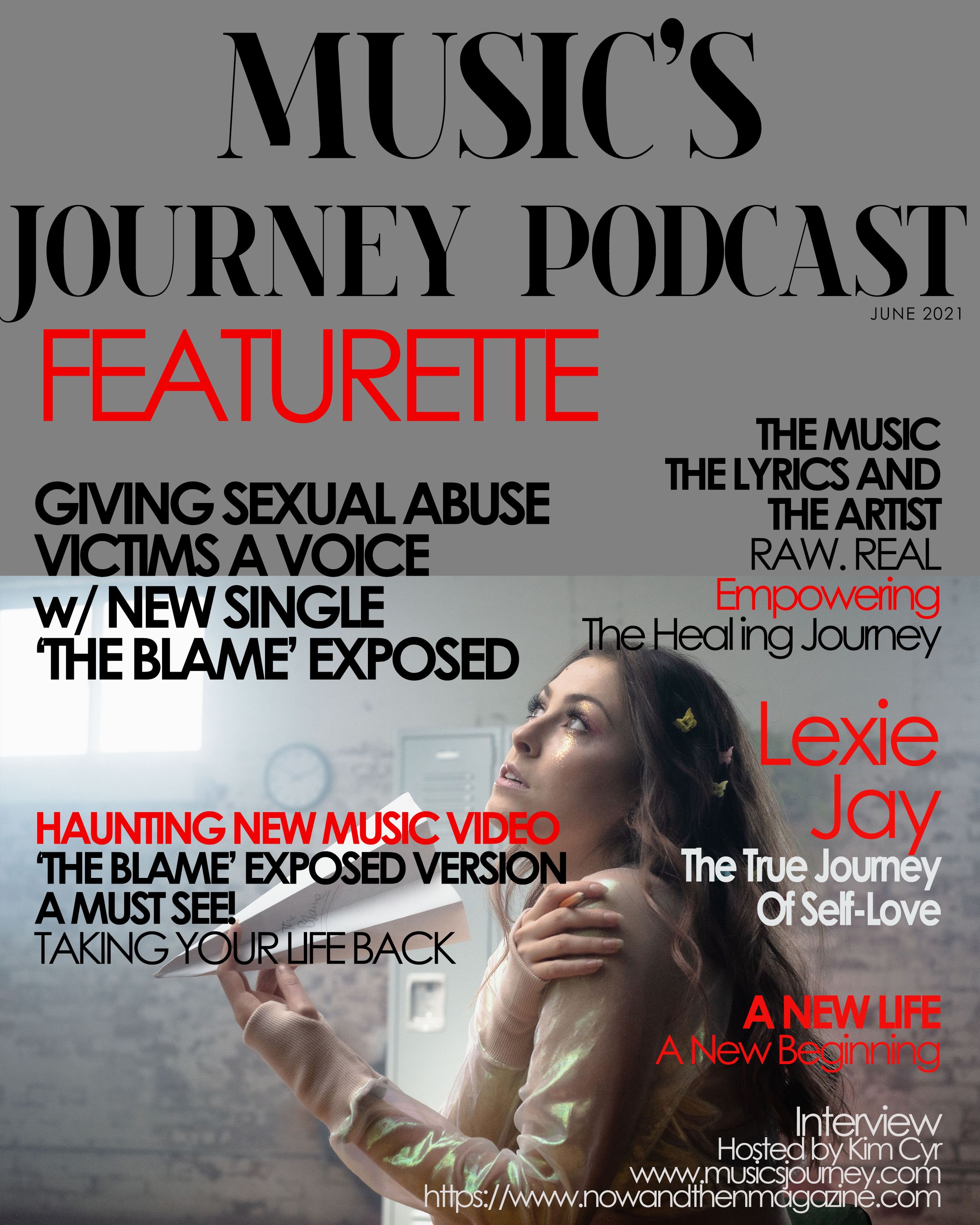 Music's Journey Podcast
w/ Electric Pop Duo 'Featurette'
Hosted by Kim Cyr
Presented by NOW and THEN Magazine
https://www.nowandthenmagazine.com
Music's Journey Podcast INTERVIEW #77 w/ Electric Pop Duo FEATURETTE Releasing A Powerful Music Video Shining The Light On Teenage Sexual Abuse!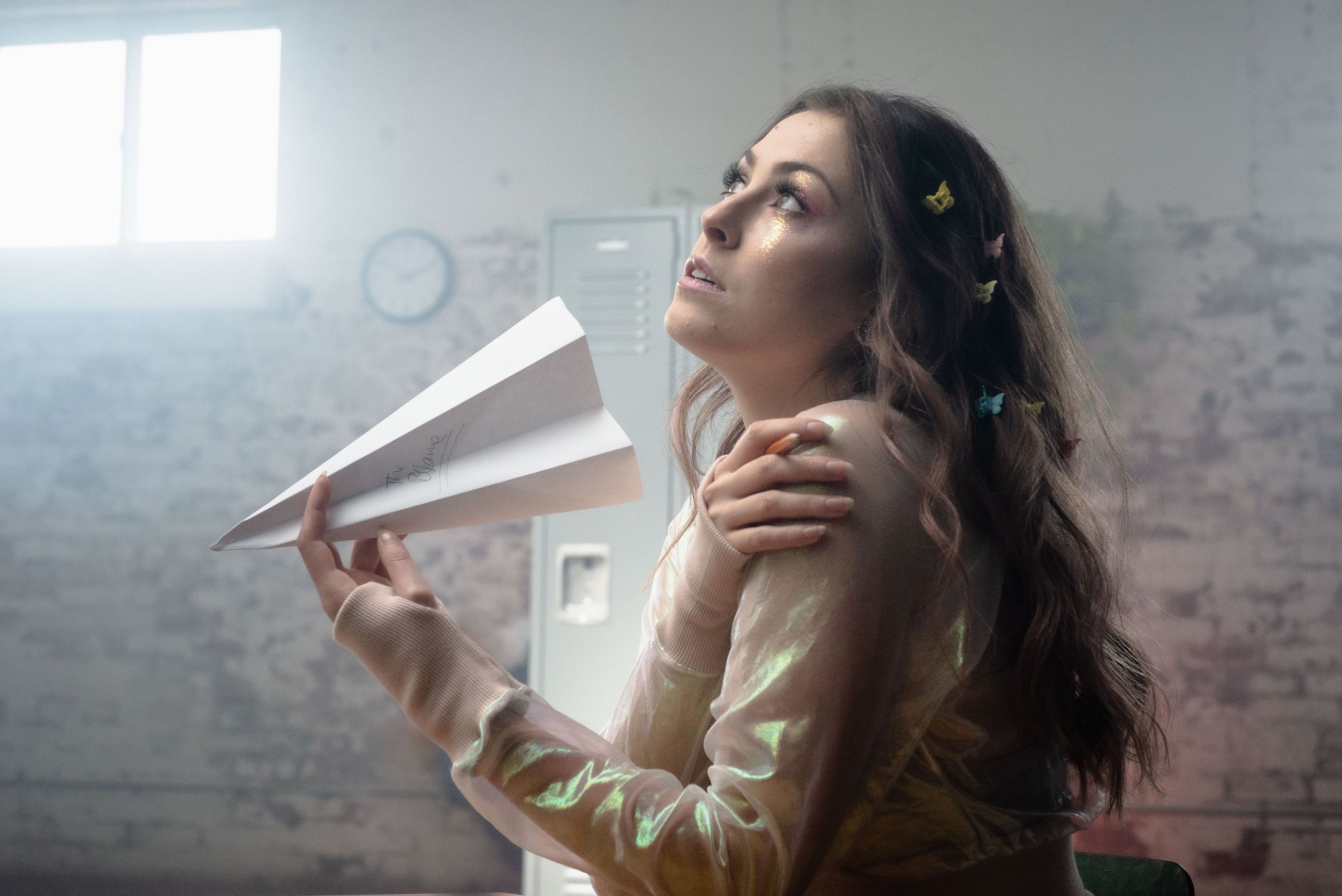 Canadian Electro-Pop Duo Featurette Release Powerful Music Video for 'The Blame' 
Video Shines A Light On Teenage Sexual Abuse 
Music's Journey Podcast INTERVIEW #77 w/ Electric Pop Duo FEATURETTE Releasing A Powerful Music Video Shining The Light On Teenage Sexual Abuse! 
Toronto-based electro-pop duo FEATURETTE released the music video for their haunting and very personal song, 'The Blame'. The video is a beautiful, raw and heartbreakingly stripped-down version of the duo's original song, and chronicles lead vocalist Lexies' story of being a victim of sexual abuse in her teenage years at the hands of her music teacher. 
"When I originally released The Blame on our 2020 record Dream Riot, I was only just starting to confront the idea of my abuser. I wasn't ready to face the issue head on, and decided to bury it in my art, although it was starting to bubble to the surface organically," says Lexi. "The first step is coming to terms with what happened and letting others know that what's happened or is happening to them, isn't their fault. The first step is finding their voice - my voice," says Lexie Jay. 
Directed, produced and art directed by Lexie, the video was shot in Toronto and is the beginning of her healing process and finding her voice, both through art and to speak about her past. She hopes that the video will help those that have been affected by abuse to find the courage to speak up for themselves. 
FEATURETTE is an electro-pop duo from Toronto. They recently released their dark pop-sounding EP Dream Riot in 2020 and have over 700K combined career streams. Their music has been featured on the trending Netflix show Ginny & Georgia, Working Moms, Kim's Convenience and many more. 
''The Blame exposed version music video by Electro Pop Duo FEATURETTE is so compelling and haunting leaving it perfectly clear what this song is all about,'' says Kim Cyr, Editor in Chief for NOW and THEN Magazine and host of the International Music's Journey Podcast. 
''The visuals are compelling, dark, and heartbreakingly beautiful at the same time.  It is a true testimonial of Lexie Jay's life being a victim of sexual abuse at the young age of 11 yrs old.  The art and visuals are set in a school with desks, lockers, giant pencils, paper airplanes, a cake with candles that tell the story of how old Lexie was when the abuse happened and the butterfly clip is undeniable.  There are some really powerful moments of Lexie wrapped in the music cassette tape and ripping herself free.  Then there is the glass that she shatters with the words 'You won't own up to what you did, so I'm taking all 'The Blame'.   It is powerful.''
''I can't say enough about how important this song and video are to victims all over the world.  To express the dark emotions that someone deals with inside after being sexually abused is very difficult.  Lexie and Jon captured that feeling of innocence taken.''
''Having a voice is the first step in the healing process.  It is so important to love yourself and know that it wasn't or isn't your fault. The healing is a journey of self-love and giving your story life on your own terms.  It is empowering.'' 
FEATURETTE duo Lexie Jay and drummer, Jon Fedorsen have delivered haunting, emotionally raw visuals in the music video that captures the lyrics exposing Lexie's story perfectly.''   
''It is time for people to come together for a call-to-action to end the SILENCE and the dark shameful narrative that comes from sexual abuse,'' says Cyr.  ''Young children and youths and adults have suffered enough from a legacy of silence with no narrative because of the shame that they feel. It's time to give yourself a voice.  A voice without shame.  Let's start a new page, a new legacy.  A legacy that is full of hope, dreams, self-love, and understanding.  Let's help aid in the healing process as a community that cares.''
To hear my full interview with Lexie Jay, click HERE.  Share this new narrative and give yourself a voice.  
The Kids Help Phone is a wonderful resource for victims of, and survivors of abuse. They can be reached at 1-800-668-6868.  
https://kidshelpphone.ca/our-e-mental-health-services/ 
Young people text TALK to 686868 
Adults text WELLNESS to 741741 
On Facebook Messenger: http://bit.ly/Messenger20
Music's Journey Podcast INTERVIEW #77 w/ Electric Pop Duo FEATURETTE Releasing A Powerful Music Video Shining The Light On Teenage Sexual Abuse! Listen HERE
FEATURETTE - The Blame (Exposed Version - Official Video)
FEATURETTE - White Rabbit (Official Video)
Music's Journey Podcast INTERVIEW #77 w/ Electric Pop Duo FEATURETTE Releasing A Powerful Music Video Shining The Light On Teenage Sexual Abuse! Listen HERE
Follow Featurette