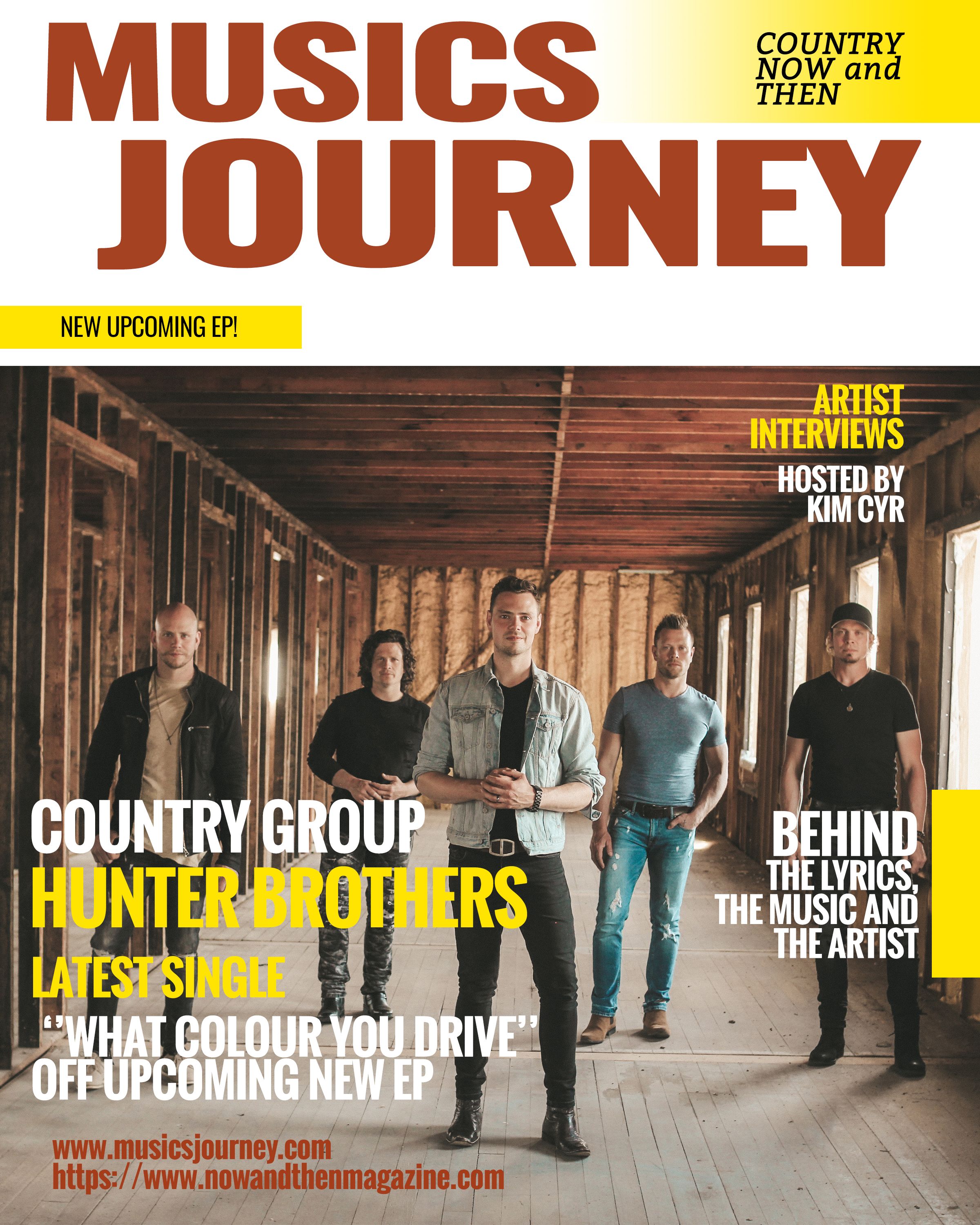 Music's Journey Podcast 
w/ Juno Award Nominated Country Band
Hosted by Kim Cyr 
Presented by NOW and THEN Magazine 
https://www.nowandthenmagazine.com 
MUSIC'S JOURNEY PODCAST INTERVIEW #194 W/ MULTI-AWARD WINNING COUNTRY BAND THE HUNTER BROTHERS UPCOMING NEW EP INCLUDING THEIR FUN TRACK 'WHAT COLOUR YOU DRIVE'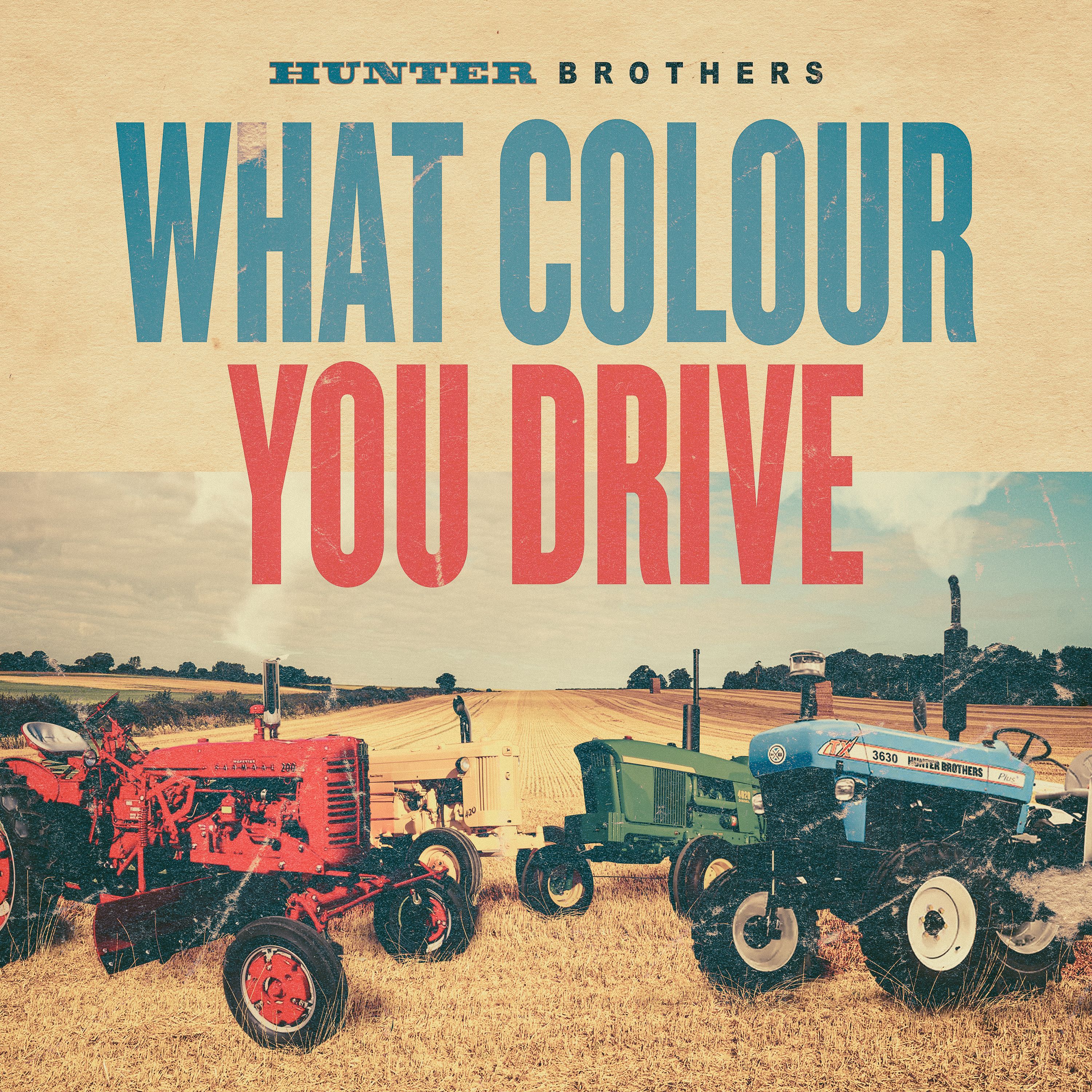 HUNTER BROTHERS 
LATEST SINGLE 
MUSIC'S JOURNEY PODCAST INTERVIEW #194 W/ MULTI-AWARD WINNING COUNTRY BAND THE HUNTER BROTHERS UPCOMING NEW EP INCLUDING THEIR FUN TRACK 'WHAT COLOUR YOU DRIVE'  
"In our world, a lot of people are as passionate about what machinery or truck they drive as they are about almost anything in life. We feel that as a result of growing up in this environment, we would be remiss not to write a song that speaks to this fun-loving banter." Hunter Brothers  
Upon release of their new single 'What Colour You Drive', the song received features from key DSP playlists including Spotify's Live Country, New Music Friday Canada, New Music Friday Country, Apple Music's Lil Bit Country, Country Wide, Back Porch Country, Canada's Country, New Music Daily, Country Caffeine, Today's Country, New In Country, Amazon Music's Fresh Country, Poppin' Country, Just North of Nashville and YouTube Music's The New Crop, RELEASED, Big Country, Canadian Country Moment + more!  
The track will be included on their upcoming EP set for release in early 2023. Keep an eye out for the EP announcement, headline tour dates for next year + more. 
Real life brothers, J.J., Dusty, Luke, Brock, and Ty, are no strangers to hard work, perseverance, and discipline. Life on a family farm wasn't always easy, but the brothers attribute much of their success to their rural upbringing in a home dedicated to faith, music, and sport. With over 61 million video & audio streams to date, Hunter Brothers have amassed a large volume of industry credibility in a record amount of time, including multiple CCMA Award nominations, JUNO Award nominations and SCMA Award wins.  
Hunter Brothers' third studio album, Been A Minute, is a compilation of their signature harmonies and up-tempo hits which delve into the heart of the times the world is presently walking through. Their sophomore album, State of Mind, was released in 2019 and remained the #1 selling country album for four consecutive weeks following its release. "Lost" (their first #1 single at country radio), "Those Were the Nights" (from their debut album Getaway) and their Top 10 smash hit "Born and Raised" have all been certified Gold in Canada. In 2020, Hunter Brothers were the #3 most played Group or Duo on country radio in Canada. Known for their energetic and entertaining live shows, the group has played major country festivals in Canada and the U.S. and toured with country icon Paul Brandt. 
''The Hunter Brothers are so talented with their signature pitch-perfect harmonies and their crazy talent to deliver songs that go right for the heart,'' says Kim Cyr, Editor in Chief for NOW and THEN Magazine, radio host, and host for the International Music's Journey Show.
''There is a connection that the Hunter Brothers have with their fans that is so special.   A big part of that connection relates to how humble, genuine, and kind they all are.  Their songwriting and music inspire and lift your spirits helping us all to remember the importance of human connection.''
''I had the chance to chat with lead vocalist Ty Hunter.  We chatted about family values, life on the farm, faith, and the impact of family core values on their lives.  We talked about so many things that make these 5 brothers so special.  I have become such a fan of these incredibly talented brothers because they are not afraid to write about real-life issues, whether it is a personal struggle or struggles they see around them.  They care from the deepest parts of their souls with everything they release in music.  They connect with their lyrics and music reminding us all to embrace life with everything we have.  The joy, love and values of what life truly is all about.  It is refreshing to see artists like the Hunter Brothers so full of life and what you see is exactly who they are.''
''We are going to be seeing big things from the Hunter Brothers.  Their star is going to keep growing brighter and brighter.  I am so excited about their upcoming high-energy live shows and their new EP slated for release this summer.''
You will never guess what Ty's best most useless talent is...check it out by clicking on the link below. 
MUSIC'S JOURNEY PODCAST INTERVIEW #194 W/ MULTI-AWARD WINNING COUNTRY BAND THE HUNTER BROTHERS UPCOMING NEW EP INCLUDING THEIR FUN TRACK 'WHAT COLOUR YOU DRIVE'  
Hunter Brothers - What Colour You Drive (Official Video) 
MUSIC'S JOURNEY PODCAST INTERVIEW #194 W/ MULTI-AWARD WINNING COUNTRY BAND THE HUNTER BROTHERS UPCOMING NEW EP INCLUDING THEIR FUN TRACK 'WHAT COLOUR YOU DRIVE'  
Follow Hunter Brothers