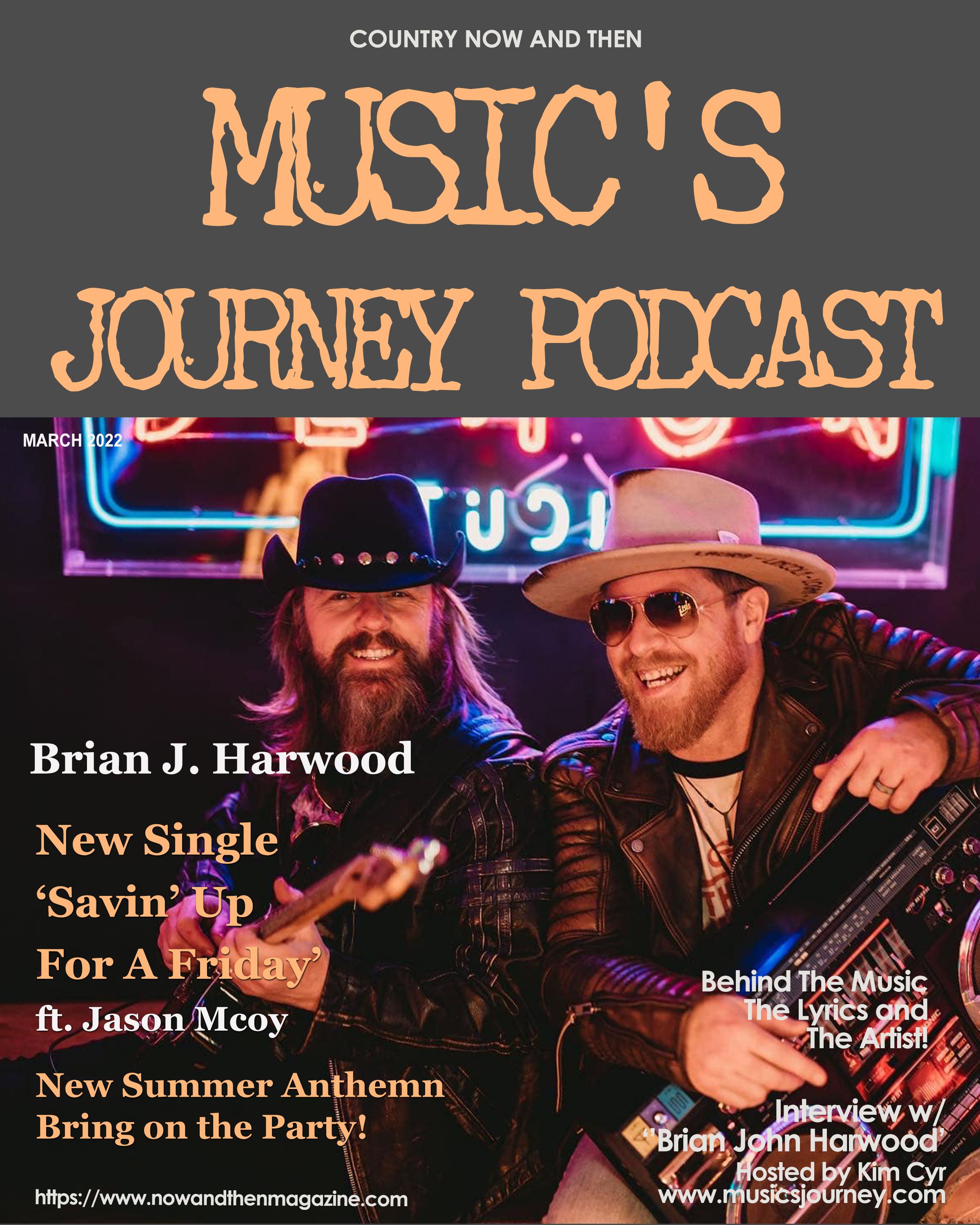 Music's Journey Podcast 
w/ Country Rising Star 'Brian John Harwood' 
Hosted by Kim Cyr 
Presented by NOW and THEN Magazine 
https://www.nowandthenmagazine.com 
Music's Journey Podcast INTERVIEW #141 w/ Country Rising Star Brian John Harwood Kicking Off 2022 with New Single 'Savin' Up For A Friday'' ft. Jason McCoy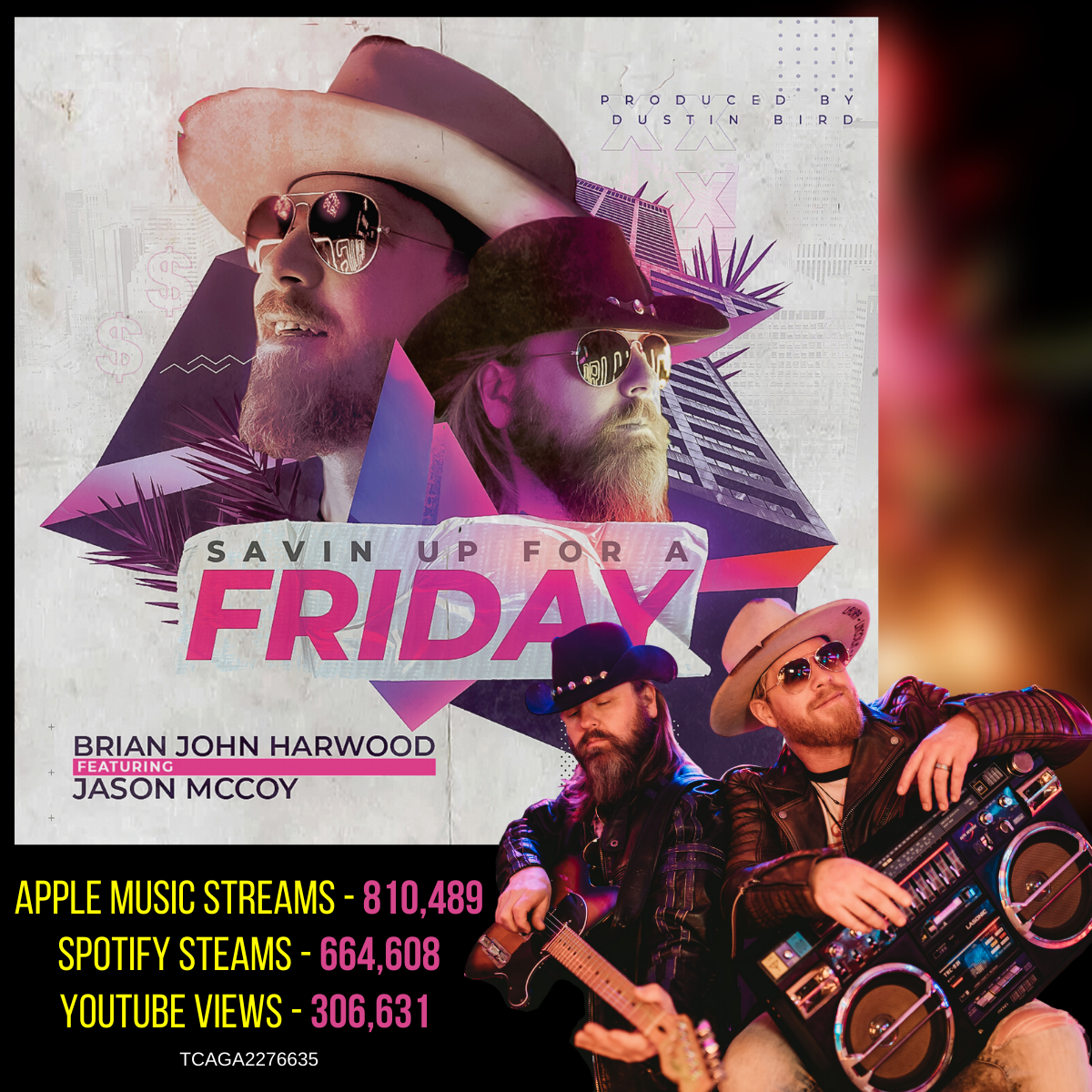 Brian John Harwood 
New Single  
feat. Jason McCoy 
Music's Journey Podcast INTERVIEW #141 w/ Country Rising Star Brian John Harwood Kicking Off 2022 with New Single 'Savin' Up For A Friday'' ft. Jason McCoy 
Rising Ontario country artist Brian John Harwood is joined by Juno nominated & CCMA award-winning Canadian country icon Jason McCoy for his new single Savin' Up for a Friday.  
This working-class anthem is bound to live rent-free in your head after just 1 chorus. "This is a song for everyone who's working their a** off out there. Cheers to Friday nights!" Brian says.  
This single, produced by Dustin Bird (Open Road Recordings) and written by Brian, Jason, and Dustin, is destined for tailgates & bonfires parties all across Canada this summer. 
''Brian John Harwood has delivered a surefire hit with the new single 'Savin' Up For a Friday' ft. Juno nominated & CCMA award-winning Jason McCoy,'' says Kim Cyr, Editor in Chief for NOW and THEN Magazine, host of the International Music's Journey Podcast, and radio host on 91. 3 FM for The Music's Journey Show.  ''This killer track is the tailgate anthem of the summer for 2022.  There are going to be parties going on all across Canada using this song as the theme song to get everyone up on their feet and having a great time.  I had the chance to chat with Brian about writing this hit single with Canadian country icon Jason McCoy.  To hear my interview with Brian J. Harwood, click on the link below.
Music's Journey Podcast INTERVIEW #141 w/ Country Rising Star Brian John Harwood Kicking Off 2022 with New Single 'Savin' Up For A Friday'' ft. Jason McCoy 
Brian John Harwood - Savin' Up for A Friday (ft. Jason McCoy) 
Brian John Harwood - First 
Music's Journey Podcast INTERVIEW #141 w/ Country Rising Star Brian John Harwood Kicking Off 2022 with New Single 'Savin' Up For A Friday'' ft. Jason McCoy
Follow Brian John Harwood 
https://www.brianjohnharwood.com/  
https://www.facebook.com/BrianJohnHarwood/  
https://www.instagram.com/brianjohnharwood/  
https://twitter.com/brianjohnharwo1  
https://open.spotify.com/artist/1G1bUq811pgPU3TAlPavy4  
https://www.youtube.com/channel/UCMWxmaKxPFpXSvGUUsrfpqQ?view_as=subscriber  
https://www.amazon.com/music  
https://www.apple.com/apple-music/