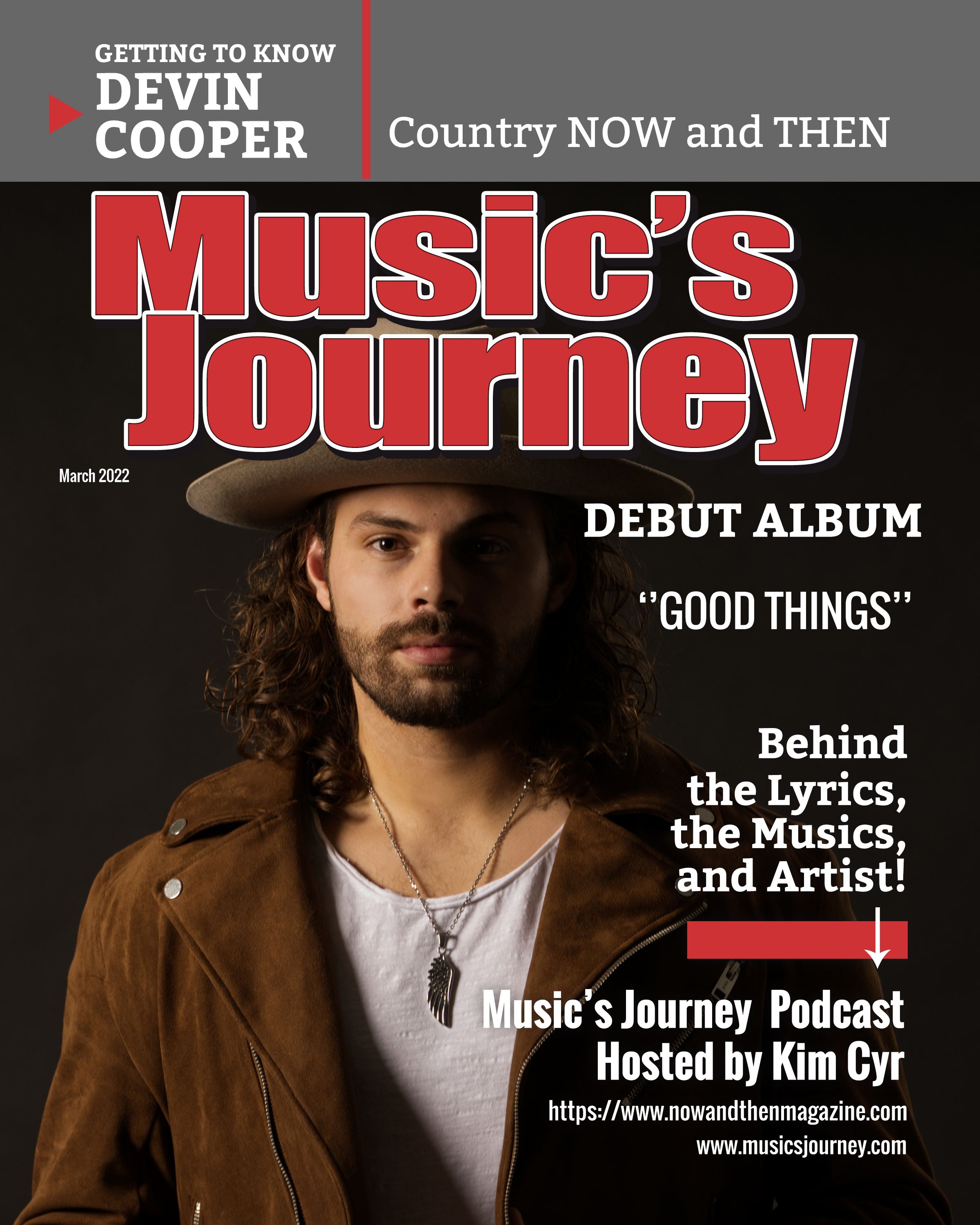 Music's Journey Podcast 
w/ Canadian Country Artist Devin Cooper 
Hosted by Kim Cyr 
Presented by NOW and THEN Magazine 
https://www.nowandthenmagazine.com 
Music's Journey Podcast INTERVIEW #142 w/ Country Rocker and Multi Awards Nominee Devin Cooper with His Debut Album and New Single "Back Pocket."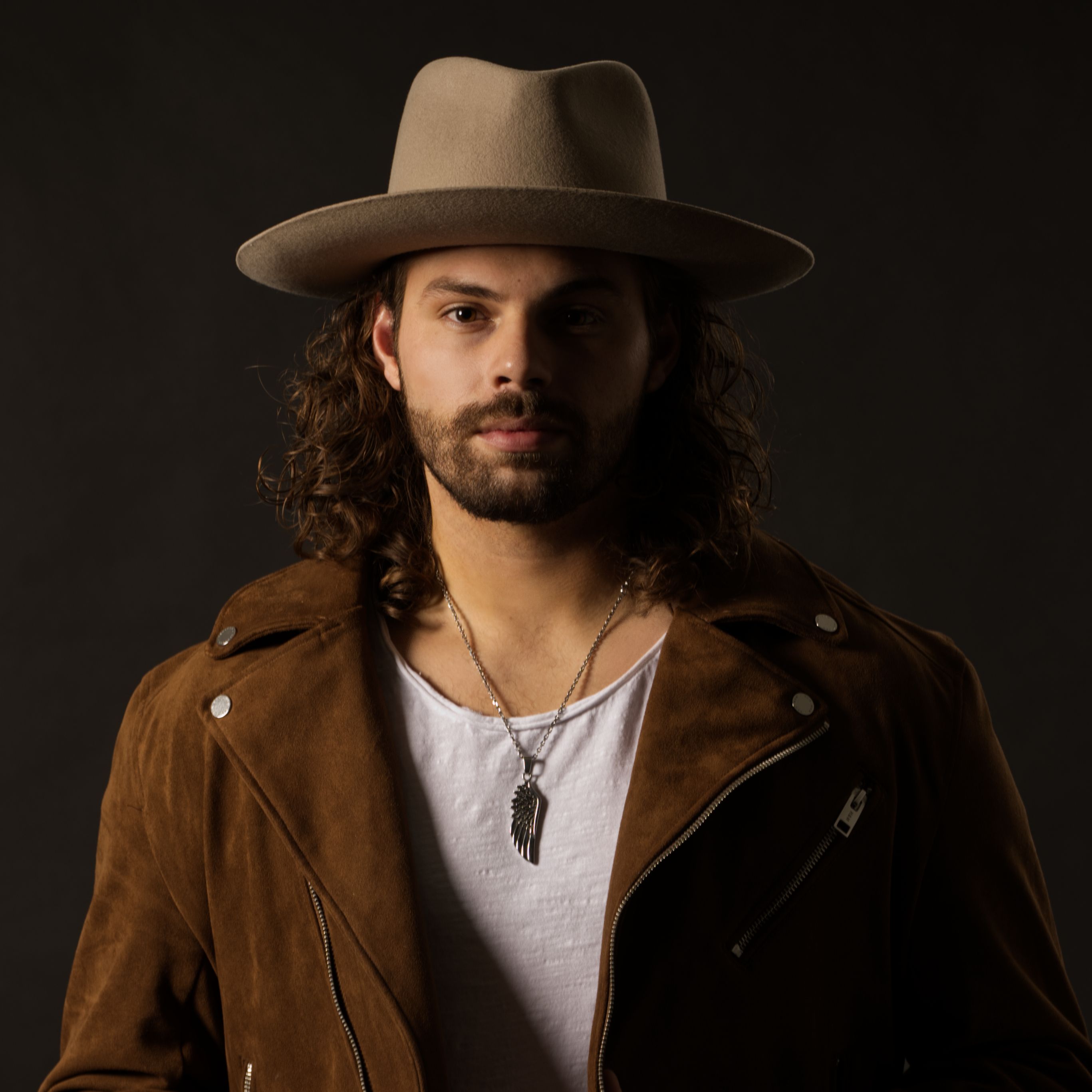 Devin Cooper 
New Single 'Back Pocket' 
Debut Album  
Music's Journey Podcast INTERVIEW #142 w/ Country Rocker and Multi Awards Nominee Devin Cooper with His Debut Album and New Single "Back Pocket." 
Calgary's breakout country rocker and multi 2022 Country Music Alberta Awards nominee Devin Cooper is kicking off the year with his debut album 'Good Things' and new single "Back Pocket." Hot on the heels of the fan-favorite and the album's title track "Good Things," this single confidently paves the way for what is to come this year from Cooper. Good Things is available today on all streaming platforms.  
Written by Devin Cooper and Drew Gregory and fuelled by a driving drum beat and unforgettable harmonies, "Back Pocket" celebrates the power found in partnership. "After we wrote this song I really understood that anything is possible when you have the right person in your corner," said Cooper of the new single. "It's true that a good solid relationship allows you to literally take on anything and I hope that when people hear this song the first thing that comes to mind is someone who has been there for them, through the highs and lows."  
Found on the debut album is also "Good Things," the single that gained Cooper's industry attention early in 2021. Debuting as the #1 Most Played Song on Sirius XM 171 CBC and sitting at over 10K streams and counting, the writing of this track is what inspired the remainder of the album, slated for release in the Spring. "As soon as we locked 'Good Things' I knew the direction I wanted to take this debut album," explained Cooper. "It felt important to ground this record in what is true to me — working hard, taking your time to accomplish something, enjoying the process, and looking forward to what's next."  
Good Things Track Listing  
Side A  
Good Things (Devin Cooper, Alexandra Adamoski, Manning Rothrock)  
Country Cliché (Devin Cooper, Spencer Cheyne, Bradley Saunders)  
Back Pocket (Extended Version) (Devin Cooper and Drew Gregory)  
Want Me (Devin Cooper, Andrew Peebles, David Borys)  
Side B  
Good Things (Live Acoustic)  
Country Cliché (Live Acoustic)  
Back Pocket (Live Acoustic)  
Want Me (Live Acoustic)  
''The new single 'Back Pocket' that is off Devin Cooper's debut album Good Things was produced by Juno Award-winning producers, Spencer Cheyne and Justin Kudding. Devin Cooper's execution and momentum prove he is a truly gifted artist coming into his own.  
''Devin Cooper is so gifted as a musician and an incredible singer-songwriter proving himself to be one of the Canadian music artists to watch,'' says Kim Cyr, Editor in Chief for NOW and THEN Magazine, host of the International Music's Journey Podcast, and radio host on 91.3FM Bluewater Radio.   
I know how hard you have been working to produce this incredible body of work for your debut record, Good Things.  It must feel so go to have a body of work coming out for the first time to let everyone know what you are all about. 
Answer 
I know how personal this album is for you.  What does this record mean to you now that it's out there for the world to hear? 
Answer 
I know in 2020 you were writing a ton for this debut album and spent some time in Nashville writing, then covid it…tell us about picking the songs for this album?  
Answer 
Do you have a favorite on the album? 
Answer 
You got to work with the help of Juno Award-winning producers, Spencer Cheyne and Justin Kudding on this album…it doesn't get much better than that. They are geniuses in the studio.  What was it like working on the creative approaches in sounds and the instruments, the rifts for this song, and the entire album?  It is all killer by the way! 
Answer 
I always have fun with the Burning Questions portion of the show.  Check out my entire interview with Devin Cooper by clicking on the link below 
Music's Journey Podcast INTERVIEW #142 w/ Country Rocker and Multi Awards Nominee Devin Cooper with His Debut Album and New Single "Back Pocket." 
In addition to today's release, Cooper has been busy taking part in Project WILD, an intensive artist development program based out of Alberta. Earning a coveted spot in the program's fifth and final class, Cooper is competing with some of Alberta's most recognized independent country artists for one of three major prizes and will take to the stage for his Project WILD Artist Showcase alongside fellow program participants Alex Hughes, Robert Adam and Drew Gregory on February 25. Winners will be announced live on March 26 on WILD 953.  
Having spent the past three years traveling between Nashville and Calgary, writing songs and performing over 350 shows across Canada, Cooper has taken the time to develop and discover his voice as an artist. At just 25-years old, the Alberta native has already garnered numerous local accolades. Cooper was named Artist of the Year at the Red Deer Entertainment Awards in 2018 and just this month landed 2022 Country Music Alberta Awards nominations for Horizon Male Artist of The Year, Interactive Artist, and Community Spirit Award.  
ABOUT DEVIN COOPER  
As the son of a motorcycle shop owner and custom car builder, Devin Cooper's childhood was filled with opportunities to be creative. Upon exchanging his toolkit for a guitar, Cooper found an unmistakable niche, reimagining the soul of Southern Rock and down-home country. The result is a genre-bending, driven young artist with a world of possibilities. Devin broke out onto the Canadian country music scene with his first single "No Chasing You," released in April 2018 to numerous local accolades. Shortly thereafter, he was nominated for Male Artist and Songwriter of the Year (YYC Music Awards) and was the winner of Artist of the Year (Red Deer Entertainment Awards).  
Since 2018, Cooper has performed alongside some of North America's top talent including Aaron Pritchett, Gord Bamford, and Lou Gramm of Foreigner. Gearing up for his debut record release in spring 2022 (March 25), Cooper has released five singles to date. Most notably, "Good Things," the lead single and title track of the record, was released in March 2021. Just days before making his debut on the Nashville North Stage at the Calgary Stampede in July 2021, Cooper released his second single, "Country Cliche," to all streaming platforms. The newest single ''Back Pocket'' and his debut album, "Good Things," are available everywhere now. 
Music's Journey Podcast INTERVIEW #142 w/ Country Rocker and Multi Awards Nominee Devin Cooper with His Debut Album and New Single "Back Pocket." 
Devin Cooper - Good Things (Live Acoustic) 
Devin Cooper - Country Cliché (Live Acoustic)
The Making Of Good Things: Devin Cooper
Music's Journey Podcast INTERVIEW #142 w/ Country Rocker and Multi Awards Nominee Devin Cooper with His Debut Album and New Single "Back Pocket." 
Follow Devin Cooper