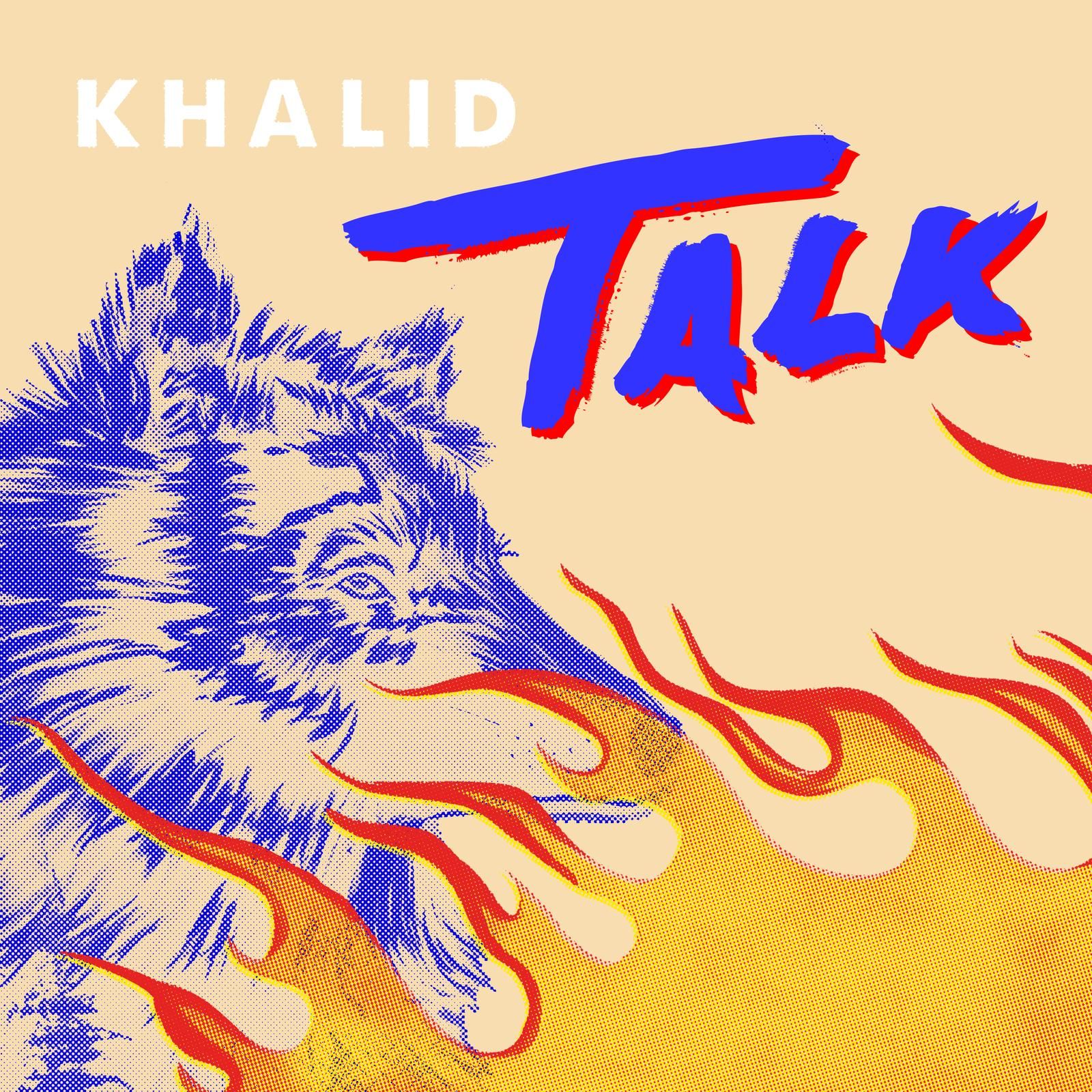 ''TALK''
An R&B innovator wonders what it all means on the follow-up to his great debut.  
Khalid tries to tackle one of the most difficult tasks in love, defining the relationship, on his infectious new song, "Talk," which features production from the British duo Disclosure. 
"Talk" boasts a bouncy beat of crisp drums and elastic synths that spring between Khalid's tender croon. "I've never felt like this before," Khalid sings, "I apologize if I'm moving too far/Can't we just talk? Can't we just talk?/Figure out where we're going." 
Per Billboard, "Talk" is the first song from Khalid's next record, which is expected to arrive in April. In a statement, Khalid said, "This album is the culmination of all of the growth and experiences I have gathered over the past two remarkable years. I have been in the studio pouring my soul and spirit to create a body of work that I hope speaks to each and every one of you."
Hearing a lonely American teen sing softly and sweetly about coming of age — barely out of high school, with his adolescent weed-booze-and romance fantasia freshly intact — is what made Khalid Robinson a crucial fire-starter of the new R&B movement. 
His rough voice and its melancholy ache were the vocal equivalent of a furrowed brow; his breezy, surprisingly lo-fi music provided a mix of '80s synth-soul and blissful beats. Khalid's debut album, 2017's "American Teen," was an exquisite vision of the same "quiet storm" Smokey Robinson sang about in 1975. Replace Smokey's pillow talk with Khalid's obsession with immediate connection, Internet camaraderie, cellphone photo albums and Uber hookups, then add in the folly, frolic and fragility of what it means to be a teen, and you got a modern, multi-platinum artist hinting at the past but racing into the future.
A gifted artist with a searching voice that can suggest a stoner Sam Cooke, Khalid further developed his pop chops on last year's Suncity EP, nodding to reggaeton and Coldplay-esque melody. That wide-ranging talent is on display all over his second LP. The best moments recall American Teen's airy feel and warm charisma. "Talk," produced by U.K. house duo -Disclosure, is a gorgeously bloopy synth-soul strut; on "Right Back," Khalid extends an invitation to hang at the beach, over a sparkling track that smoothly interpolates Big Pun's Nineties classic "Still Not a Player."
The credits to Free Spirit include Norse hitmakers Stargate, and Portugal. The Man producer John Hill. Yet despite some noteworthy cameos — John Mayer on the feathery disco tune "Outta My Head," Father John Misty assisting on production for the maudlin "Heaven" — the LP isn't overly burdened by the bold-faced guest spots you'd expect on a follow-up by an artist coming off a Top 10 debut. Instead, it gets tripped up by a different sophomore pitfall: Now that he isn't an underdog, Khalid lapses into a little too much new-star introspection, exploring an ivory-tower aloneness that can recall the Weeknd's goth-'n'-B. On "My Bad," he tries to stir some drama out of missing your texts because he was working too late at the studio, with nothing to ease his angst but some limpid George Benson guitar flicks. Elsewhere, why-me reflections like "Alive" and "Hundred" feel like solo late-night Uber rides into the dark heart of the soul. 
The self-examining gloom gets thicker as the record proceeds. But Khalid remains a sympathetic guy; see "Self,"where he shifts from bluesy grumble to flighty falsetto as he observes, "My raw emotion make me less of a man?" turning self-doubt into a critique of phony masculinity.
That openness also comes through on the bonus track "Saturday Nights," also on Suncity; Khalid's voice vaults beautifully as he sings to a girl with a rough home life and a job she hates. It's a sweet song with a classic message: Growing up is hard to do. Free Spirit reminds us just how weird it can be.
''Free Spirit'' Movie Trailer
Follow Khalid, go to: