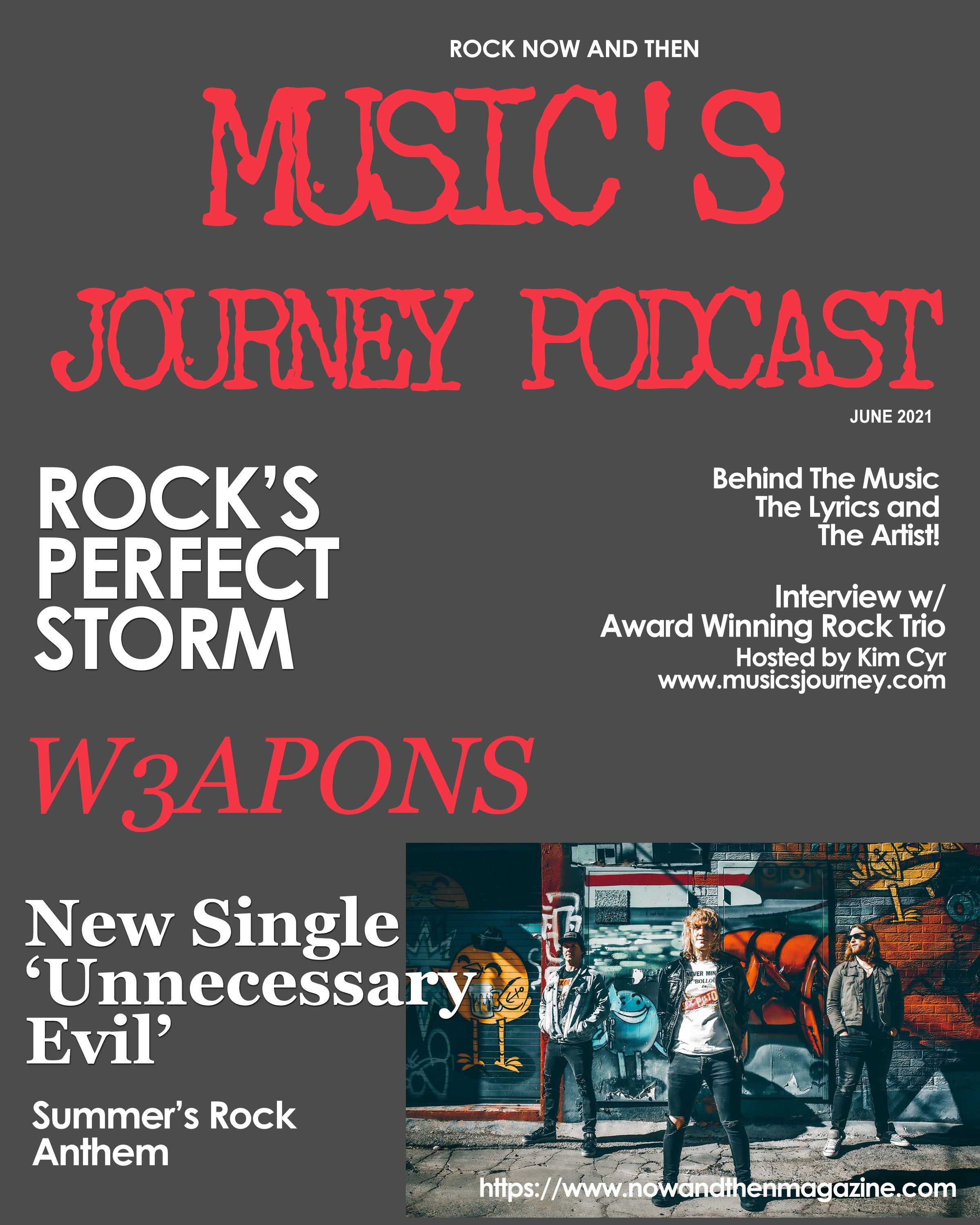 Music's Journey Podcast 
w/ Award Winning Rock Band
''W3APONS'' 
Hosted by Kim Cyr 
Presented by NOW and THEN Magazine 
https://www.nowandthenmagazine.com 
Music's Journey Podcast INTERVIEW w/ Multi-Award Winning Trio ''W3APONS'' Check It Out!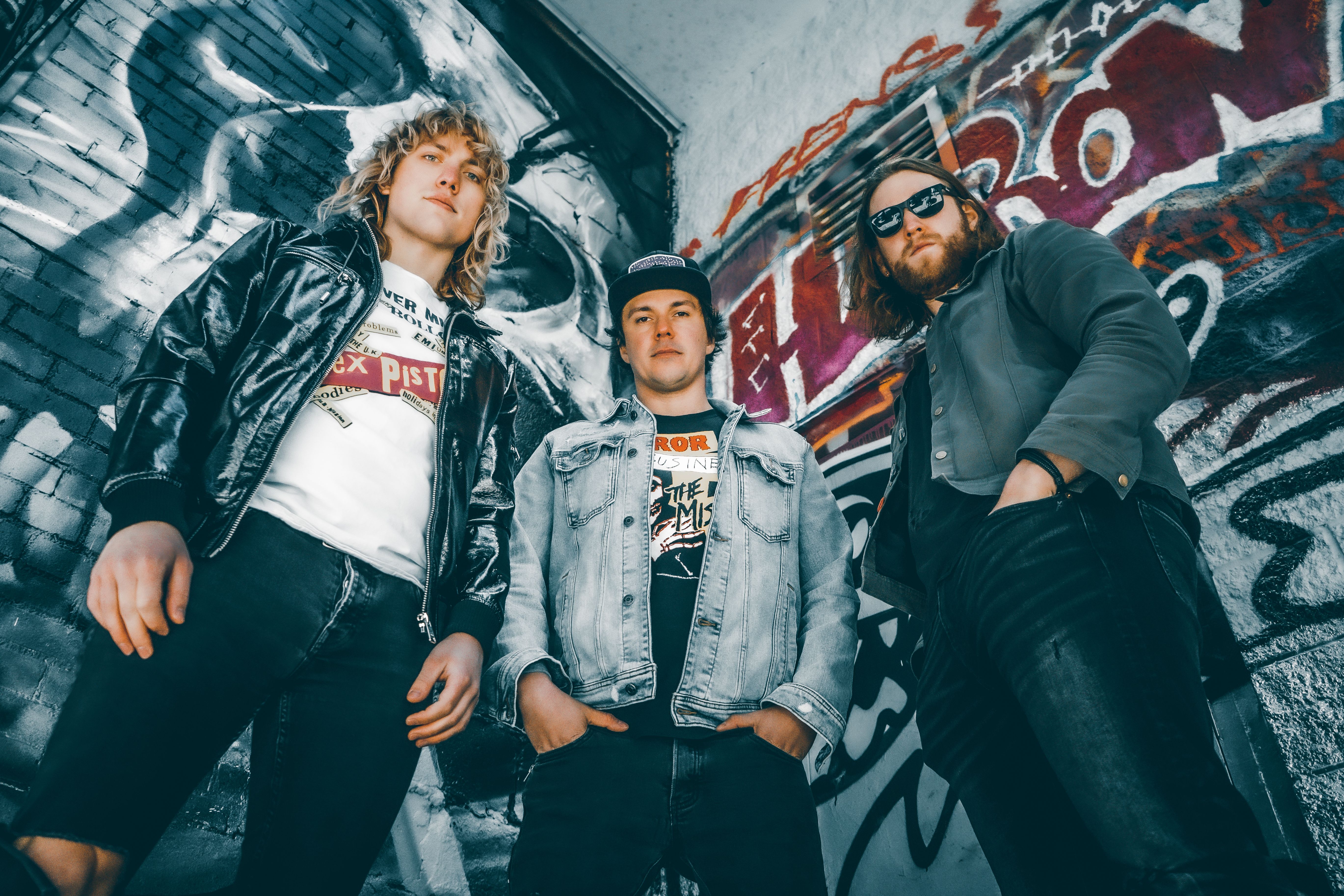 W3APONS 
New Single 
''Unnecessary Evil'' 
New EP ''ADIOS RADIO'' 
Streaming NOW!
 Music's Journey Podcast INTERVIEW w/ Multi-Award Winning Trio ''W3APONS'' Check It Out! 
''Saskatoon - Rock trio W3APONS heavy, melodic riffs, and powerful lyrics have been winning fans in large numbers from all corners of the globe,'' says Kim Cyr, Editor in Chief for NOW and THEN Magazine and host of the International Music's Journey Podcast.  ''This powerhouse Rock trio has now set its mark among Canada's great rock bands and doing it their own way.''   
Their new single "Unnecessary Evil" dropped on June 4th giving rock fans exactly what they wanted and needed for a summertime rock anthem.  W3APONS are the perfect storm. This song sets the pace for what we know is going to be some killer live shows when things open up for music shows and festivals.  They have some show dates coming soon so stay tuned for some announcements.  
''W3APONS are a band full of heart, grit, and with a hard work ethic grinding out shows one after the other earning them one fan at a time.  Doing it the old fashion way.  This band will be a staple in Canadian Rock music and can't wait to see them play live this song live this summer,'' says Cyr.  
''Unnecessary Evil'' is the first single from their upcoming, debut EP "Adios Radio" available now on all digital streaming platforms. 
'Í had the opportunity to chat with Jordan and Myk,' says Kim Cyr.  Here is a few of the questions asked in my interview.  To listen to the full interview, click HERE. 
It's always a good day when W3APONS releases new music.  You guys have been working hard writing and in the studio recording this new music.  Did you have a strategic plan when you wanted to release the new music? 
Jordan: Yeah, we did have a plan right off the get-go to release it and set ourselves with a pretty strict timeline for how we were going to do this recording and we were fortunate to have it all work out without any hiccups.  
Tell everyone how the band came to be? 
We were three young men forging up the mountains and we came down from the mountain as men.  Laughter When we met we were guys that just wanted to play music.  We played a bit and jammed.  We played a few we know that we had something special.  You just know.  From there we immediately took it on the road.  It was a kinda trial by fire.  You play as much as you can and we played a couple of covers too and tried to play as much as we could.   
You guys are such a hard-working band grinding out the shows as often as you could.  I have never seen a band work so hard and do it because you just loved to play.  You guys played so often doing as many shows as you could to get your name known.  Then you get discovered by Theory of A Deadman.  Tell us how that all came about? 
Jordan: Being an independent band a lot of the responsibility falls on your bandmates.  Like the decision-making process falls on the band which I think is good.  For our situation, it was great because we remained in control of our artistry.  That being said, there is still a lot of learning and wearing of all the different hats.  When we were first getting things going we spent all of our time out on the road.  Our first year touring in 2019, when we got back from that tour we were booking the next one.   
Myk:  Yeah, definitely.  We would be out playing one after the next and the next thing you know, two years had gone by.  We went from playing 8 people's shows and then, hey we have 28... laughing.  then Theory happened and we went whoa ... to every show sold out on big stages.  It happened really quickly. 
That had to have been a huge shock.  I know that when you start out doing the smaller clubs and bar scene you get a real good feel if the sound you have is working.  Did you guys know right away that you guys were that good with the response of the crowds? 
Jordan: That isn't up to us.  That is up to the fans and whether they were cool with what we were playing. We opened with the same song during the tour and it seemed to grasp a lot of fans right away. It didn't seem to matter what the age difference was, that song everyone seemed to really like.  We didn't have a lot of songs that we had done so we would play shortlists set of 5 songs so we just had to put it out there and give it all we had. 
It really shows how much hard work does really pay off doing that grind and playing as many places as your can and as hard as you can.  Then you guys a thrown into a 21-day tour with Theory to sold-out crowds.  From a smaller stage to a big stage for the first time must have been nerve-wracking as hell?  Were you guys worried about not having a big setlist? 
Myk:  Well actually, I don't think it really changes from one stage to the next.  I don't think that any band doesn't get nervous before going out.  I think everyone has stage fright.  It's something that you don't quite get over I think.  Leading up to that Theory tour we thought, let's just grind it hard an entire month beforehand and just practice.  We would practice the song each three times a day.  Then we drove out to Vancouver for our first appearance on stage and then we would go, ''Oh my God'' then we just figured we are here and this is what we are going to do. We are going to hit it hard and make sure the songs we have are done the way we want and play as we like to play.   
Band Questions: 
Your journey as a musician and when you got bitten by the bug when you know you wanted to take this from a hobby into a full-time musician?  
We all got our start in high school - and that bug bite has been itching ever since!  
How difficult has it been navigating the music industry and how the pandemic has affected your creativity and songwriting?  
The music industry was shut down like everything else, and will probably be the last thing to re-open, so we're sitting tight. However, we've used our time away from live-performing to write songs that we've recently released and are planning on releasing in the future.  
What have been the biggest challenges that you have faced this past year and even now with the pandemic and looking ahead when businesses start opening up and getting back to business for professional musicians?  
This whole experience was very testing, very trying. Obviously us not being able to perform live was a big challenge, and we're glad to see that the remaining business is starting to open their doors again!  
Where do you get your inspiration from – do you pull from your own personal experiences or things you hear or observe throughout your life, where does the inspiration come from?  
I think we all write based off the everyday events that we witness. Sometimes our songs are inspired by news headlines, sometimes they are inspired by a train of thought!  
Looking at the music industry today in comparison to a decade ago, no borders today for Canadian artists or musicians. What have the digital and streaming platforms meant to you with your music and the reach you now have?  
Streaming has meant that we've been able to connect with a global audience without having to spread our wings or put our life vests on!  
The impact that no borders have on the artist or group being able to make it on their own is really incredible. It is so hard to support yourself as a musician grinding out your music, marketing, producing, promoting it, etc... possibilities as an independent artist/group that hasn't been easy to do before without a label? 
As independent artists, we enjoy complete artistic freedom and direction for where we want to take the band!  
How much of an impact has social media played in your career with all the capability to reach a much bigger audience with streaming platforms, FB, Twitter, Instagram, Tik Tok around the world.  Airplay streaming awards and now the awards … ? 
Social media is a complicated algorithm that still stumps us!  
What inspired the song or album?  
The new tracks on this album were entirely written during the pandemic and were inspired by our various life experiences over the last few months.  
How has the feedback been after releasing your new music?  
So far so good! We've gotten a lot of positive responses on the songs and are excited to see Unnecessary Evil start to creep up the charts!  
Burning Questions Portion of the Show:  
Outside of music, what are your hobbies, things you like to do to unplug from the world?  
Tal: Lifting, holding, putting down  
Myk: Video game collecting, auto sport, playing shitty punk music.  
Jordan: Video games, cooking, and drinking craft beer!  
What's your favorite food, what do you like to eat, what's the holy grail for you?  
T:Lasagna and "My Cookie Dealer"!  
M: Fish and Chips with a bottle of Keiths!  
J: Pasta!  
Favorite song of all time?  
T: Sleep Walk - Santo & Johnny  
M: Blue Sky - The Allman Brothers  
J: You Could Be Mine  - Guns N' Roses  
Favorite lyrics of all time?  
T: "…………………………….."  - Sleep Walk - Santos & Johnny  
M: "I like my sugar with coffee and cream" - Intergalactic - The Beastie Boys  
J: "Your next ex-lover will discover how your mother fucked you up." Hard to Love - The Trews  
Dream destination – bucket list vacation?  
T: Amsterdam  
M: Japan  
J: Scotland  
The holy grail to partner in a duet or collaboration?  
T: Jordan Welbourne  
M: Tallus Scott  
J: Myk Ulan-Hohol  
What have you been binge-watching this past year?  
T: Married… With Children  
M: Formula 1: Drive to Survive  
J: Buffy the Vampire Slayer  
First concert ticket your ever bought?  
T: Marilyn Manson  
M: Anthrax  
J: Slipknot  
The best part about being a musician?  
T: Watching everyone around you grow up.  
M: Getting payed in beer  
J: Truck stop showers.  
Favorite characteristic about yourself?  
T: I try not to take myself too seriously.  
M: I also don't take him too seriously.  
J: I also don't take them too seriously.  
What is the biggest misconception about being a musician – people think you have this glamour's life about being a musician out on tour, lots of money, they don't realize the grind it takes to make it in this business, the blood sweat, and tears that go into making it?  
Did we mention the TRUCK STOP SHOWERS?  
Artist/Group Attention is the new currency, it used to be talent and it has now become a dance between attention and talent.  What are the challenges you face…?  
We try not to focus on that, and just try to make good music that our fans will enjoy! 
''I had a great time talking to Jordan and Myk.  To hear the full interview that has lots of laughs and great stories, click the link below.''
Music's Journey Podcast INTERVIEW w/ Multi-Award Winning Trio ''W3APONS'' Check It Out! 
W3APONS has been working under the mentorship of John-Angus MacDonald from The Trews. John-Angus, in addition to collaborating with the band as a producer and songwriter, has also continually offered career and professional advice which has been invaluable to W3APONS success to date.   
W3APONS lead singer and guitar player Jordan Welbourne's vocal's in the new single ''Unnecessary Evil'' brought me back to the class rock greats like Brian Adams with its hard-hitting lyrics and everything Rock & Roll.  
W3APONS independent charting successes and relentless touring in 2019 resulted in them opening for Theory of a Deadman to accompany Theory for all 21 Canadian dates of their Say Nothing 2020 World Tour.  
Drummer/vocalist Tallus Scott, bassist/vocalist Myk Ulan-Hohol, and guitarist/vocalist Jordan Welbourne are the elements in the perfect storm that is W3APONS - Energetic, Hard-hitting, and unmistakably Rock & Roll.        
W3APONS has shared the stage with Theory of a Deadman, The Trews, Monster Truck, Sweeney Todd, The Lazys, and The Wild.  
Music's Journey Podcast INTERVIEW w/ Multi-Award Winning Trio ''W3APONS'' Check It Out! 
W3APONS - Unnecessary Evil (Official Video)
W3APONS - Gotta Stop (Official Audio)
W3APONS - No Hope on the Radio (Official Audio)
W3APONS - I Am the Horizon (Official Audio)
Music's Journey Podcast INTERVIEW w/ Multi-Award Winning Trio ''W3APONS'' Check It Out! 
Follow W3APONS