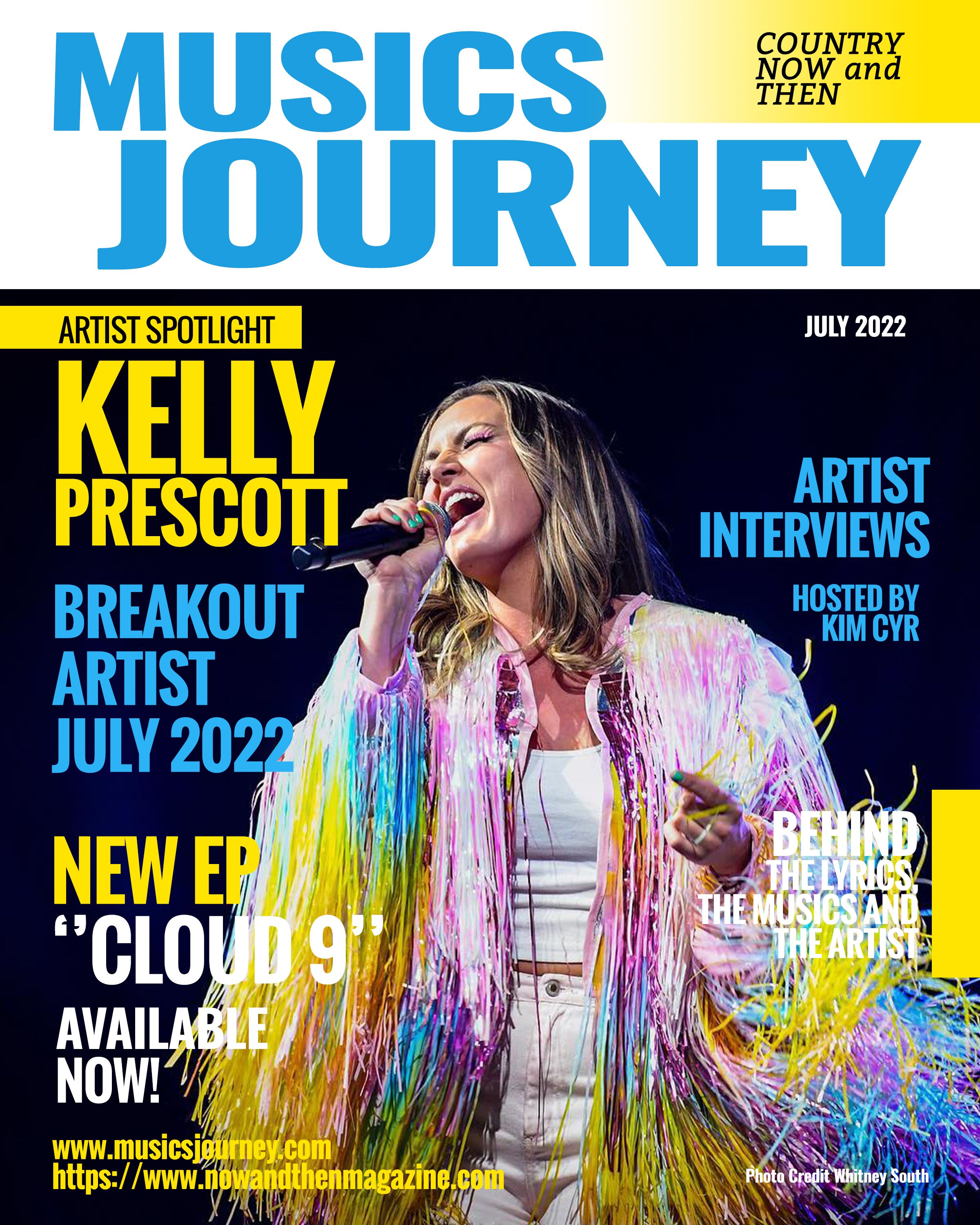 Music's Journey Podcast 
w/ Award-Winning Country Star Kelly Prescott 
Hosted by Kim Cyr 
Presented by NOW and THEN Magazine 
https://www.nowandthenmagazine.com 
Music's Journey Podcast INTERVIEW # w/ Country Recording Artist Kelly Prescott Slatted To Be The Next Big Thing In Canadian Country Music With Her New EP ''Cloud 9''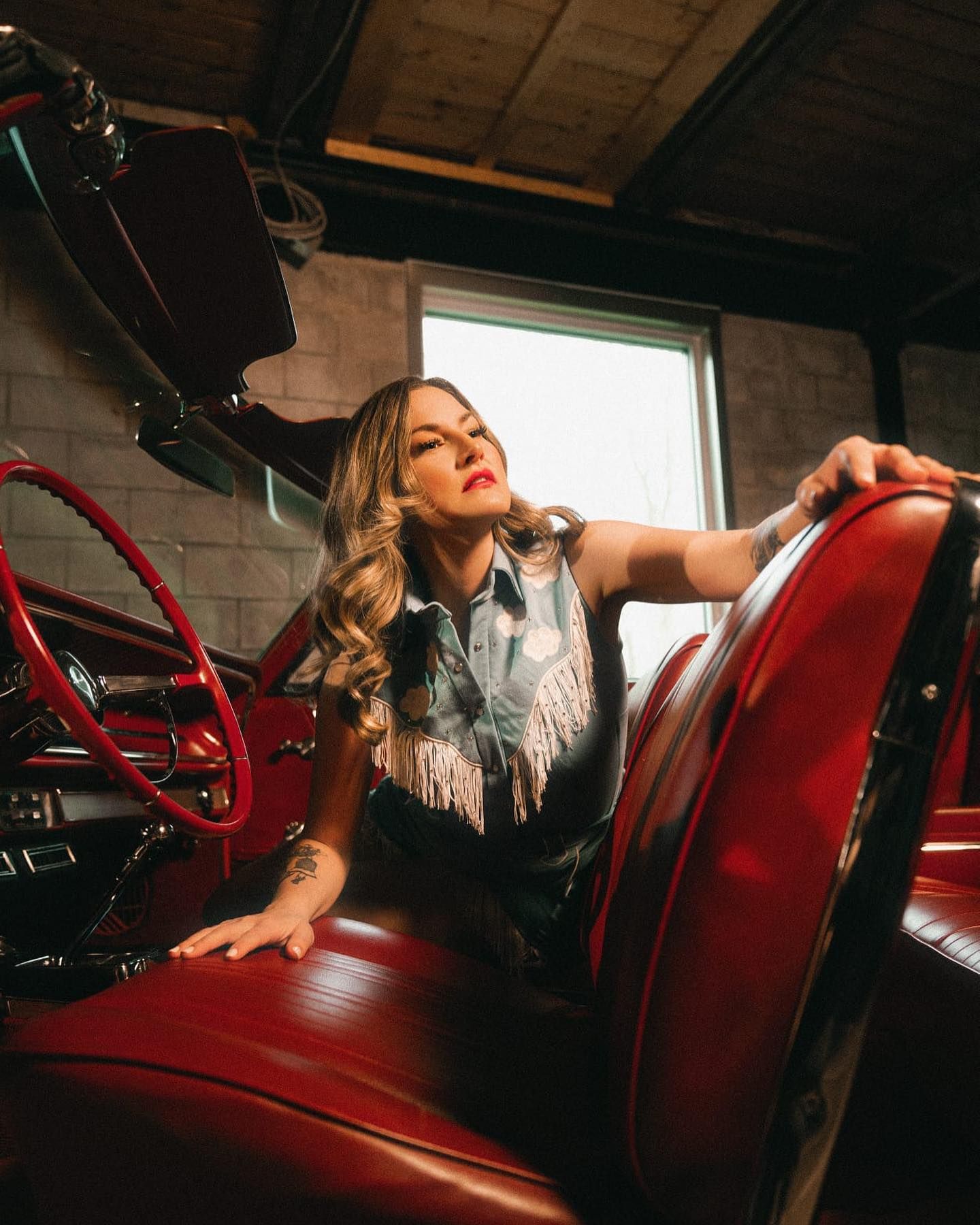 Photo by Lee Zavitz 
New EP 
''Cloud 9'' 
Music's Journey Podcast INTERVIEW # w/ Country Recording Artist Kelly Prescott Slatted To Be The Next Big Thing In Canadian Country Music With Her New EP ''Cloud 9'' 
The Music's Journey Show and NOW and THEN Magazine is putting the spotlight on Canadian country recording artist Kelly Prescott for becoming the next big thing in Canadian Country music with her new song, "Cloud 9".  To hear my special interview full of stories and so much music from Kelly Prescott's new ep ''Cloud 9'', go to www.musicsjourney.com or click HERE.
Kelly is a third-generation singer-songwriter (Daughter of Tracey Brown & Randall Prescott of Family Brown) and is currently on the "Some Things Never Change Tour" with Dallas Smith, opening the show across the country! The past year has been a whirlwind for singer-songwriter Kelly Prescott since the release of her acclaimed EP "Love Wins." The self-penned six-song collection earned Prescott her first-ever CCMA Award nomination for "Roots Album of the Year" and two CMAO nominations for "Album of the Year" and "Roots Artist of the Year." In addition to her current tour with Dallas Smith, Prescott has toured all over North America with such acts as Alan Doyle, Kyle Cook (Matchbox 20), Terri Clark, Dallas Smith, Jim Cuddy, Colin James, and Dean Brody! 
In music as in sports, there are so-called naturals. And then there is Kelly Prescott, whose fate as a country star destined for marquee stages around the globe was pretty much sealed in the womb.  
As a third-generation singer-songwriter and bona fide country music blueblood, Prescott's career choice has always been obvious. But the speed at which the wildly charismatic performer has realized her goals has been extraordinary. 
To wit: as Prescott's dazzling and sonically multifaceted third EP Cloud 9 drops June 30, she will be on-stage in Toronto near the end of a major arena tour alongside Canuck country superstar and long-time pal Dallas Smith.  
Smith is not only Prescott's biggest cheerleader but also on her management team. Why? Because Kelly Prescott recently thrilled audiences across Canada supporting Alan Doyle. Smith knows towering talent when he hears it.  
Also, by the time of Cloud 9's release, its lead single "Convertible" — the rip-snortin' honky-tonk corker and follow-up to the winning singles "Trailer Trashed" from late 2021 and "Church" from 2020 — has been igniting country music charts from Nanaimo to Nashville, handily showcasing Prescott's massively expressive voice. 
Warner Music Canada recording artist Kelly Prescott has released her new single "Convertible."  The third-generation singer-songwriter and bona fide country music blueblood will be releasing the unapologetically steamy single everywhere music is available.  Prescott will celebrate the release of the new single from the stage where she will be supporting country music superstar Dallas Smith on a 24-date Canadian tour.  The dates run from May 24 all the way through to June 30 with stops in Winnipeg, Toronto, Kamloops and Saskatoon to name just a few.  
Of the new song, Prescott says, "That song came from me wanting to get home to do dirty things with my baby.  I am a fast driver, not going to lie, and one day I was in such a rush to get home to my man and there were all these slow drivers and I just kept thinking, 'Do none of you need to get home to someone you love?'"  
If the planets align, at that moment, those lucky enough to have seen Prescott performing in 2018 at the famed Grand Ole Opry with brother Kaylen and their parents — a.k.a. two-thirds of the trio Prescott-Brown, the sequel to the Family Brown, one of Canada's most successful and longest-running country combos — will realize they witnessed history.  
"Stepping into that circle where all my heroes have played and doing it with my family and my partner (guitarist-songwriter) Chad Murphy, was indescribable," Prescott says from her Toronto home, adding that the Opry gig was at the invitation of Family Brown super-fan Terri Clark. "And now this tour with Dallas?" she adds. "I can't wait to cross that one off the list."  
Yup, Prescott is skyrocketing in the tradition of her kin. Canadian Country Music Hall of Famers the Family Brown, featuring Prescott's mom Tracey, aunt Lawanda, uncle Barry, and late maternal grandfather Joe Brown, holds the record for most CCMA awards won by any artist (a staggering 18) among countless other achievements.  
Not to be outdone, musician dad Randall Prescott scored an unprecedented 10 consecutive wins for CCMA Country Music Producer of the Year, also earning a Grammy nod for his engineering work on Robbie Robertson's 1998 album Contact from the Underworld of Redboy. Mom Tracey Brown, meanwhile, has been a chart staple (and multiple Juno Award nominee and winner) both solo and with her bands.  
Impressive and inspiring for sure, yet Prescott's music is her own. And the five tracks on Cloud 9, which run the gamut from "70s soul to modern country to a bit of pop," represent a fraction of Prescott's musical scope, which she has been developing, often in tandem with brother Kaylen Prescott, literally her entire life.  
"My parents ran a very successful recording studio (Lakeside, in the Ottawa Valley). My playground was between it and a tour bus," Prescott chuckles. "I always knew this was going to be the life I chose. I loved attention, having an audience, dressing up, singing for anyone who would listen. I begged my parents to let me be on stage which they did from the time I was four or five."  
Despite her intense drive — observe two previous solo EPs (2020's Love Wins and 2016's Hillbilly Jewels) plus a pair of albums with former band The Claytones (2013's Reserva and 2012's Lake in the Night) all cut in a decade — Prescott couldn't outrun the pandemic, which forced her to slow down and regroup.  
"Cloud 9 was escapism for me. I was feeling so down, as were many of my peers when we realized that we were the least essential workers on the planet," she laughs. "We all kind of lost our identities overnight.''  
"But even though I was down, I didn't want to listen to sad songs. I wanted something that made me feel good. That's where this EP came from, insisting that I feel good and dance around and see what cloud nine felt like. The song 'Cloud 9' started dark but ended up light."  
Indeed, even amid Cloud 9's considerable sonic splendour, its title track is positively grandiose, opening with a suite of swirling strings and cotton-candy harmonies sailing steadily upwards towards a rousing climax framed by Prescott's acrobatic voice. The song then dissolves like a rainbow.  
The single to is an absolute scorcher. "That song came from me wanting to get home to do dirty things with my baby," Prescott howls. "I am a fast driver, not going to lie, and one day I was in such a rush to get home to my man and there were all these slow drivers and I just kept thinking, 'Do none of you need to get home to someone you love?'"  
Prescott continues, "Most of these songs were written last September at Big Bear Lake in California with (acclaimed songwriters) Brandon Rogers and Jason Mater. At one point, Mater just started playing this moody little 'do-do-do' riff and right away, I knew we had a driving song that needed to be called 'Convertible.'"  
Another notable track on the new EP is the pleading, mandolin-goosed ballad "Common Ground" co-written with Nashville-based Sadie Campbell and Halifax's Dave Sampson. "It's a very personal song, about the impact of the last two years. That's old-school Kelly," Prescott says, "very rootsy.  
"I just feel so lucky, especially having Dallas in my corner since 2019. He knew I was having a hard time finding a home for Love Wins. He just called me one day and said, 'What do you need to make this EP happen.' I honestly don't know where I'd be right now without his involvement.''  
"All my EPs have told the story of where I am in my life," Prescott adds. "Love Wins was me coming out of a divorce and entering a new relationship. With Cloud 9, I've been in the same relationship for five years and I'm happier than I have ever been. And now I'm touring with the biggest country star in Canada. I mean, I really am living the dream." 
Music's Journey Podcast INTERVIEW # w/ Country Recording Artist Kelly Prescott Slatted To Be The Next Big Thing In Canadian Country Music With Her New EP ''Cloud 9'' 
Kelly Prescott - Cloud 9 (Official Audio) 
Kelly Prescott - Convertible (Official Lyric Video)
Kelly Prescott - Trailer Trashed - Visualizer
Church
Music's Journey Podcast INTERVIEW # w/ Country Recording Artist Kelly Prescott Slatted To Be The Next Big Thing In Canadian Country Music With Her New EP ''Cloud 9'' 
See Kelly Prescott With Dallas Smith 
2022-05-25 - Canada Life Centre - Winnipeg, MB  
2022-05-26 - Sasktel Centre - Saskatoon, SK  
2022-05-27 - Brandt Centre - Regina, SK  
2022-05-28 - Scotiabank Saddledome - Calgary, AB  
2022-05-30 - Bonnett's Energy Centre - Grande Prairie, AB  
2022-05-31 - CN Centre - Prince George, BC  
2022-06-02 - Sandman Centre - Kamloops, BC  
2022-06-03 South - Okanagan Event Centre - Penticton, BC  
2022-06-04 - Abbotsford Entertainment Centre - Abbotsford, BC  
2022-06-06 - Enmax Centre - Lethbridge, AB  
2022-06-09 - Thunder Bay Community Auditorium - Thunder Bay, ON  
2022-06-10 - Sudbury Arena - Sudbury, ON  
2022-06-14 - Mary Brown's Centre - St. John's, NF  
2022-06-16 - Centre 200 - Sydney, NS  
2022-06-17 - TD Station - Saint John, NB  
2022-06-18 - Community Credit Union Arena - Truro, NS  
2022-06-22 - Meridian Centre - St. Catherines, ON  
2022-06-23 - Start.ca Performance Stage at Budweiser Gardens - London, ON  
2022-06-24 - The Aud - Kitchener, ON  
2022-06-25 - Memorial Centre - Peterborough, ON  
2022-06-27 - The Arena at TD Place - Ottawa, ON  
2022-06-28 - Leon's Centre - Kingston, ON  
2022-06-29 - Sarnia Sports & Entertainment Centre - Sarnia, ON  
2022-06-30 - Budweiser Stage - Toronto, ON  
2022-07-07 - Cavendish Beach Music Festival - Cavendish, PE (Not with Dallas Smith)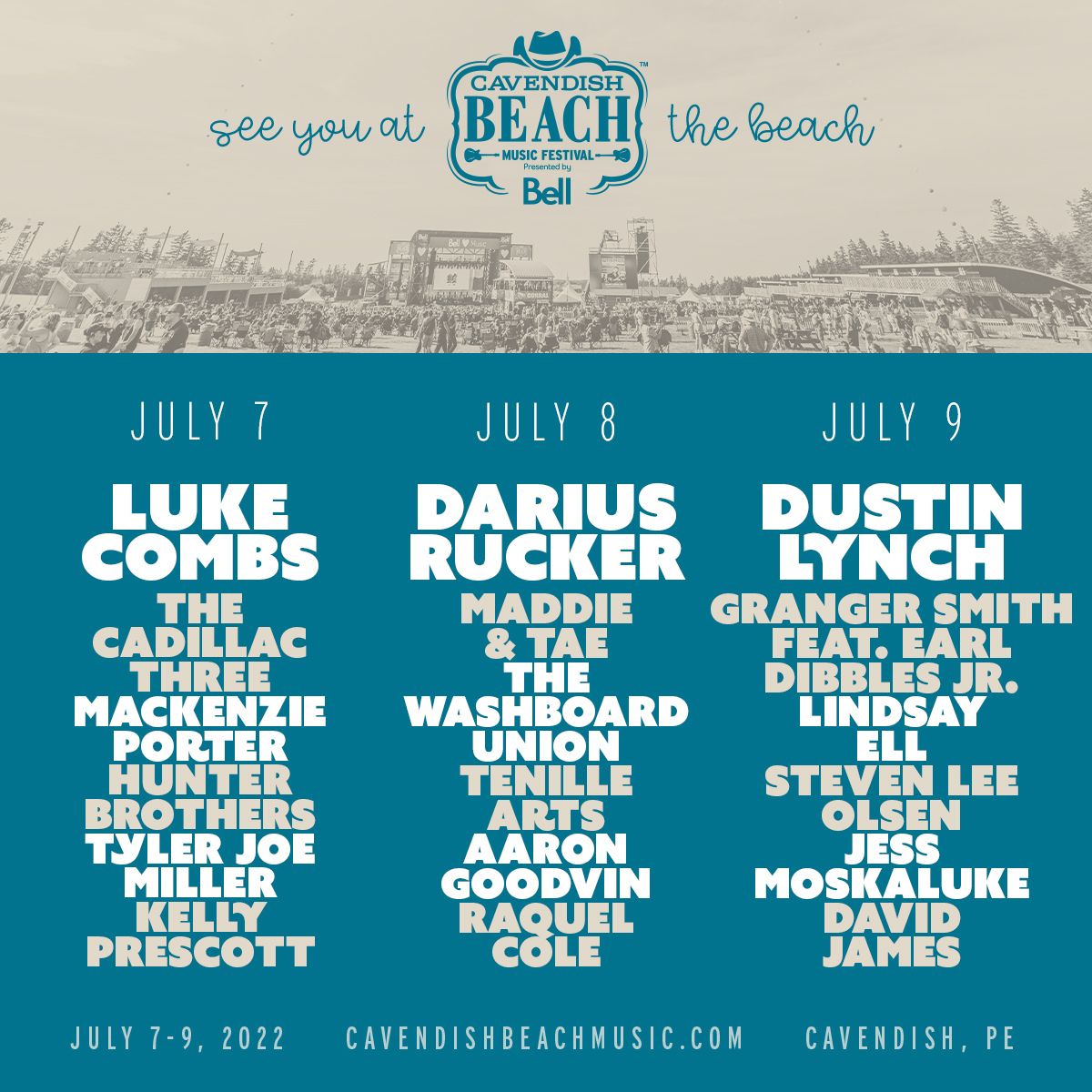 Music's Journey Podcast INTERVIEW # w/ Country Recording Artist Kelly Prescott Slatted To Be The Next Big Thing In Canadian Country Music With Her New EP ''Cloud 9'' 
Follow Kelly Prescott