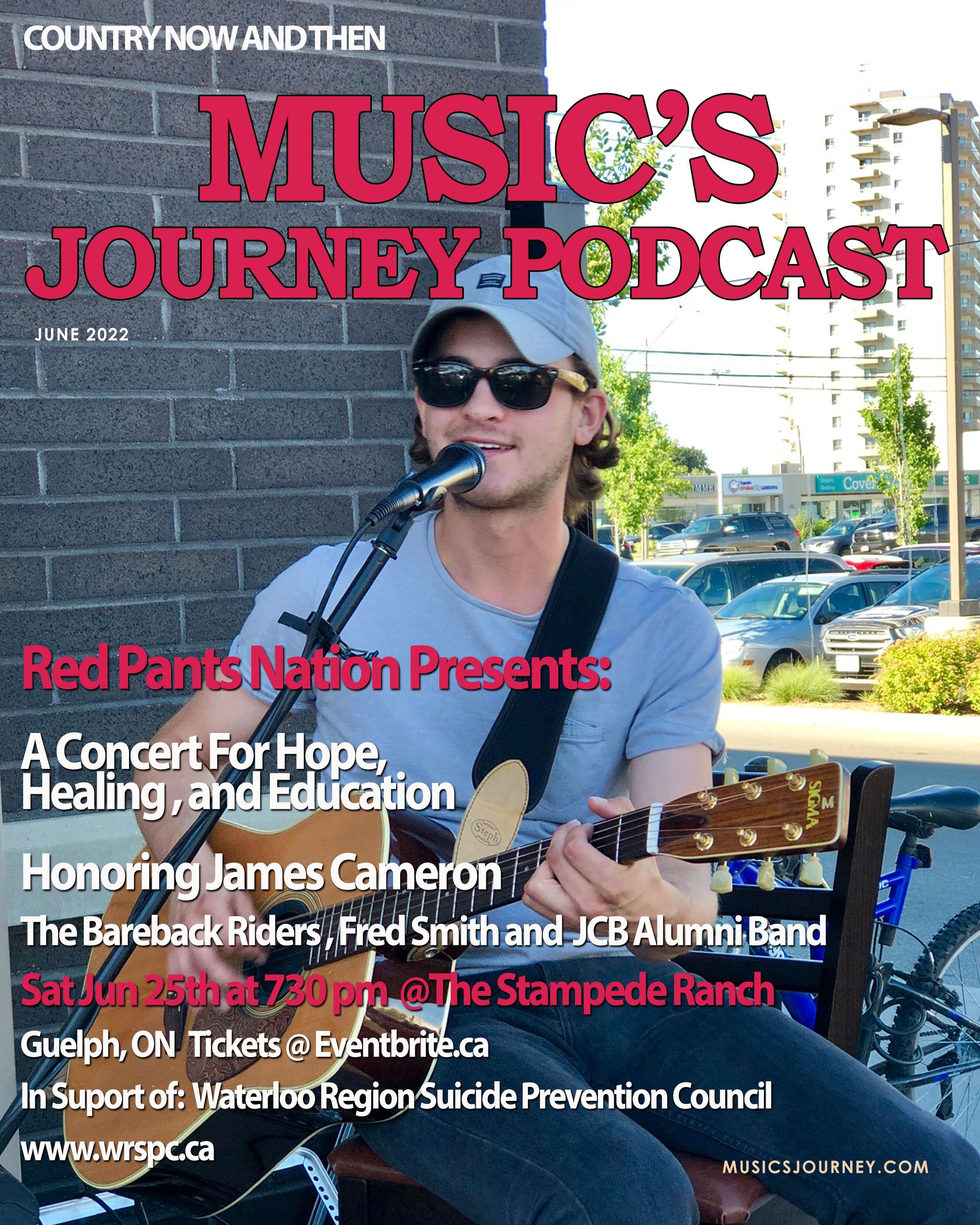 Music's Journey Podcast
w/ Ken Cameron and Britanie Hagen
Honoring Country Artist James Cameron
Hosted by Kim Cyr
Presented by NOW and THEN Magazine
https://www.nowandthenmagazine.com
Music's Journey Podcast INTERVIEW #169 Special Concert Event Presented by Red Pants Nation Honoring the Memory of Country Artist James Cameron on Jun 25th at The Stampede Ranch
In Support of The Waterloo Suicide Prevention Council 
Red Pants Nation
Presents
The Concert of Hope, Healing, and Education
Honoring Country Artist James Cameron
In Support of:
The Waterloo Region Suicide Prevention Council
Special Performances
by
''James Cameron was such a promising country artist who had such a bright future in this music industry,'' says Kim Cyr, Editor in Chief for NOW and THEN Magazine, radio host, and host of the International Music's Journey Podcast. 
''It was an unprecedented reaction for us all here in the music industry and of a community who loved him.  I was in shock to hear the news of James' passing.  I had gotten to know James quite well over the years covering artists all over Canada and James was something special.  The news hit hard.  Another bright light was taken way too early.   I had just spoken to James a few weeks before he died and he was so excited about the CD he had in the works with Jason Barry.  I spoke to James several times throughout the years and he would often confide in me about his struggles and his frustrations in life with getting further ahead in his music.  I don't think James really knew how gifted he was.  I would often remind him that and that his time would come.  I would tell him to keep writing songs for the love of writing and playing music because that is what he loved to do.  He loved to perform.  The moment James hit the stage, it was lights on and the camera was rolling.  He knew how to entertain and the fans loved him. ''
''I shared a very candid interview with James' father Ken Cameron and his sister Britanie Hagen.  Ken had shared with me that many families have come forward to share similar stories of loved ones they had lost to suicide.''  To hear my full interview, click HERE.
''Some are dealing with the crisis of a loved one who had tried to take their life and they are lost at how to help. We never got that chance with James.  We never had the chance to talk to James and help him because he never told us.  We knew James was two different people.  He was one way on the stage and totally different off the stage.  There was no note.  I struggle with thinking over and over in my head, what did I miss.  It was by sharing our story with others like our family who have lost someone to suicide that there are signs that you can watch for.  Understanding and educating ourselves is key.  Early signs to watch for.  Communicate with your children now before it's too late,'' says Ken. 
''I wish I knew what was bothering him inside because I would have told him how special he was,'' says Britanie.  ''I didn't have an idea of what was happening with him outside of music.  Being a new mom made it much more difficult for me to be around James than I was when we were playing music together.   James would come over and talk about his music but then if we talked about anything else, he was short and very brief and left.  I wish in hindsight that I had paid more attention to that.  I had no idea that he was struggling like he was.  I would have told him what a wonderful uncle he was.  How proud I was of him and been there for him.  I would have dug deeper.''  
Suicide can carry with it a stigma. The question of 'why' someone took their life often may be difficult to answer. Feelings of guilt and shame are often associated with a loss from suicide.  The Camerons shared their struggles and how hard it was to lose James to suicide in Jan 2020. 
''It doesn't seem to get any easier even though it has been two and a half years later,'' says Ken Cameron.  ''The struggle is real, it is learning different ways to cope with our family's loss.  That is why we wanted to do this event.  We wanted to give back and help other families who may have a loved one struggling with mental illness.  If we can help save one life then that is what we have to do.  We want to help others.''
''There wasn't a note left by James.  It was just like a hammer coming down on us instantly.  It's hard to put into words and it's real for us every day.  It's not easier...we are so grateful for those organizations like The Waterloo Suicide Prevention Council for what they do.  For how hard they work to help an individual in crisis, a family facing a loss like ours.  That is why we are doing this concert and we want to help in any way we can.''
''Suicide is hard and this concert is a way of giving back to the community that gave so much to James.  There are far too many people that suffer in silence not knowing where to turn.  Often people don't know what they can say or do to help those that they may know who are suffering from mental illness.'' 
The Concert of Hope, Healing, and Education is a way you all can show your support.  Come on out for a very special night of live music with The Bareback Riders, Fred Smith, and the JCB Alumni Band at The Ranch on Saturday, June 25th.  Doors open at 730 pm and the live music will begin at 830 pm.  This will be a live auction that night and there is currently an online/silent auction running until noon on June 26th.  Come show your support and love for James, the BBR who have given fans so many memories of incredible live music throughout their career.  It is so special that they have chosen this special show to honor James as they last show together.  Come join the Camerons for a night shared in hope, healing, and education.''
To hear my special interview with The Camerons and some very special unreleased music by James Cameron, click on the link below.
Music's Journey Podcast INTERVIEW #169 Special Concert Event Presented by Red Pants Nation Honoring the Memory of Country Artist James Cameron on Jun 25th at The Stampede Ranch
A Concert for Hope, Healing, and Education is being held on Saturday, June 25th at The Stampede Ranch. 
The Camerons and The Stampede Ranch are holding the event on Saturday, June 25th with doors opening at 7:30 pm and the live music starting at 8:30 pm. They are also hosting a live auction that night and currently have an online/silent auction running until noon on June 26th. Proceeds from both the online auction and the concert will be going to the Waterloo Region Suicide Prevention Council. 
This night is being held in memory of Country Artist James Cameron, who died by suicide in January 2020. He loved a great night out at The Stampede Ranch, giving back, and of course country music, so there wasn't a better place that was a more appropriate way to honor his memory than holding A Concert For Hope, Healing, and Education.  
This is also a very special show as it will be the last for The Bareback Riders after an amazing career as a band. James had the pleasure of fronting The BBR for quite a few years and James' family is humbled that they've chosen this to be their final show at The Ranch. 
Eventbrite (Fundraiser Tickets for the 25th) - https://redpantsnationpresents.eventbrite.ca  
Online Auction (open now until noon on June 26th) - https://cbo.io/bidapp/index.php?slug=wrspcevents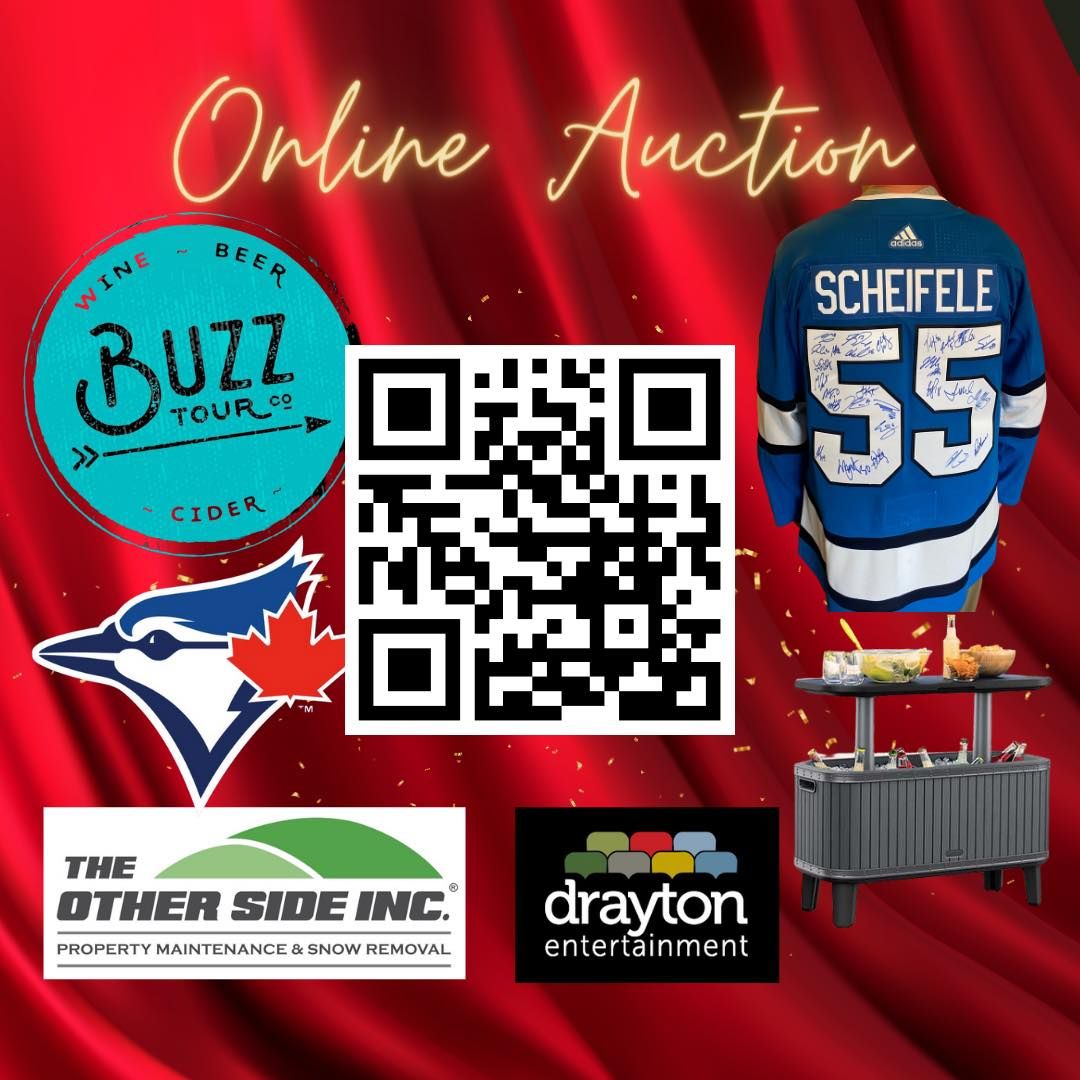 The Waterloo Region Suicide Prevention Council is a community-based non-profit aiming to increase awareness of and engagement in suicide prevention within our community to ultimately reduce suicide and its impact. They do so through education, training, and community engagement initiatives utilizing suicide prevention and positive life promotion messaging.
Whether you know someone who is having a hard time, someone who has recently attempted suicide and survived, or someone who has lost a loved one to suicide, there are lots you can do to help.
By Showing Up And Reaching Out, You're Taking A Big Step Towards Supporting Your Loved One. 
It can be helpful to gain a basic understanding of suicide and suicide prevention, to break down any stigma, and dissolve any myths about suicide you may hold as beliefs.
For access to mental health, addictions, and crisis services in the Waterloo Region call Here 24/7 at (844) 437-3247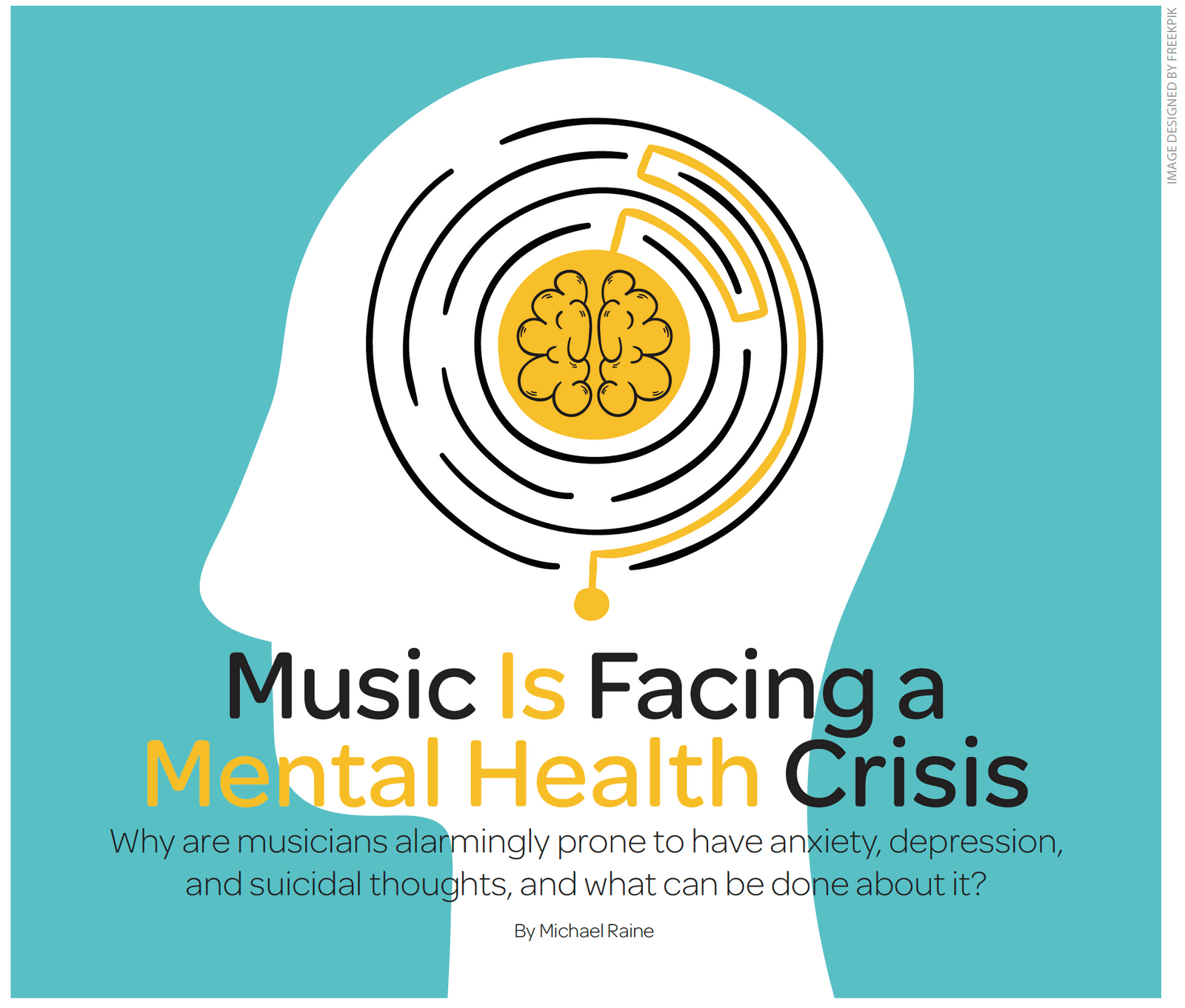 There are a million tasks, big and small, that today's independent and even label-signed artists need to take care of each week. It can feel like the hamster wheel never stops and you have to keep it going just to survive. So yeah, little wonder musicians are reporting alarming levels of anxiety, depression, and suicidal thoughts. It's long overdue that we start talking about and facing these issues head-on, and thankfully, there are things musicians can do for themselves and each other, along with resources and professionals being increasingly more available to help.
If you or someone you know is in crisis or needs emotional support, these resources can help. https://www.canadianmusician.com/post/music-is-facing-a-mental-health-crisis
www.canadianmentalhealthhotline.com or 
Provincial Mental Health Hotline 1-855-242-3310 
The new Canada Suicide Prevention Service (CSPS) enables callers anywhere in Canada to access crisis support using the technology of their choice 
1 (833) 456 4566
If you or someone you know is in crisis or needs emotional support, these resources can help. www.musiciansclinic.com  1 905-574-1119 
canadianmentalhealthhotline or 
Provincial Mental Health Hotline 1-855-242-3310 
The new Canada Suicide Prevention Service (CSPS) enables callers anywhere in Canada to access crisis support using the technology of their choice 
1 (833) 456 4566