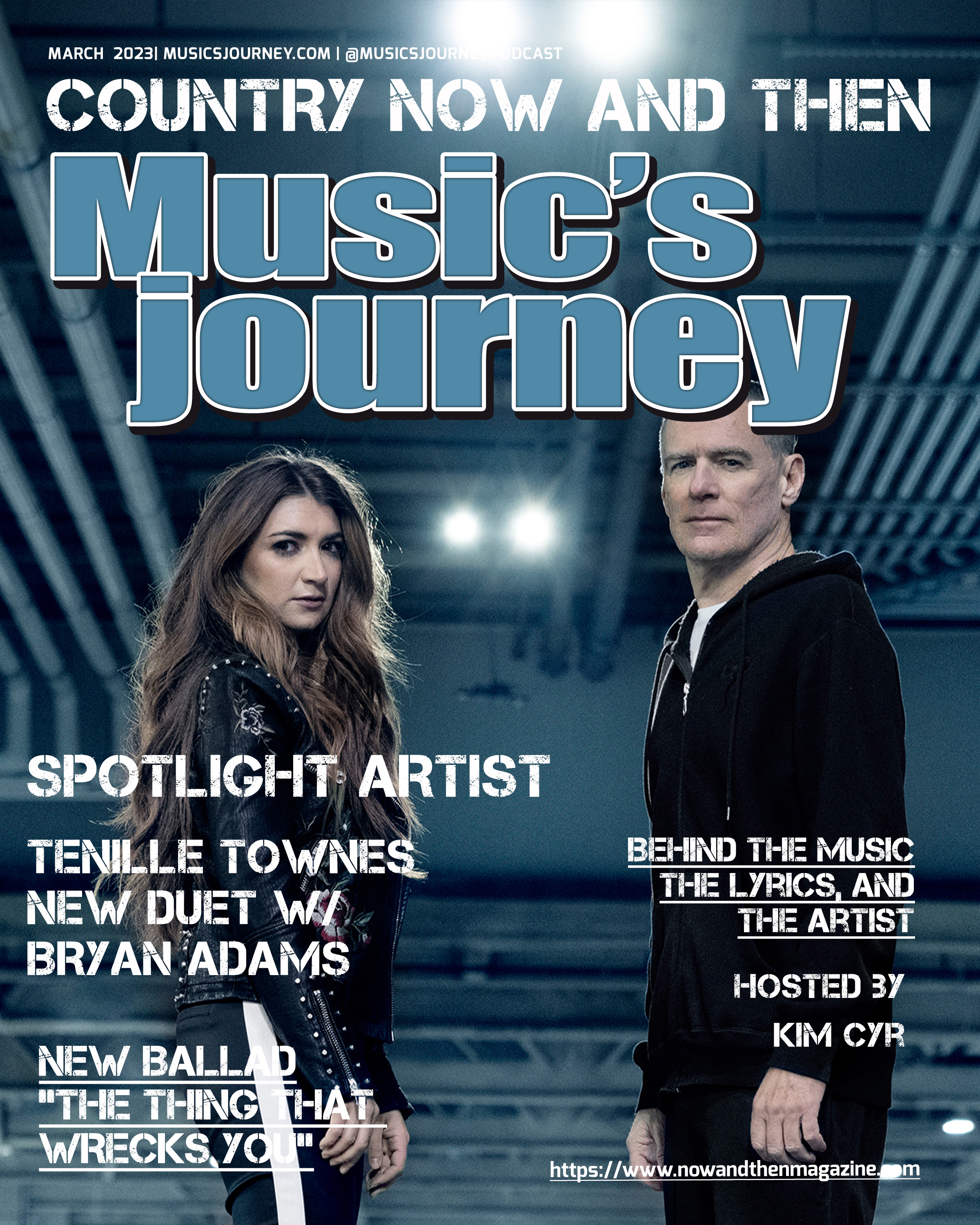 w/ Country Star Tenille Townes
Hosted by Kim Cyr
Presented by NOW and THEN Magazine
https://www.nowandthenmagazine.com
MUSIC'S JOURNEY INTERVIEW #200 w/ COUNTRY STAR TENILLE TOWNES DUET WITH GRAMMY AWARD WINNER BRYAN ADAMS: FOR HEARTFELT BALLAD "THE THING THAT WRECKS YOU"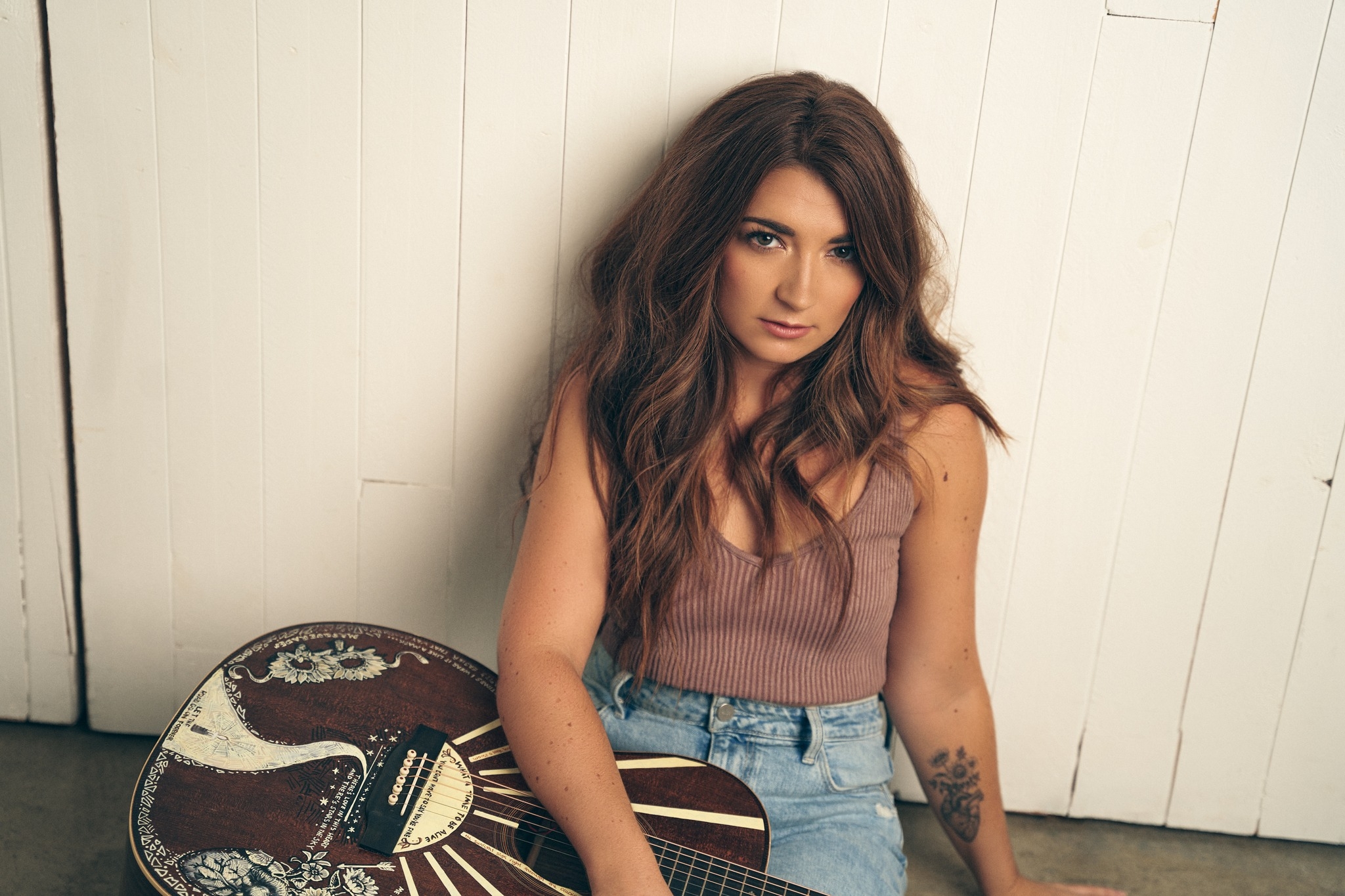 TENILLE TOWNES DUET WITH BRYAN ADAMS: 
MUSIC'S JOURNEY INTERVIEW #200 w/ COUNTRY STAR TENILLE TOWNES DUET WITH GRAMMY AWARD WINNER BRYAN ADAMS: FOR HEARTFELT BALLAD "THE THING THAT WRECKS YOU"
NASHVILLE, Tenn. – Born from a chance encounter in a stairwell, "The Thing That Wrecks You," available everywhere now, brings reigning CCMA Entertainer of the Year Tenille Townes and GRAMMY Award winner Bryan Adams together on a vocal performance that matches the energy of the song's lyrics, describing the moment love careens headfirst towards heartbreak. 
"I was recording a song for a Hallmark Movie in Vancouver last summer and found myself completely enamored by the recording space we were in," remembers Townes. "Later in the day, I found out that it was Bryan Adams' Warehouse.
Studio, and I actually ran into Bryan himself on the staircase on my way out. We talked for just a few minutes, and I was so happy to meet him because his path as a fellow Canadian has been incredibly inspiring to me, with a collection of songs that have impacted the world in such a huge way. 
"Later that night, I thought about 'The Thing That Wrecks You,' a song I'd written a while before with Kate York and Daniel Tashian, and how the spirit of that song made me think about his voice," she continues. "I decided to go out on a limb and sent him the song along with a letter asking if he might be up for singing on it with me. Fast forward to now, where not only have I gotten to sing with a hero of mine, but I have also found a mentor and friend through this whole adventure. This song is evidence to me that putting a wild thought out in the atmosphere and believing in it is a powerful thing." 
Just shy of four minutes, the driving track produced by Townes and her band's guitarist, Jaxon Hargrove, was recorded with her touring band joining her in-studio as well as with Adams adding his own guitar prowess to the song alongside his vocals. Trading opening lines, the pair come together for a stirring duet on the chorus: 
''We're running down a darker road Where even angels fear to go And stars fall like a lonely tear When they're crashing through the atmosphere It looked just like a dream come true But love can lead you straight into The thing that wrecks you'' 
"I wrote this song in a state of worry about a friend of mine who was in a toxic relationship. I couldn't
understand why she kept running back to him. We would have conversations about how she knew it
wasn't good for her, and how much emotional turmoil it was causing her, but still she'd choose to
keep putting herself through it. It's so hard to watch someone you care about, feel that kind of pain. I
think I wrote this song trying to imagine and understand that feeling, where the emotional pull is so
much greater than any kind of logic. I hadn't experienced that before in a relationship in my life at the
time, but I often write from the perspective of putting myself in someone else's experience, to find
understanding. I imagined how it's the same pull we feel as humans towards things we know aren't
good for us, whether it's a relationship, an addiction of any kind, or something that we know will end
in wreckage, but we still go through it anyway. I think that's a fundamental part of the human
condition. If we didn't follow those pulls, maybe we wouldn't find out the core of who we are after the
crash. I think what's under the pieces that shatter and fall around us, is a lot of truth. Maybe the thing
that wrecks us becomes a part of the best thing that could have happened to us. But the pain of it
before that growth or any kind of revelation happens, that's the place I wanted to write this song
from. From the middle of the hurt, the cycle, and the madness."
- Tenille Townes
The song offers a preview of new music from Townes, whose most recent project, Masquerades, was released in April 2022 via Columbia Nashville/Sony Music Nashville in partnership with RCA Records. Fans can also catch her on the road this summer, including at major festivals such as Cavendish Beach Music Festival, Faster Horses Festival, Watershed Festival, and more.
''I believe Tenille Townes is one of the most talented singer-songwriters and entertainers of this generation, '' says Kim Cyr, Editor in Chief for NOW and THEN Magazine, radio host, and host of the International Music's Journey Show.  
''I had the chance to talk with Townes about her incredible journey in music and what success meant at the beginning of this dream to be in the music industry and what success means to her now.  We talked about her new EP ''Masquerades'' which was released in 2022 and the meaning behind the lyrics of the songs.  There is a lot we cover including her feature role in Hallmark Movies & Mysteries' Time For Him To Come Home For Christmas (starring Tyler Hynes and Holland Roden), as an actor, and performer, and her song "One In A Million" that was featured in the opening scene.''
''I dug a lot deeper into her musical journey and her ability to write songs with incredible impact.  We talk about how she can engulf herself completely in the raw emotions of the stories she writes about.  These songs will stand the test of time.  
We chat about her recent chance meeting with Bryan Adams that has set the singer on a course of further incredible surprises.''
To hear my interview full of great music and stories with Tenille Townes, go to www.musicsjourney.com or click on the link below.
MUSIC'S JOURNEY INTERVIEW #200 w/ COUNTRY STAR TENILLE TOWNES DUET WITH GRAMMY AWARD WINNER BRYAN ADAMS: FOR HEARTFELT BALLAD "THE THING THAT WRECKS YOU"
For more information, visit TenilleTownes.com and follow her on all her social media @TenilleTownes.
Tenille Townes and Bryan Adams - The Thing That Wrecks You (Official Audio)
About Tenille Townes 
Award-winning singer, songwriter, and musician Tenille Townes released her latest project Masquerades April 22 via Columbia Nashville/Sony Music Nashville in partnership with RCA Records. A meditation on duality, self-reflection, and embracing flaws, Masquerades follows her acclaimed debut album The Lemonade Stand, which was named Country Album of the Year at the 50th JUNO Awards. Townes is a 15-time Canadian Country Music Award Winner (CCMA) and is the reigning CCMA Entertainer of the Year. The two-time ACM Award-winner is also the first female artist in Mediabase Canada history to achieve two No. 1 singles (Music Canada Gold-certified "Jersey on The Wall (I'm Just Asking)," Music Canada Platinum-certified and RIAA Gold-certified "Somebody's Daughter"). Following standout support runs with Dierks Bentley, Miranda Lambert, Brothers Osborne, George Strait, and Reba, Townes is headlining shows across the globe in Australia, Canada, The United Kingdom, Ireland, The Netherlands, Germany, and the US. Her international touring efforts earned her a nomination for CMA's international achievement award. A Forbes 30 Under 30 honoree, Townes has been featured by NPR, Variety, Refinery29, Billboard, Rolling Stone, NBC's "TODAY," BBC, and more. Additionally, she has raised over $2.5 million for Big Hearts For Big Kids, a non-profit she started when she was 12 years old to benefit a youth shelter in her hometown, which has grown to support organizations such as Girl Scouts of Middle Tennessee, S.A.F.E. Animal Haven, and the Manna House.
Tenille Townes - The Last Time (Lyric Video)
Tenille Townes - When You Need It (Official Music Video) ft. Wrabel
Tenille Townes - Somebody's Daughter
MUSIC'S JOURNEY INTERVIEW #200 w/ COUNTRY STAR TENILLE TOWNES DUET WITH GRAMMY AWARD WINNER BRYAN ADAMS: FOR HEARTFELT BALLAD "THE THING THAT WRECKS YOU"