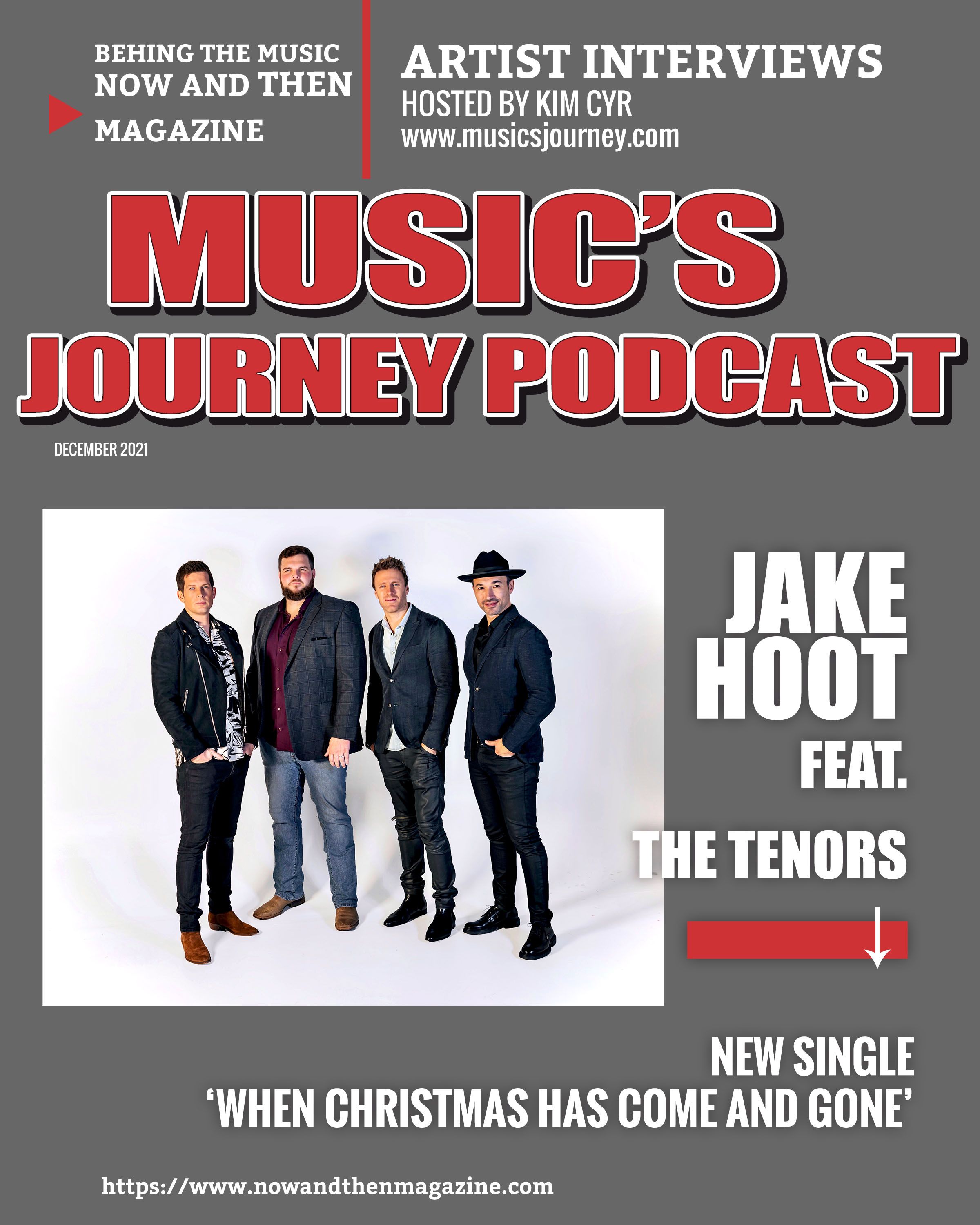 Music's Journey Podcast
w/ Country Star 'Jake Hoot'
Hosted by Kim Cyr
Presented by NOW and THEN Magazine
https://www.nowandthenmagazine.com
Music's Journey Podcast INTERVIEW #136 w/ Country Star Jake Hoot Who Teams Up With Supergroup The Tenors for the New Christmas Holiday Song 'When Christmas Has Comes and Gone'

Jake Hoot
New Single
''When Christmas Has Come and Gone''
feat. The Tenors
Music's Journey Podcast INTERVIEW #136 w/ Country Star Jake Hoot Who Teams Up With Supergroup The Tenors for the New Christmas Holiday Song 'When Christmas Has Come and Gone'
Jake Hoot teams up with The Tenors for "When Christmas Has Come and Gone," a beautiful plea to remember what it's all truly about. "It's the joy of children's faces, knowing they believe / It's a gathering around the table with our family / Sharing all the memories of our loved ones who have gone / These are the gifts that still live on, when Christmas has come and gone," Hoot sings, intertwining with Victor Micallef, Fraser Walters, and Clifton Murray.   
''Jake Hoot is showing just how much he has grown as a singer/songwriter with his latest single When Christmas Has Come and Gone,'' says Kim Cyr, Editor in Chief for NOW and THEN Magazine, host of the International Music's Journey Podcast, and radio host on 91.3 FM.  ''This song is magic with the gorgeous vocals of Jake Hoot and the supergroup The Tenors.''
"I think working with these guys and honestly meeting them, has been one of the highlights of my career," Hoot tells NOW and THEN Magazine. "'Cause they're some of the nicest guys that you could ever meet, and some of the most professional — I don't understand how they have the ears for music that they do, because they're absolutely professionals. Great guys, and incredible people."
''An emotional ballad, the 4-and-a-half minute-long song finds the trio and Hoot singing about what makes the holiday season so special,'' says Cyr.  ''It gives me goosebumps every time I hear it.  This is truly a special very song that is timeless.  If this one doesn't pull on your heartstrings to remember what the true meaning of the holiday season is, I don't know what will.  We have all lost so much this past year and a half and this season we have some form of normalcy with our loved ones.  It makes you want to hold on tight to everyone you love just that little bit more.''
"I am so proud of this one. I have always wanted to write a Christmas song, and seeing it finally come to pass is something so special to me," Hoot, tells NOW and THEN Magazine. 
"Christmas is my favorite time of year, for so many reasons. I love the magic that fills the crisp winter air. The smell of hot chocolate and cinnamon rolls, celebrating the birth of Jesus, having the family all home and the memories we get to make together," he adds. "... I love the tradition of it all, and I feel that this song encompasses so many of the important things of what makes Christmas, Christmas."
I always have a blast chatting with Jake Hoot and I dive a little more into the Burning Questions portions of the show that you don't want to miss and I play some great music.  To hear my full interview with Jake Hoot, click on the link below.
Music's Journey Podcast INTERVIEW #136 w/ Country Star Jake Hoot Who Teams Up With Supergroup The Tenors for the New Christmas Holiday Song 'When Christmas Has Come and Gone'
Jake Hoot - When Christmas Has Come And Gone feat. The Tenors (Official Music Video
Music's Journey Podcast INTERVIEW #136 w/ Country Star Jake Hoot Who Teams Up With Supergroup The Tenors for the New Christmas Holiday Song 'When Christmas Has Come and Gone'
Follow Jake Hoot