Diedrich Bader star of ABC-TV's New Hit Show "American Housewife" Hits Gold
Interview with Kim Cyr KCM-LIVE.COM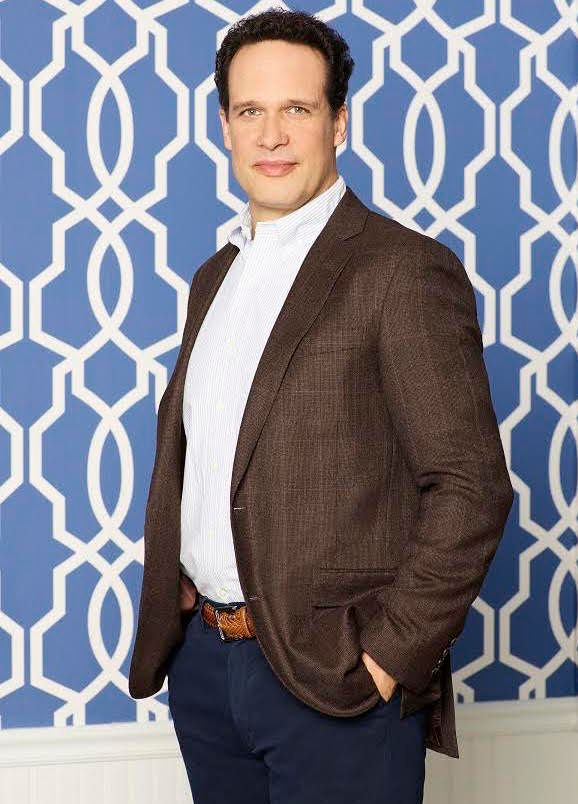 Bader hits gold with his role as Greg in the new ABC-TV's hit show "AMERICAN HOUSEWIFE" (Tuesdays from 8:30-9:00 p.m. ET) 
"American Housewife" stars Katy Mixon as Katie Otto, Diedrich Bader as Greg Otto, Meg Donnelly as Taylor, Daniel DiMaggio as Oliver, Julia Butters as Anna-Kat, Carly Hughes as Angela and Ali Wong as Doris. 
The new ABC sitcom American Housewife is about Katie Otto, " an average wife and mother" living in the tiny town of Westport, Connecticut (where Martha Stewart and Paul Newman used to live). Funny lady Katy Mixon plays Suzanne with aplomb and with the support of her character's husband Greg Otto, portrayed by Diedrich Bader. 
Bader is known for his roles in Rush Hour (Agent Westhusing), Veep (Bill Ericsson), The Exes (Paul), Save Me (Elliot Tompkins), and The Drew Carey Show (Oswald Lee Harvey). Bader is also well recognized for his role as Lawrence, Ron Livingston's neighbor in the film Office Space, and as a voice actor (the Saber-Toothed Tiger in Ice Age, Albert on Phineas and Ferb), among many others. Bader has had roles in animated features such as "Ice Age," "Surf's Up," "The Simpsons," and voiced the role of "Batman" in the animated television series "Batman: The Brave and Bold."    
He has also been in the comedies "The Beverly Hillbillies," "Napoleon Dynamite," "Miss Congeniality 2," "Balls of Fury," and "Meet the Spartans."   
   
He was the series lead on the NBC comedy "Outsourced" and can also be seen on USA's "Psych," Netflix's "Arrested Development," and Fox's "Bones."   
   
Diedrich was on three seasons of HBO's "Veep," opposite Julia Louis-Dreyfus.  
Now he has hit gold again with his role as Greg Otto that Diedrich say's is the one role he relates to the most on 'American Housewife.' 
Kim Cyr's interview with Diedrich Bader on the best new sitcom on ABC called "American Housewife"
Kim: I think this show is golden for the whole cast of American Housewife, what was your take on the script when you received it?
DB: I was really excited about this role, I didn't think we were going to reinvent the wheel so to speak but I think we have a chance at really giving people a show that they feel is fresh and one that they can really relate to.  

Kim: Let's face it, when people move into a new town or city, we all feel the need to fit in and the show is really based on that reality for the whole family but mostly the character Katy which is based on the real life of Sarah Dunns.  The character Katy (played by the very funny Katy Moxin) goes through the judgement of her weight and fitting in with all the other women that want to be skinny, the Joneses, perfect children and you are the husband who helps Katie and reminds her that she can feel normal without letting other peoples  judgements and opinions affect her so much.

DB: Anyone who's felt like a fish out of water will really associate with this show. Trying to keep up with the Joneses is not anything, my character, Greg is interested in at all. He really doesn't care. They're in that neighborhood for the schools. But Katie feels judged because she is judged. A lot of women feel judged by other women because lets face it, you guys are not easy on each other.

Kim: We're not nice.

Laughter

DB: Guys are generally better to each other.. So Katie takes it more personally and it's a tougher adjustment for her.

Kim: How is your experience working with real life Katy (Mixon)?

DB: Real life Katy is fantastic. She's really funny. She's really sweet. She calls everyone pumpkin. When she first started calling me pumpkin, I was like are we really going to do that? But she stuck with it. Now, if she doesn't call me pumpkin, I think ooh she's mad at me.

Kim: Or something's wrong.

DB: I can't anticipate where she's going with any line readings which I love. One of the great things about working with Katy Mixon is that she's a real actor. So when we do scenes we're really acting off of each other. That doesn't happen very often. I've been on television shows…Veep is not a good example of this, because everyone on Veep is a phenomenal actor….but there are a lot of shows that you do where the actor is okay. So you're not really acting, You're doing what you thought of doing while you were driving to the set. So nothing really happens. You're just getting through it. But with Katy, you don't know where a scene is going. We do it differently every single time. I don't even know how they edit it. We really go at each other when we go at each other and it's great. It's almost like a real marriage. It's beautiful. I leave my real wife in the morning and come to my next wife.

Kim: Your work wife!

DB: Yes! 

Kim:  This is a very different character for you to play in comparison to the other diverse characters in your career

DB: I have played a lot of broad characters for a long time, like Oswald for example, I don't even know how that guy got a drivers license.  They characters I have played have been really fun characters.  But this role, this guy is very close to me.  I come from an academic family and Greg is a professor in the show and I have a dry sense of humour, so does Greg.  The writers in the show have a fantastic ability to pick up on our real life characters and somehow combine the two in the script.    I will go out for lunch with the writers and they are listening like a sponge using my real life role and situations that make this show so great.  You will see that in some of the episodes.  They are really great.

To hear the rest of the interview with Diedrich Bader, go to the podcast attached to this interview.

Schmoozing on "American Housewife"

Thanksgiving aftermath on "American Housewife"

Kids forget lunch "American Housewife"
 
Sarah Dunn shares how the role of Katy was based on her true life story which makes this show so relatable for so many women around the world.

Do you relate the character Katy to yourself?

Dunn: "Yeah, yeah, definitely. I know — it's a little scary — but true. And the husband character in the show is really based on my husband. Because he teaches and you know, does all that stuff. It is very strange to be sitting behind monitors watching a family act out while my family is on the other coast, say Dunn."

How has this character you created changed how the women in your town view you?

Dunn:  The truth is, I have great friends, and I love the women in my town. They're all so excited about the show — it's been really wonderful. When I moved to the town, I had little kids, and I gained some weight, and I really wasn't interested in going on a diet or anything. The moms just looked great. All of my friends, they all look wonderful. It started to make me a little angry, how good everyone looked. I kind of channeled that into this character

Dunn: The sitcom, which just got a full-season pickup, featuring a wisecracking sarcastic mom (played by Katie Otto) on her last nerve (and wearing her last semi-clean sweater). While creator and executive producer Sarah Dunn based Katie on herself, Mixon isn't anything like Katie Otto. Mixon talks about what Katie's going through, the importance of staying true to yourself, and what reception from housewives around the country has been to her "firecracker" role.
 
Katie Otto, a confident, unapologetic wife and mother of three, raises her flawed family in the wealthy town of Westport, Connecticut, filled with "perfect" mommies and their "perfect" offspring.  

Katie's perfectly imperfect world is upended when her neighbor's decision to move notches her up from her ideal social standing and sets her on a path to ensure that doesn't happen, regardless of the consequences. 

Luckily, her husband, Greg Otto, supports her in every way possible, but with a dash of reality thrown in as they work to ensure their children do not end up like everyone else.
  
However, that isn't going to be easy when her oldest teenage daughter, Taylor, is already set on the "perfect" path; middle son Oliver has one goal in life: to be rich; and her youngest, Anna Kat, needs a little extra help navigating life.  

Then there are her friends, Angela and Doris, who help Katie keep it all in perspective and are the allies she needs in a town where "keeping it real" is not a compliment. 

Despite her flaws and unconventional ways, Katie ultimately only wants the best for her kids and will fight tooth-and-nail to instil some good old-fashioned values in them, if it's the last thing she does.


Watch this brand new hit sitcom on Tuesdays on ABC from at 8:30 - 9 p.m. ET.   Follow the cast from 'American Housewife' on twitter at: https://twitter.com/AmericanWifeABC

Written by Kim Cyr